Captive bred blue tangs are no longer a dream as Rising Tide Conservation just revealed that they had successfully bred this iconic fish in captivity. The breakthrough took place at the University of Florida's Tropical Aquaculture Lab which announced that they had finally succeeded in breeding the one and only, Paracanthurus hepatus. 
The successful breeding of the Pacific blue tang comes less than a year after the Oceanic Institute had their success being the first to captive breed the also-iconic yellow tang. With these initial breakthroughs, the Oceanic Institute and the UF Tropical Aquaculture Laboratory collaborated to finally bring some pacific blue tangs into this world which did not come from any tropical coral reefs.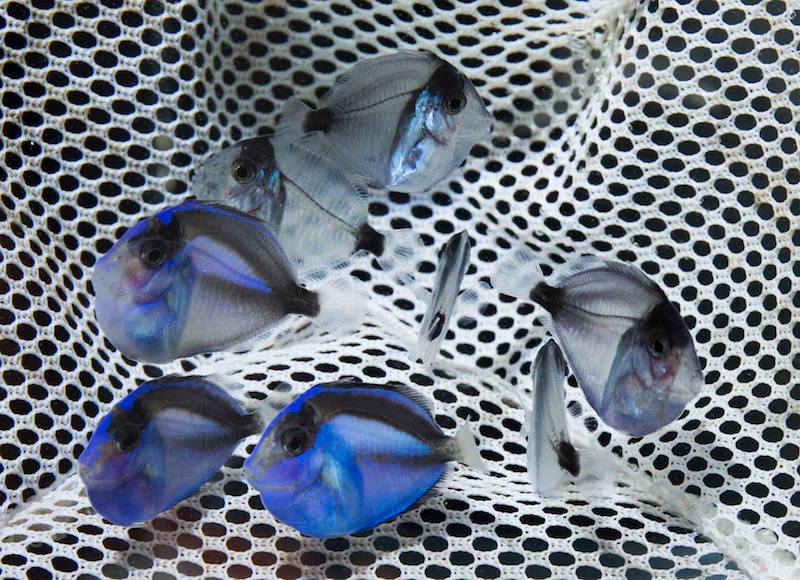 Pacific blue tangs, regal blue tangs, hippo tangs or Dory, no matter what you call this fish, all eyes have been on the aquarium hobby since the release of the wildly successful Disney Movie, Finding Dory. It is widely known that the Finding Dory Effect will no doubt have a huge impact on the demand for this fish in home aquariums, and one of the huge criticisms being hurled our way is that all regal blue tangs have to be wild caught.
It is wildly exciting to think that less than one year ago no surgeonfish had ever been raised in captivity, and through hard work, perseverance, and sheer determination aquaculture researchers have completed the early life cycle of tangs from two different genera. But before you get your hopes up for getting a pacific blue tang in your own tank, it'll be a long way from settling out a few regal blue tangs to satisfying the huge global demand for this fish in aquariums.
We can't even imagine how much work went into finally breeding the regal blue tang, surely it's quite a lot more than can be summarized in a few paragraphs of an article. But nevertheless, we can't wait to hear more about the first captive breeding of Paracanthurus hepatus in captivity,  and we want to congratulate the entire team at Rising Tide and the UF Tropical Aquaculture Laboratory for this historic breakthrough in ornamental fish breeding.
For an in depth read about the saga of breeding the pacific blue tang, there's a great account  by Craig Watson, Director of the UF Tropical Aquaculture Lab on the Rising Tide facebook page.
https://www.facebook.com/risingtideconservation/videos/1111100618957109/