Question
I have a new 60-gallon reef tank, and I'm using two powerheads to provide water circulation. One is mounted in the upper right-hand corner of the tank near the back and the other is in the lower left-hand corner near the front. My problem is, while the powerheads are providing good water flow, I hate the look of them. To my eye, they stand out like a sore thumb, and I want my tank to look as naturalistic as possible. Is there any reason I can't hide them in the rocks?" – Submitted by Amir
Answer
Thanks for your question, Amir. It is possible to conceal powerheads among the rockwork in a reef system, but before attempting to do so, you'll need to consider each of the following important points:
Proper flow trumps aesthetics
Good water circulation is absolutely essential in a reef system, so any aesthetic consideration with respect to powerheads should come in a very distant second to the flow they provide. Keep in mind that hiding powerheads in rockwork can easily limit their output if you're not careful in their placement. If you're unable to achieve the desired water movement with the powerheads tucked away behind rocks, it's better to leave them out in the open. Eventually they'll become encrusted with a naturalistic patina of coralline algae anyway, so they won't be as visually distracting.
Maintenance mustn't be compromised
Regular maintenance is necessary to keep powerheads operating at peak performance. Make sure you can reach them easily for routine cleaning (i.e., brushing to eliminate debris trapped on the intake and gunk built up on the impeller/propeller) and that you're able to remove them from the system completely for period teardown and thorough cleaning without too much disruption. Remember, maintenance will almost assuredly suffer if you have to dig down through a pile of rocks just to access the powerhead—especially as corals get established and begin to cover more rockwork real estate.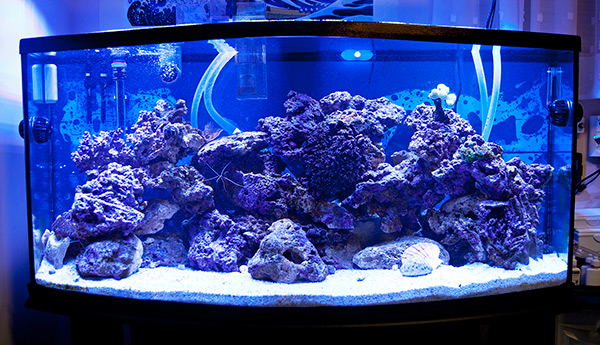 As the reefscape changes, so does the flow
Keep in mind that as coral colonies increase in mass and take up more space in the aquarium, they can alter the flow of water through the system significantly. Thus, as reef systems mature, it's often necessary to move circulation sources around and/or add more of them in order to maintain optimum flow. Again, if the powerheads are situated under or behind rocks that are overgrown with corals, moving them could prove to be a major headache.
What am I forgetting?
Fellow salties, please feel free to weigh in here. What points am I forgetting? What's your take on the aesthetics of powerhead placement? If you have any other thoughts or suggestions for Amir, please share them in the comment section below.