Giesemann is legendary in the marine aquarium world for building sinfully gorgeous metal halide and T5 fixtures with luxury car paint jobs. The veteran German aquarium lighting company has been gradually easing into the LED lighting market with increasingly sophisticated LED fixtures, and they've finally peaked with the Giesemann VerVve LED fixture.
While the general form factor of the VerVve LED bears some resemblance to the modular fixtures on the market today, the engineering and build quality is all Giesemann, inside and out.

The VerVve is available in two models, both of which are wirelessly controllable. The verVve Plus is the master unit and costs $729 and it is used to control up to 99 additional VerVve One LED fixtures, which themselves cost sixty bucks less at $679 each.
The dedicated master and slave design of the Giesemann VerVve LED is a departure from other industry leading LED fixtures. At 180 watts the VerVve Plus LED is a great value and Giesemann is betting that the lower cost of the slave units will be even more appealing for aquarium displays that require multiple fixtures.
The VerVve is an actively cooled LED light with six channels of control of the 56 Light Emitting Diodes assembled into two clusters. The design of the VerVve LED clusters is the second feature where Giesemann breaks from tradition by having an original arrangement of LEDs, and by using secondary reflectors to concentrate the light down into the aquarium.
Each VerVve LED cluster contains six cool white, 1 warm white, four Blue 465nm and four blue 440nm, eight royal blue and four deep blue LEDs for the bulk of the blue and white color spectrum. There's also two deep red and one UV LED to round out the opposite ends of the visible light spectrum.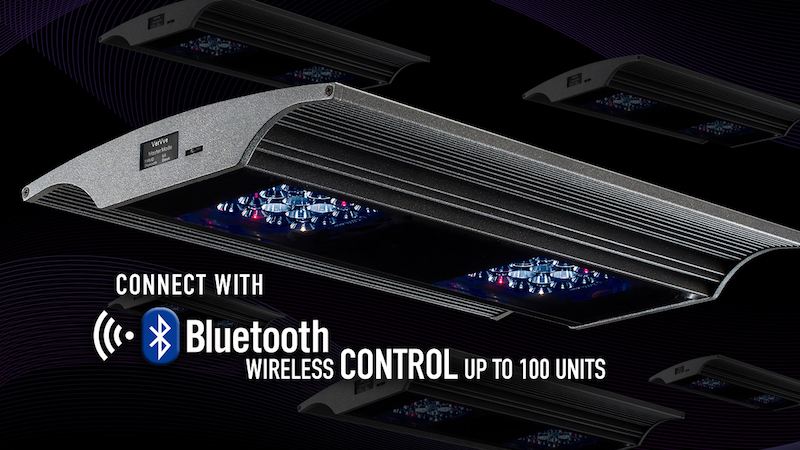 Having all that color and power under the hood means very little if the controllability isn't there, and this is the third major difference between Giesemann's light and all the others. While nearly all other industry leading LED lights use some form of wifi connection for wireless control, Giesemann is betting that it's easier to set up and use their light with Bluetooth.
This engineering choice from Giesemann is somewhat of a gamble; there's ways to implement both wifi and bluetooth very effectively, and also terribly. A wifi connection tends to be a more robust, long-distance communication protocol with a wider range of devices. But sometimes, if pairing is particularly fast, Bluetooth can be solid too, and your experience will depend more on the device you are using to control the Giesemann VerVve LED light.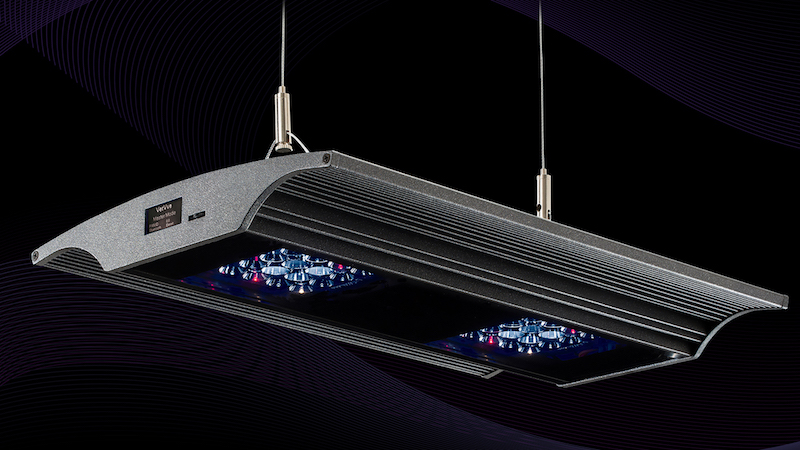 What is truly special about the verVve LED is the Magnesium-alloy construction of the body with the sparkly gun-metal paint job. The German attention to detail and build quality shines through in the VerVve LED with inspection of every joint and every seam.
Of course a light like this is useless if there's no effective method of mounting it on an aquarium, so the VerVve LED has the customary hanging kit and Giesemann has also built a solid mounting arm in the same near-black finish as the fixture itself.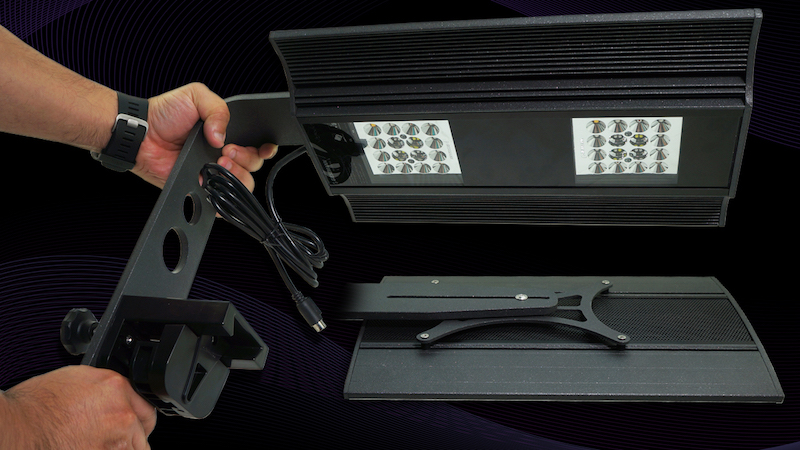 It's pretty easy to make any light look like a good buy on specifications and pricing alone, but what we really need to see is this light over real, live growing corals. The incumbent LED light fixtures already have a leg up in terms of proven growth and coloration, and several years worth of successful reef tanks running these lights on aquariums around the world.
As beautiful as the VerVve LED is, and as promising as its spec sheet appears, the onus is on Giesemann to get their new LED light on as many reef tanks as possible. We've already seen the verVve LED light on tables, over dry tanks, over tanks with fish and fake corals, but once we see what is possible with this light over our precious corals, only then will the reef aquarium hobby begin to accept this light as a worthy competitor to the wide selection of proven LED lights currently on the market today.
Your move, Giesemann.