Cirrhilabrus africanus and C. rubeus are the two newest species of fairy wrasses that have been added to this quickly growing genus of reef fish. Descriptions of fairy wrasse species have been fairly frequent the last couple years, but today we get two species in one paper.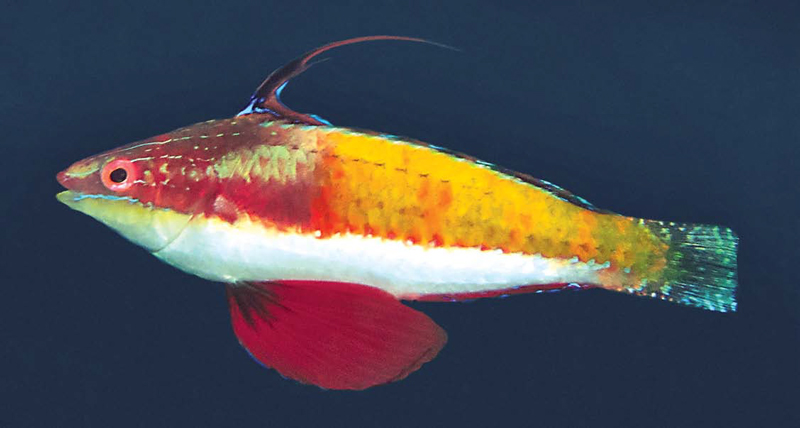 The new Ruby Longfin fairy wrasse, Cirrhilabrus rubeus, and the African Longfin fairy wrasse, are part of the spike-fin fairy wrasse complex. Previously Cirrhilabrus rubriventralis was the name for the various spike-fin wrasses spanning the majority of the Indian Ocean, but this species is now limited in distribution to the Red Sea.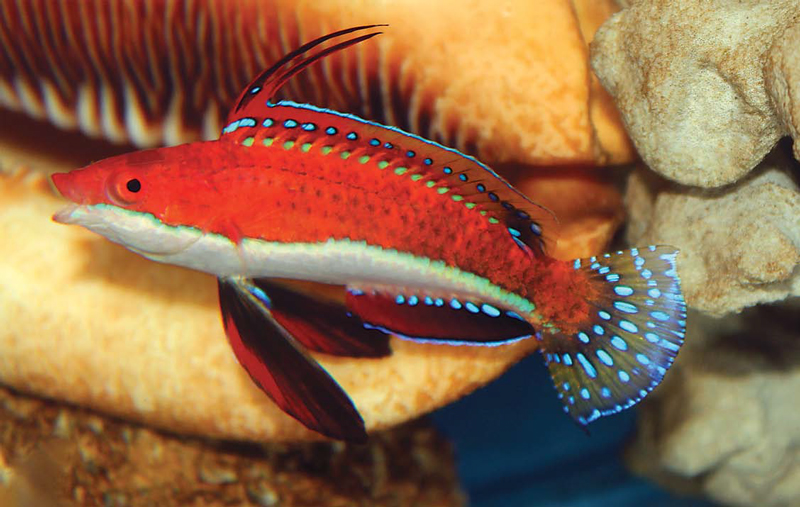 Cirrhilabrus rubeus is the species found in the oceanic environments of Sri Lanka and Maldives.  The Ruby Longfin fairy wrasse looks very similar to the Cirrhilabrus rubriventralis we are used to, but it differs in appearance in several ways.
First and perhaps most noticeably, the dorsal fin of Cirrhilabrus rubeus usually has two spike-fin rays compared to just one for most other species. Also, while C. rubriventralis has nearly solid red ventral and anal fins, C. rubeus has a degree of black coloration on the pelvic and anal fins with red edges.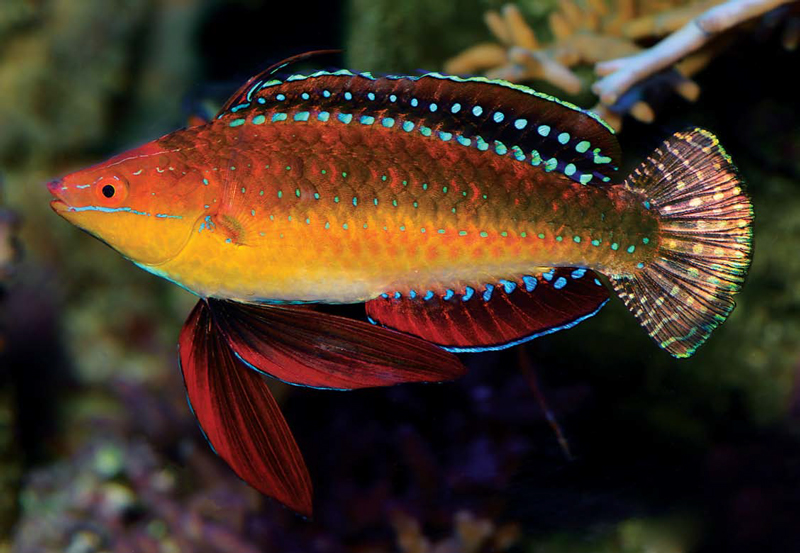 Meanwhile, Cirrhilabrus africanus ranges along most of the African Coast from Kenya down to South Africa. This is one fairy wrasse which the aquarium hobby has long recognized as being distinct from many others for a long time.
Long referred to as the Kwazulu Fairy wrasse or Cirrhilabrus sp. 3, Cirrhilabrus africanus has been documented even in books for nearly two decades. The yellow coloration in the anterior portion of female specimens and ventral portion of males specimens is unmistakable to exotic fish fanciers.
The two newest species of fairy wrasses from the Indian Ocean are in the same species complex as two other recently described fairy wrasse species, Cirrhilabrus humanni and Cirrhilabrus hygroxerus. Today's additions to the sprawling genus of fairy wrasses are described by Benjamin Victor in 23rd volume of the Journal of the Ocean Science Foundation.