The Eshopps S Series has been through a few iterations over its life, and today the company announced the newest generation of their premier line of protein skimmers. The 2017 S Series has been completely overhauled to accentuate the features that users love, while adding more refinements for even better performance and ease of use.
Where Eshopps signature design detail has always been the use of opaque blue acrylic for certain parts, the new Axium and S Series have migrated to transparent purple and blue acrylic, respectively. Transparency is a theme that permeates the new S Series with a clear venturi valve and clear adjustable air silencer, so there's no mystery as to what path the air flow is taking through these components.
Like the Axium skimmers, the S Series also has Sicce pumps placed inside the skimmer, with a special white edition Sicce PSK pump still serving as the heart of this filtration device. The overall design of the new S Series skimmers is also pipeless, with a flush outflow valve that further reduces the footprint of Eshopps' new premier line of skimmers.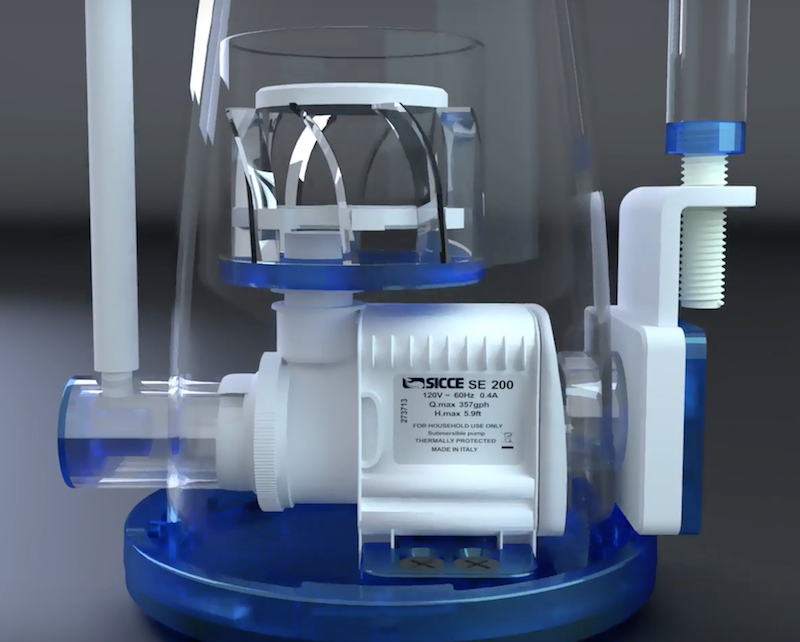 Of course, the defining feature of the new Eshopps S Series is a completely new bubble diffuser plate Eshopps calls the 'EDDY'. This thicker bubble diffuser plate is specially designed to gently twist the air-water mixture to increase contact time, and increase overall protein skimming efficiency.
We've seen plenty of protein skimmer manufacturers attempt to twist the movement of air bubbles in the body of protein skimmers over the years. Usually the incoming water is injected at an angle to create this spinning motion, but the Eshopps EDDY si the first to rely solely on the bubble diffuser, and hopefully this will generate the kind of gentle motion to increase contact time, without creating turbulence at the air-water interface.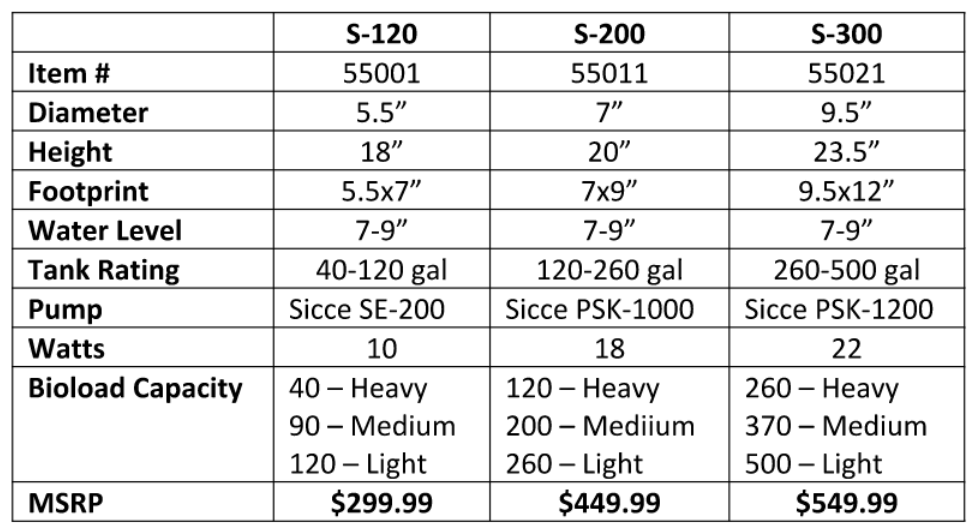 At first glance the new Axium and new S Series appear to be very close in design, but the S Series definitely sports a handful of nicer features. Besides the 'twisty' bubble diffuser plate, the S Series also full conical body, a twist off base and quick release pump mount for fast and easy maintenance.
Eshopps will be releasing the new S Series protein skimmers in three sizes, starting at $299 for the S-120 and up to $549 for the S-300. Protein skimmer have gotten to a stage where their design is very well refined – we don't even notice anymore when a protein skimmer is a cone shape – so we're not expecting any miraculous improvements anymore, but it's still nice to see Eshopps reconsidering their protein skimmer line from the ground up. [Eshopps]