Grammatonotus xanthostigma and G. pelipel were just described from specimens collected in Pohnpei. Grammatonotus is a genus of deepwater basslets containing some fantastic species, and today we've got news of two more.
It was just a few short years ago the Grammatonotus brianne was collected in the Philippines, and it was described just last year. Like other Grammatonotus, the new G. xanthostigma and G. pelipel were collected in very deep water – deeper than the fish we typically think of as living on the deep, mesophotic reef.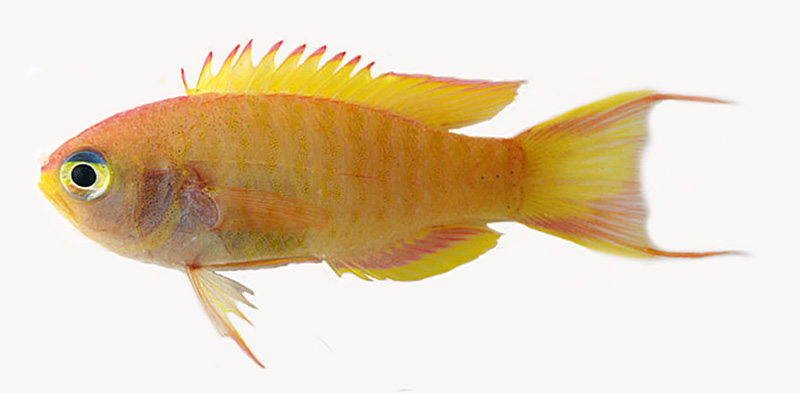 Like most species of 'Groppo, as they are commonly called, the two new Grammatonotus are small and elongated, with a single continuous fin and a remarkable tail shape. The color if yellow overall with pinkish markings throughout.
Grammatonotus pelipel, is unique in the genus for having a very distinct lyretail shape with long extensions from the top and bottom rays. This species is called the barred Groppo for a pattern of faint bars across the body which is more pronounced in small juvenile specimens.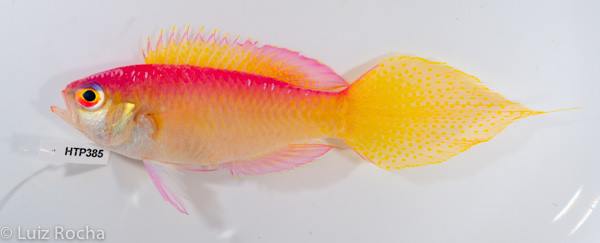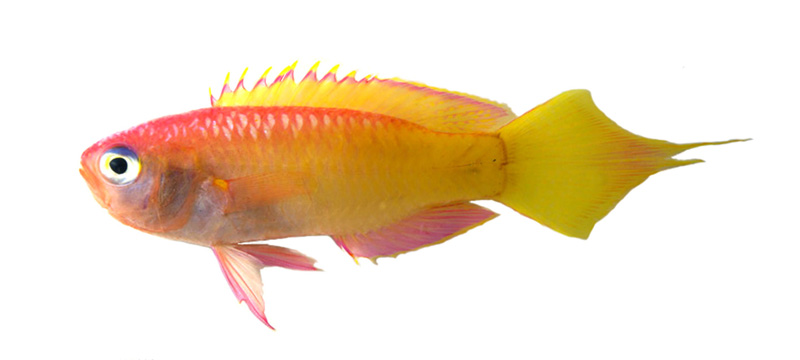 The yellowspot groppo, Grammatonotus xanthostigma looks quite similar to G. brianne – both species have a spade shaped tail – but where Brianne's groppo has a nice rounded outline that comes to a fine point, G. xanthostigma has a concave outer margin which looks more like a diamond with an elongated point.
Both new species of Grammatonotus were the result of a very successful expedition to Pohnpei by Drs. Brian Greene and Rich Pyle which yielded a plethora of new species of deep reef fish. The fish are attractive in these images of freshly preserved specimens but in real life their colors are truly spectacular, as we've seen by some rare sightings through remotely operated vehicles. [ZooTaxa]