Remember BIKI, the robotic underwater camera that swims like a fish we wrote about a few months ago? Well now you can grab one via the BIKI Kickstarter campaign for $599.
We've seen some pretty cool underwater drones that we would love to get our hands on, but Biki is one of the more interesting ones for a variety of reasons. Maybe its the way it mimics fish that make it seem just fun to watch. Maybe its the cool features. Either way, its not a bad deal to grab one for $599. If you have high hopes of being the life of the summer pool party or weekend at the lake or ocean, you might be out of luck as you'll most likely get it in September.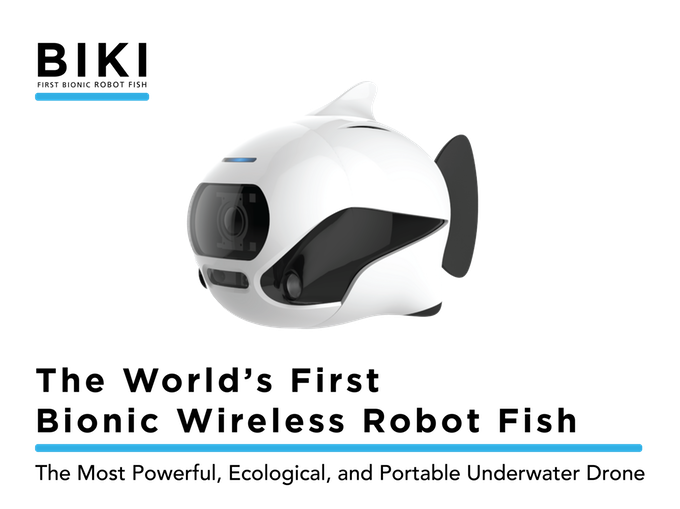 So what is BIKI and what does it do? BIKI bills itself as "the world's first bionic underwater drone" and notes that is also the only underwater drone with automated balance, obstacle avoidance, and can return to base itself. Tucked inside the drone is a 4K camera to grab some high-quality video.
There are plenty of other cool features of BIKI. Cycle through the slideshow to learn more.
[ngg_images source="galleries" container_ids="1381″ display_type="photocrati-nextgen_pro_slideshow" image_crop="0″ image_pan="1″ show_playback_controls="1″ show_captions="0″ caption_class="caption_overlay_bottom" caption_height="70″ aspect_ratio="1.5″ width="100″ width_unit="%" transition="fade" transition_speed="1″ slideshow_speed="5″ border_size="0″ border_color="#ffffff" ngg_triggers_display="always" order_by="sortorder" order_direction="ASC" returns="included" maximum_entity_count="500″]