The Homewrecker and Walt Disney Acros, both Acropora tenuis, are hands down some of the most sensational looking SPS strains the hobby has seen ever. No doubt that many of the photos of these corals floating around the internet have been manipulated in photoshop, but oftentimes this is done by reefers to make their muted frags resemble what this coral should look like.
Jason Fox definitely proved himself to be among the best coral dealers alive today, not only by offering up sizable samples of both Homewrecker and Walt Disney frags, but also making them look completely unbelievable in real life!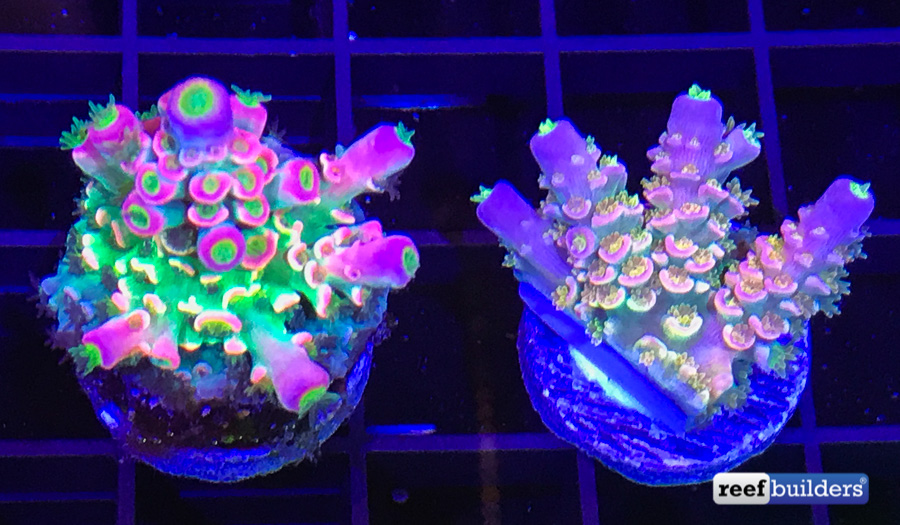 Above you can see the Homewrecker tenuis on the left, and the Walt Disney Tenuis on the right. The Walt Disney is no slouch in the coloration department, but the Homewrecker makes it looks dull in comparison. I fully expect viewers and readers of this article to scream 'photoshop' or that the image is fake, but this is why for one, you should have been at MACNA to see them for yourself, and two, I made a few video clips of both stunning coral strains.
The video was made by an iPhone 7 using a very thin yellow filter to correct for blue coloration, and the corals were illuminated by Kessil spotlights under a mostly blue setting. There's no doubt that these are flattering conditions for displaying the colors of these corals, but we assure you this is a very authentic look at how the Homewrecker and Walt Disney Tenuis look like under the most ideal conditions, and in the best of health.
NOW you know why these corals are so highly sought after, with Walt Disney Tenuis frags going from between $150 to $400 while the Homewrekcer lives up to its name by fetching upwards of $1500 to $2500 for sizable encrusted frags. This is an incredible amount of money to pay for single frags but thankfully Acropora tenuis is a classic aquarium SPS coral which grows well, and sometimes even fast, so it's only a matter of a coupe of years until virtually everyone will be able to afford both of these inspiring coral strains.