BlueWater is the latest concept drone in a long line of coming soon projects. But the question remains, when if ever will we see a consumer grade underwater drone available to the masses.
We have no problem with seeing more and more drones pop up. As the saying goes, "a rising tide lifts all boats", so more competition in the drone market space means drone technology will continue to improve and become more affordable for everyday users.
Those who read the blog know im addicted to corals, but behind the scenes, I am also pretty obsessed with underwater drones and deep sea exploration. In the past we've written about the BIKI, Navatics, Fathom One, iBubble, Gladious, and the Trident drone, all of which smashed through their funding goals.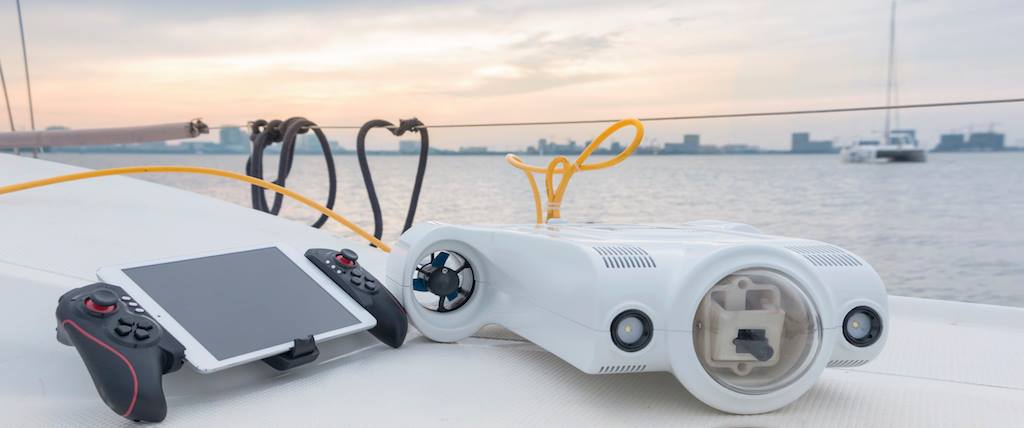 BlueWater has many of the standard features we've become familiar with for the current state of drone creation. BlueWater is a tethered drone which is depth rated to 100m (although tether length is not mentioned).
The drone has three thrusters for 360 degrees of movement. The drone is controlled using a smart phone or tablet, and from the images above it seems the drone may have an accessory controller grip to pair with your smart device.
BlueWater will also have the ability to live stream and record images in full 1080p HD, and comes with a battery life of 3-4 hours. There are two LED lights on either side of the camera, and judging by some of the pictures from their Facebook page our guess would be these lights have an output of 500 lumens each.


BlueWater will be launching on Indiegogo September 19th. You can signup on their Facebook page to receive exclusive product updates. The early bird price for BlueWater is expected between $600-$800 USD.

100m Dives
Use the controller to explore the ocean depths, dive down to 100 metres with it's powerful propeller and use the LED lights to guide you.
1080p Full HD Live Stream
With BlueWater's 1080p camera you can capture every little detail of what lies beneath. Live stream your findings in full HD.
3-4 Hour of Battery
BlueWater's powerful battery means you can capture all the footage you need in one full charge.