Muck Diving
Not all dive sites are created equal. Just like on land, underwater landscapes are diverse and can contain dozens of unique habitats, and tiny niche space for critters to exploit. But none of these habitats are more enticing than muck.
What might appear as a dark, barren, murky dive can quickly transform into an unforgettable "I don't want this dive to end" kinda feeling.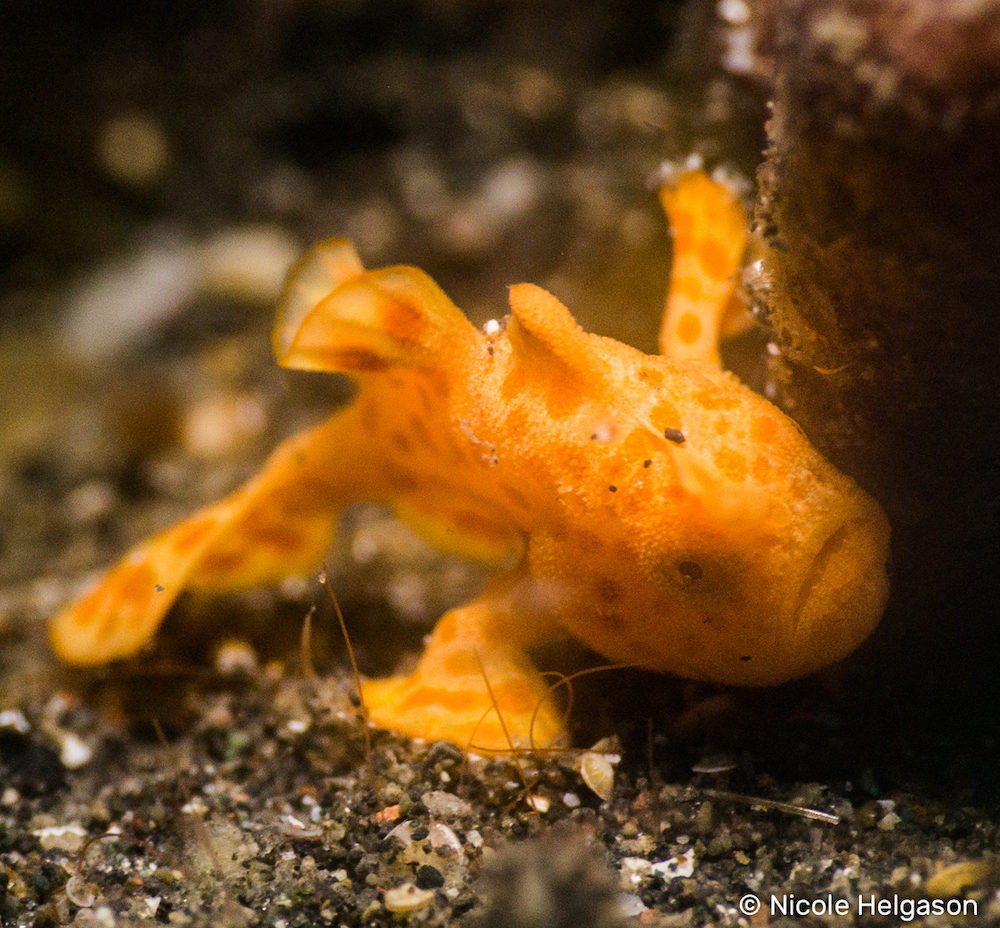 Muck dives are shallow typically between 10-18m (30-60 feet) deep. The dives are above dark almost muddy sand so it's important to perfect your buoyancy. The dark sediments are left by centuries of nutrient-rich volcanic soil which create the ideal conditions for growing a variety of seagrasses and marine vegetation.
This productive seagrass habitat is home to some of the rarest corals and strangest critters you will ever see scuba diving. When most people think of muck diving a placid frogfish crouching above dark sand, or a pinhead-sized shrimp comes to mind.
Buoyancy and Visibility
Buoyancy is one of those skills which is hard to teach in a classroom. To perfect your buoyancy takes practice and new divers often struggle with this important diving skill. But perfect buoyancy while on a muck dive is super important, especially if you want to remain friends with your dive buddies.

The bottom composition of a muck dive, well it's mostly sand which means it can easily be stirred up by careless kicking. And, once these tiny particles become suspended in the water, clear visibility can quickly turn into a meter or less of cloudy water.
To make sure you aren't kicking up sediment look behind yourself after kicking or ask your buddy to give you a heads up if you are kicking sand. To avoid disturbing the bottom make sure to stay a meter or more above the ground, and avoid using your toes to kick down while swimming. You can also buy a metal pointer stick which you can use to steady yourself above the muck (especially handy for underwater photography).
Where To Muck Dive
The best place for muck diving is the Indo-Pacific, with Indonesia, Philipines, Malaysia, and Papua New Guinea having some of the most attractive muck destinations. We just got back from a trip to the Lembeh Strait in Sulawesi Indonesia which is considered the mecca of muck diving amongst photographers and muck diving enthusiasts.
While dive sites in the Indo-Pacific are considered the ultimate muck destination, there are other places around the world including Australia, California, British Columbia, Hawaii and the Caribbean which have exceptional muck diving.
Critter List
Muck diving is all about tiny critters, and the type of marine creature will ultimately depend on destination. In the Indo-Pacific divers are on the lookout for frogfish, pipefish, cuttlefish, octopus, and nudibranch.
In other regions like Northern America or the Caribbean divers are mostly on the lookout for colorful nudibranch, and symbiotic shrimps, while juvenile fish are always a favorite for any muck diving habitat.
Corals, especially those found in Indo-Pacific muck habitats are often just as rare as the critters. Some of the rarest large polyp fleshy corals thrive in muck habitat and nowhere else. Corals like the colorful Trachyphyllia, Acanthophyllia, Micromussa, and Blasstomusa are a must-see for muck diving.
Why You Should Try Muck Diving
Muck diving is a unique experience which often yields the highest concentration of weirdo critters compared to any other dive. Muck diving requires divers to focus on their buoyancy control resulting in overall more awareness underwater.
Muck diving habitats are unique amongst all underwater habitats and offer divers the opportunity to get up close to marine life. Muck diving is often the highlight for underwater photographers with plenty of interesting subjects to get in front of the lens.