Stream2Sea Natural Tint
Wearing sunscreen is a must in the tropics, especially if you are planning a day on the boat snorkeling, or scuba diving. But sunscreen and the chemicals it contains are harmful to marine life and have been found to disrupt the development of coral larva.
Oxybenzone, a common chemical found in sunscreen, is one of the worst offenders but sadly isn't the only one hiding in your favorite sunscreen. We recommend checking out the Stream2Sea website for a laundry list of harmful ingredients to avoid.
If you're heading anywhere close coral reef and plan to be spending time near or in the water, it's time to invest in some reef safe sunscreen. Stream2Sea is a reef friendly brand making sunscreen, and various reef safe product like shampoo, lotions, and body wash.

Bye Bye White
Reef safe and other mineral sunscreens are notorious for leaving a white sheen your skin, which leaves some to drop the eco-friendly approach. However, Stream2Sea has been at it for a while and has answered the call with a new natural tint sunscreen that will not harm the ocean, while leaving you with a sunkissed glow.
We tested out the new tinted sunscreen at DEMA and it blends perfectly into the skin with no whitening effect. The tinted sunscreen will be available in a water-resistant sports formula with 20 and 30 SPF.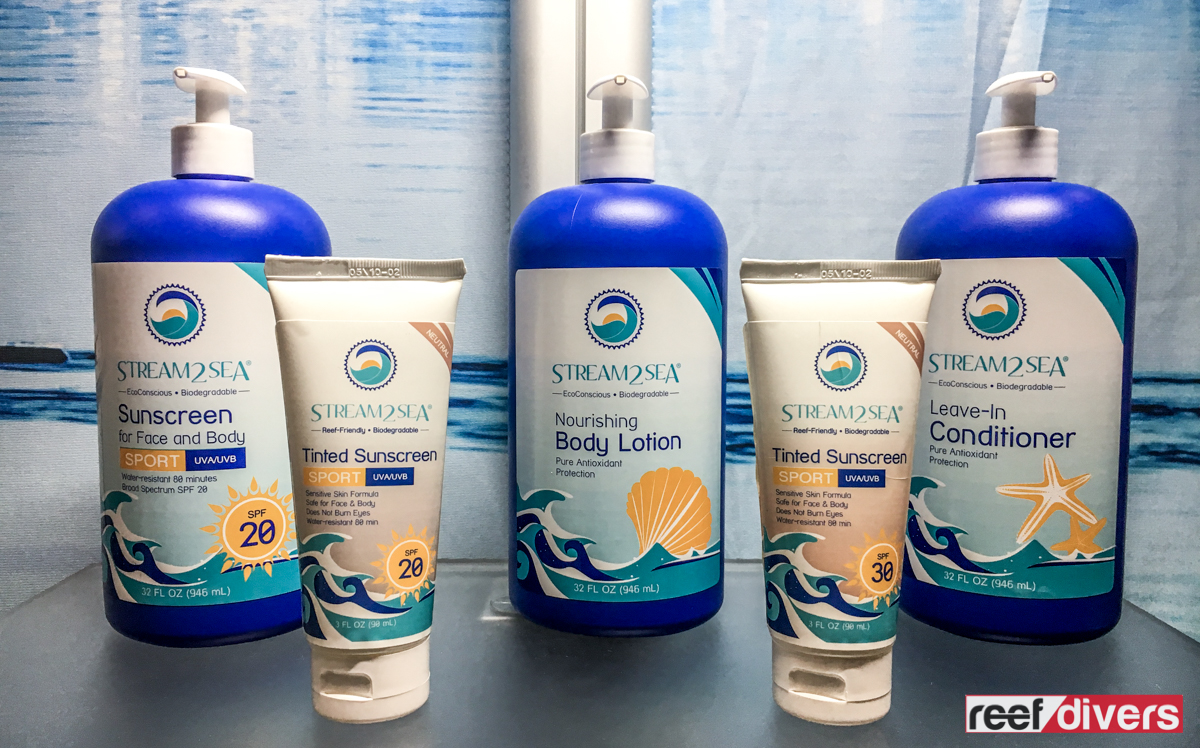 At this years DEMA show Stream2Sea also introduced a new package size, now offering their sunscreen and reef safe body care products in a 32oz pump bottle which further helps to reduce the number of empty bottles collecting in your travel bag.
Stream2Sea takes their eco-friend approach one step further by using nearly 100% recyclable tubes made from sugarcane resins. You can learn more about this plant-based packing from this
CocaCola produced video.
The new nature tinted sunscreen will cost $7.50 for the 1oz bottle. 
Stream2Sea products are currently available online at www.Stream2Sea.com