Solenastrea bournoni
Solenastrea bournoni is a somewhat uncommon coral, although it can be abundant in certain habitats. To find this coral you will need to look in shallow reef lagoons, often with murky waters, sandy bottoms, or seagrass beds.
There are two species of Solenastrea, S. bournoni and S. hyades. The second species S. hyades is perhaps the most elusive Caribbean coral, and while it's possible to find colonies of Solenastrea bournoni, the second species is still a mystery and sits prominently at the top of my wishlist of coral I have yet to find.
Solenastrea is a type of mound or boulder coral and to the untrained eye could be mistaken for other corals in this group. The best way to distinguish Solenastrea from other corals is the irregular surface texture and round separated corallites that protrude above the surface of the colony.


I have not photographed many of these corals and have only found colonies in a shallow Elkhorn habitat in Tela Honduras. The colonies I did find were small around 30cm (12inches) across. However, Solenastrea can grow a meter or more in diameter.
If you are looking for this coral we've been tipped off that they are common in the reefs around the Florida Keys. I found this image below of a rather large colony from Newfound Harbor in the Florida Keys photographed by Dan Mele.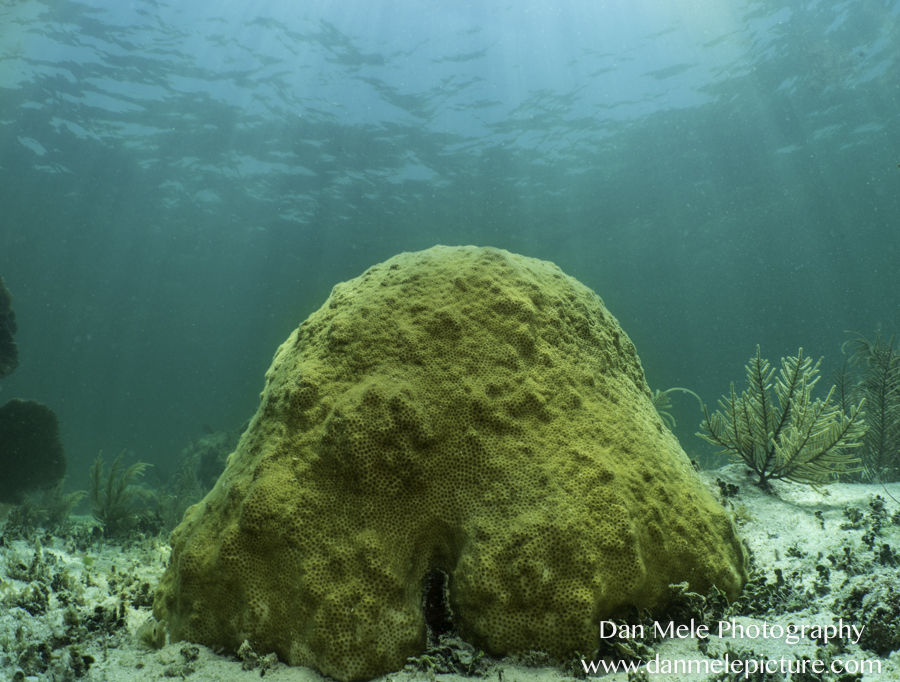 Smooth Star Coral
The common name for this species is the smooth star coral, although I often ask myself where this name comes from. The surface of the coral is rather irregular, as the corallite rims grow in different heights giving the surface a bumpy texture.
Maybe we should rename Solenastrea bournoni to the fuzzy star coral since during the day polyps are extended giving the coral a shaggy fuzzy appearance. This coral is tan or cream color with colorless to green polyps.
From far, this coral could be mistaken for a blushing star coral or a mustard hill coral, but, once you're up close and personal to this species, look for those round corallite budding above the surface of the colony at irregular heights. Once you've identified this feature, you're spotted yourself a Solentastrea.