Without hesitation, we can say that the Mame Mini-Light LED is the the 'most pico' aquarium light we've ever seen. This tiny cube of power and color LEDs cranks out up to ten watts of power for mission-critical lighting of the tiniest tanks.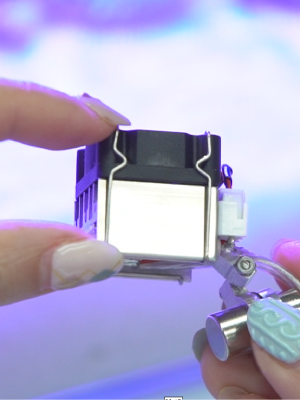 For those of you that may not have heard of Mame, this Japanese company designed and made one of the first color controllable aquarium LEDs ever, the Mame Bean light. Since then they've treated the aquarium world to some very original aquarium products including the glass Nano-Skimer, hand-made glass nano-overflow, and even an earthquake resistant aquarium base.
Mame has made their Mini-Light LED as small as possible by basically strapping an LED multichip and a cooling fan to an aluminum heatsink, and that's it! The only other part of the Mame Mini-Light is the handy clip which lets this light fasten to the side walls of small tanks, vases, and apparently a mounting arm for supporting several of these little lights.
Mame is making their Mini-Light LED in TEN different styles so you can select precisely the color your want for your tank. There's a White and a Royal blue for ¥9800 (~$91) a Clear white, Yellow amber, White green, Emerald blue, Violet, Violet blue for ¥14800 (~$139) an Ultraviolet for ¥16800 (~$156) and the classic, a color changing RGB model for ¥17200 (~$160). The Mame Mini-Light may not be the best value of lumens or PAR per dollar but if you're trying to score style points on a really tiny fresh or saltwater tank, you would be hard pressed to find a cooler Pico aquarium light than these. [Mame]