ZooMed recently unveiled a new line of LED striplights called AquaEffects in two models, both of which have some interesting features. In addition to being color controllable, these lights a re very narrow and thin, making them a worthy consideration for basic lighting of various aquarium setups. But the standout feature of these new striplights, as their name implies, is the aquatic effects they produce, but most notably for the sound that they create to add to the scene they are trying to recreate.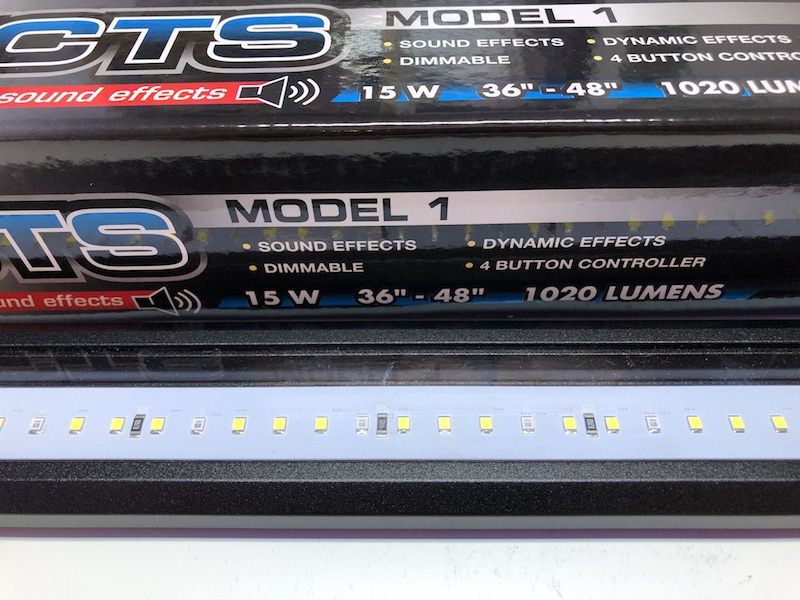 But first let's take a look at the two different models of ZooMed's AquaEffects LED striplights, simply called Model 1 & Model 2. At around five watts per foot for the model one and nine watts per foot in the Model 2, right off the bat it's clear these lights were not designed to blast massive lights. These are not intended for growing bright planted freshwater aquariums or or even an average reef tank, although you might get away with simple mosses or some low light shrooms.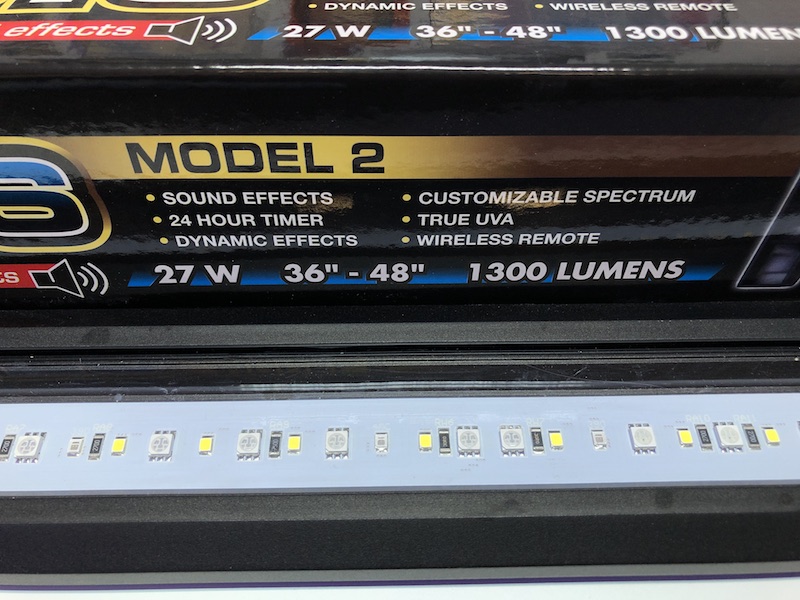 Bit what these lights are good at is being a simple, affordable general illumination striplight which is unobtrusive on the aquarium, while offering a few fun parlor tricks to make them somewhat more interesting. The Model 1 with simple blue and white LEDs has more color than a cheap fluorescent tube, but for much better color rendition the Model 2 is much more endowed with RGB, white, and even a little bit of 390nm UV spectrum. I found the spectrum to be more than adequate to render the coloration of my rainbowfish, pearl gouramis, cherry barb and various tetras.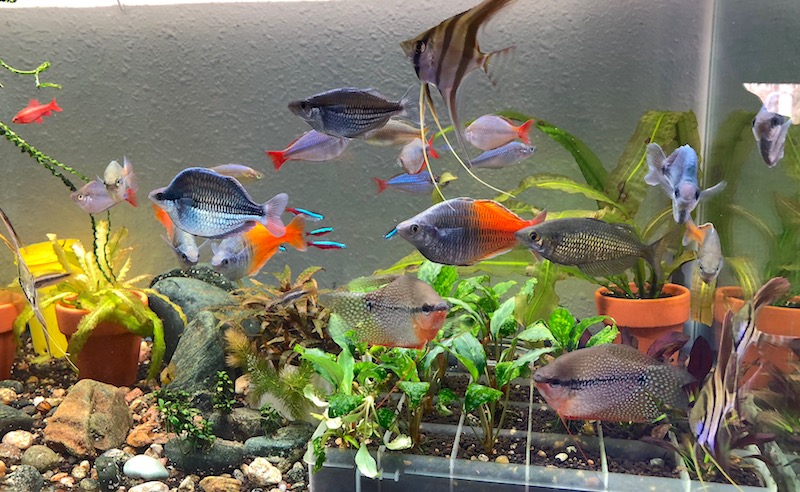 The included remote control of the Model 2 does make it easy to dial in a preferred color profile, cycling through lighting effects, and even programming the built-in light timer. However the Model 1 only has an inline remote and can only cycle through color/sound modes and change the brightness of the two color channels.
If you're really just in it for the scenes that the AquaEffects can create, the wired speaker can create the sound of waves, a rainstorm, a thunderstorm and even a tropical jungle ambience. The sound of the speaker is definitely on the tinny side, no bass in this light, but if you're really all-in there's an audio jack to direct the sound to bigger speakers.
Due to the limited brightness of these AquaEffects, the passing cloud and thunderstorm feature is not very noticeable on my 40 Breeder tank, but it would be more pronounced, and immersive, on a smaller tank. Having kept aquariums for 20 years I've grown accustomed to the light hum of my pumps and water movement as the sound I want to hear from my aquariums but for someone who is new to the aquarium hobby, and really wants to feel like being transported to an idyllic setting, the ZooMed AquaEffects LED striplights are a novelty and useful for general aquarium lighting.