There's no doubt that Bellus angelfish are some of the most attractive and desirable in a home aquarium, especially a reef tank. The bold pattern of blue, white and black barring on the females is especially unique, and we could see it become even more interesting in the captive bred specimens from Poma Labs.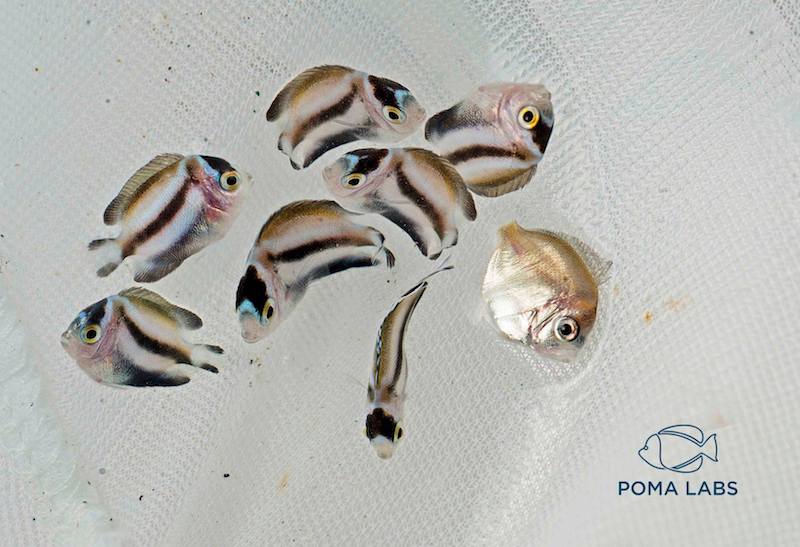 The first batches of captive bred Genicanthus bellus were released earlier this year but it wasn't until we got to Orlando for Reefapalooza last weekend that we got to see these beauties in person for ourselves. Although Poma Labs has been able to rear them to metamorphosis, the success rate varies quite a bit and usually only a handful of fish come through each batch.
Because of this low production, and the fact that they are 'hand made' captive bred fish, the fish do retail for around $250 each. However, what we found most interesting – especially in the latest group seen at Reefapalooza – is the irregular banding of these juveniles.
Normally we try to prevent any captive breeding artifacts because normally there's a percentage of fish with weird fins, funky shaped heads, or just bad development. But in the case of the Poma Bellus angels, their slightly irregular stripe could develop into a really interesting and the first 'designer' angelfish.
About two years ago we shared pictures of a very interesting bellus angelfish living at a Denver area LFS with a very unique appearance. This wild fish has irregular bars on both sides making it a very unique individual. Perhaps some of the captive bred Bellus angelfish from Poma Labs could develop this unique pattern as well but only time will tell if these are indeed the first 'designer' angelfish produced by aquarium captive breeding of this really cool fish.