Sicce, the company best known for making some of the best and most reliable pumps in the aquarium world is throwing their hat into a whole new category – glass aquarium. As you might imagine for Sicce to start offering a new line of tanks they weren't about to do something that wasn't at least a little special and you'd be right.
Currently, a large number of affordable glass tanks in the aquarium hobby come from China these days so it'll be very refreshing to see some fine Italian tanks offered at a price we can afford. The tanks themselves are made of high clarity glass, are mostly of the 'shallow cube' variety in dimensions, and top out at about 39 gallons in volume.
But what will make Sicce's offering unique is the supporting 'ecosystem' of products they've preselected as ideal pairings for their aquariums. Naturally this includes Sicce pump but it goes much further than that. In addition to standard undrilled glass boxes, the real standout feature will be the models that are pre-drilled specifically to accept the slim Eshopps Eclipse overflow box.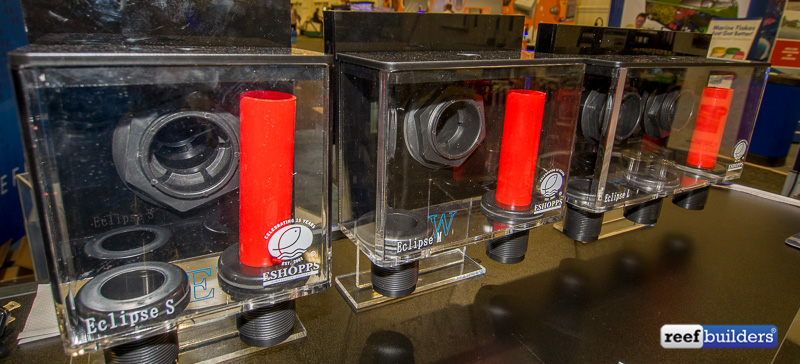 The Eshopps Eclipse has a very narrow internal box for surface skimming while being unobtrusive inside the tank. It also has a quiet drain feature so that you can quietly siphon-drain to the sump and an overflow pipe prevents overflowing in the event of blockage. With its black stand and leveling mat, you can think of the new Sicce tanks as smaller 'Red Sea Reefers' that are almost all in one setups, but still offering users the flexibility to customize equipment and system design.
We don't have exact pricing yet but the combinations of tank, stand, overflow is expected to be quite reasonable, and it doesn't stop there. Additionally, the new Sicce aquariums will come with a jackpot of rebates for Eshopps sumps, Sicce pumps, and AquaticLife light fixtures totaling up to hundreds of dollars on savings.
Sicce's new glass aquarium kits really fill a gap between low-cost completely all in one setups, and higher end packages like the Red Sea Max and Reefer series. In partnering with some of the aquarium world's best manufacturers, we expect this new glass tank from Sicce to be a surprisingly good value.