The interest in large showy Ricordea yuma is on the rise and with it, we're seeing an increase in the number of quality specimens available to the aquarium hobby. But Australia has always been hot for their large 'Rics' and coral specialist Gallery Aquatica has developed a special tool to help look after loose and small polyps of Ricordea yuma.
The Ricordea Nursery is a 3D printed enclosure with a screen top that offers large shroom and morph polyps a place to get some TLC. This could be due to a loose polyp which needs to be gently contained until it reattaches, a special place to put small polyps until they grow etc. The Ricordea Nursery can also be used to keep loose zoanthid polyps or fresh soft coral frags until they reattach to a frag disc or loose ruble as well.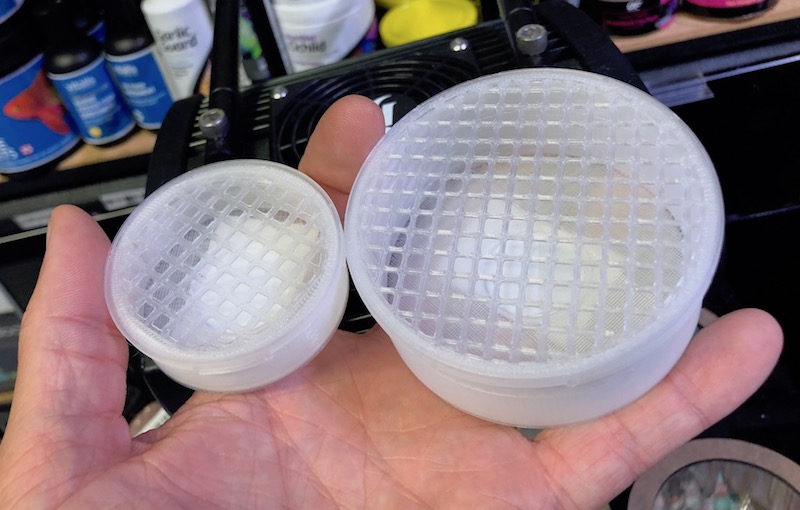 Gallery Aquatica offers the Ricordea Nursery in two sizes, a small 5cm/2 inch size which is 1.5 cm deep and a larger 8cm/3 inch model which is 3 cm/1 inch deep. We've previously made crude versions with netting or mesh and a rubberband over a piece of PVC, but being priced at AU$6 and AU$12 respectively with a snap on lid, the Ricordea Nursery is likely to get a lot more usage than an ugly DIY solution.
I for one can't wait to get one home and place some new Sarcophyton cuttings inside where they will auto attach to loose rubble. These innovative Ricordea Nurseries are currently available in Australia from Gallery Aquatica, and they are sure to be bringing a bunch of these and their other 3D printed projects to ReefStock Australia in a couple months.