Colossal Coral Colonies
Unless you have a 1000+ gallon aquarium and are growing a single species of coral it's unlikely you would have seen corals get anywhere near this size. Even for wild colonies, the corals in Halmahera are left to grow unchecked and all reach colossal proportion.
We visited Halamahera last month on a coral spotting mission for Polyp Lab, and, if you haven't already, make sure to check out our first article to learn more about this incredible island in the north of Indonesia, between Sulawesi and Raja Ampat.
Turbinaria – Tanjung Uli
Turbinaria is a coral that is known to grow quite large, and it's not uncommon to find colonies six feet across (1.8m). But on one dive site named Tanjung Uli we came across two colonies which were more than twenty feet wide (6m). We stuck around the first colony for a good five minutes swimming around the coral and photographing it.
After feeling satisfied with this colossal coral spotting, we swam off only to discover a second colony which had to be another five feet larger at least twenty five feet or (8m) wide. Lucky our friend Markus Roth was there taking pictures and was able to capture a few pictures of me above the coral to give a better reference of size.
Montipora – Gorango Kecil
Anyone keeping plating Motipora knows that once it gets going these corals can become unruly and fill up a coner of your tank in no time. And on Gorango Reef, the sky is really the limit to this corals extensive growth.
The top of the reef at Gorango Kecil, one of three underwater pinnacles on the Gorango Ridge, was layer upon layer of Montipora capricornis. This coral grows into vase shaped tiers with slightly pleated edges.
Along the edge of the reef we found bright green Montipora. It was difficult to tell the species of this abundant genus of corals but thanks to some expert ID advice from Jake our guess would be a mix of Montipora aequituberculata and M. capricornis.
Bottle Brush Acropora – Tanjung Uli
While not a single colony, this stand of bottle brush form of Acropora corals was not only impressive in size but also in condition.
These corals are quite delicate with thin branching radial corallites, and because this reef sees 's very few divers each year, you would be hard-pressed to find a single broken corallite or branch. If you were, the culprit would most likely be a fish, turtle or other marine creature making their home between the dense network of branches.
All of these corals were along a gentle reef slope around a small piece of land jutting from the shore. Most of these corals were found on the protected side facing the western end of the bay. Without threats of storms, protection from waves, and minimal to no impact from divers, this is a pristine example of how large and extensive these corals can become.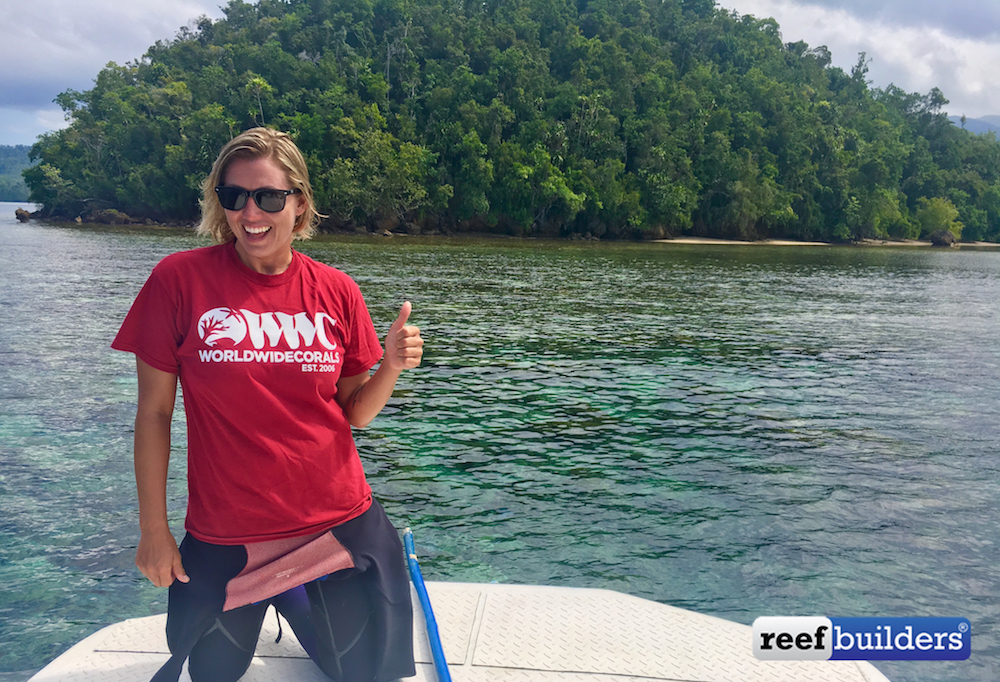 In this stand we found several different species of Acropora, that would form large clusters, often with a few different color varieties filling out the bunch. We found all the usual bottle brush suspects, Acropora echinata, Acropora subglabara and Acropora carduus.
Green Star Polyp – Gorango Obesar
This is one of my favorite aquarium corals. It's easy to grow and quickly fills a tank. A word of caution, plant you green star polyp on a rock, or magnetic frag plug so you can easily remove the colony should it start growing too large.
You can leave a few polyps in the tank which will continue to colonies whatever it touches. Just look at this wild colony. Bright green polyps from 20 feet (6m) deep down to 30 feet (9m). If you didn't know this was underwater you might think it was a grassy knoll.
Wouldn't it be cool to see an 'imitation' planted tank made with green star polyps and branching corals manicured to looks like tiny bonsai trees!
Another epic coral was the Acropora plumosa. This coral grows horizontal branches like wings sprouting from the edge of the colony. In fact, there was so many beautiful plumosa corals we feel they deserve their own article!
Stay tuned next week for more coral spotting from Halmahera Indonesia.
Thanks to the Weda Reef and Rainforest Resort for showing us around Halmahera and to Polyp Lab for sponsoring our series on corals from Indonesia.