Scuba Diving in Halmahera Indonesia
Halmahera is the largest of the Maluku Islands, North Maluku Province, Indonesia, between Northern Sulawesi and Raja Ampat. Nicknamed "Gajah Tidur" or the Sleeping Elephant, Halmahera has a distinct shape, complex geography, and rich coastal habitats.
In a report from 2017, Species Richness and Relative Abundance of Reef-Building Corals in the Indo-West Pacific, Halmahera, in particular, is noted as having the higher concentration of coral diversity in the world.
In 2008, scientists reported 224 coral species on a single dive site in Halmahera, which was the most species recorded for any single location. This report came from the April 18th 2008 from Loloda Utara Dive Site located off the northern tip of Halmahera, near Rau and Morotai Island.
Getting to Halmahera
We flew from Bali via Makassar, from there a second flight to the tiny island of Ternate, off the west coast of Halmahera. From Ternate, you will have to catch a local taxi boat for the 1hr ride over to Sofifi a city on the mainland of Halmahera.
To get from Sofifi to Weda Bay is another two-hour car ride. We travel along the coastline before heading across the central mountains. The Weda Reef and Rainforest Resort is the only dive resort located in Weda Bay, Southwest Halmahera.
Weda Resort will help organize your transfers from the Ternate airport to Weda. For the true adventure bound, you can also catch or hire local transport from Sofifi. The island of Ternate is noticeably more populated than the large Halmahera Island. The scenic car ride across Halmahera windes through sparsely populated villages and lush tropical jungle, giving a wild adventurous feel.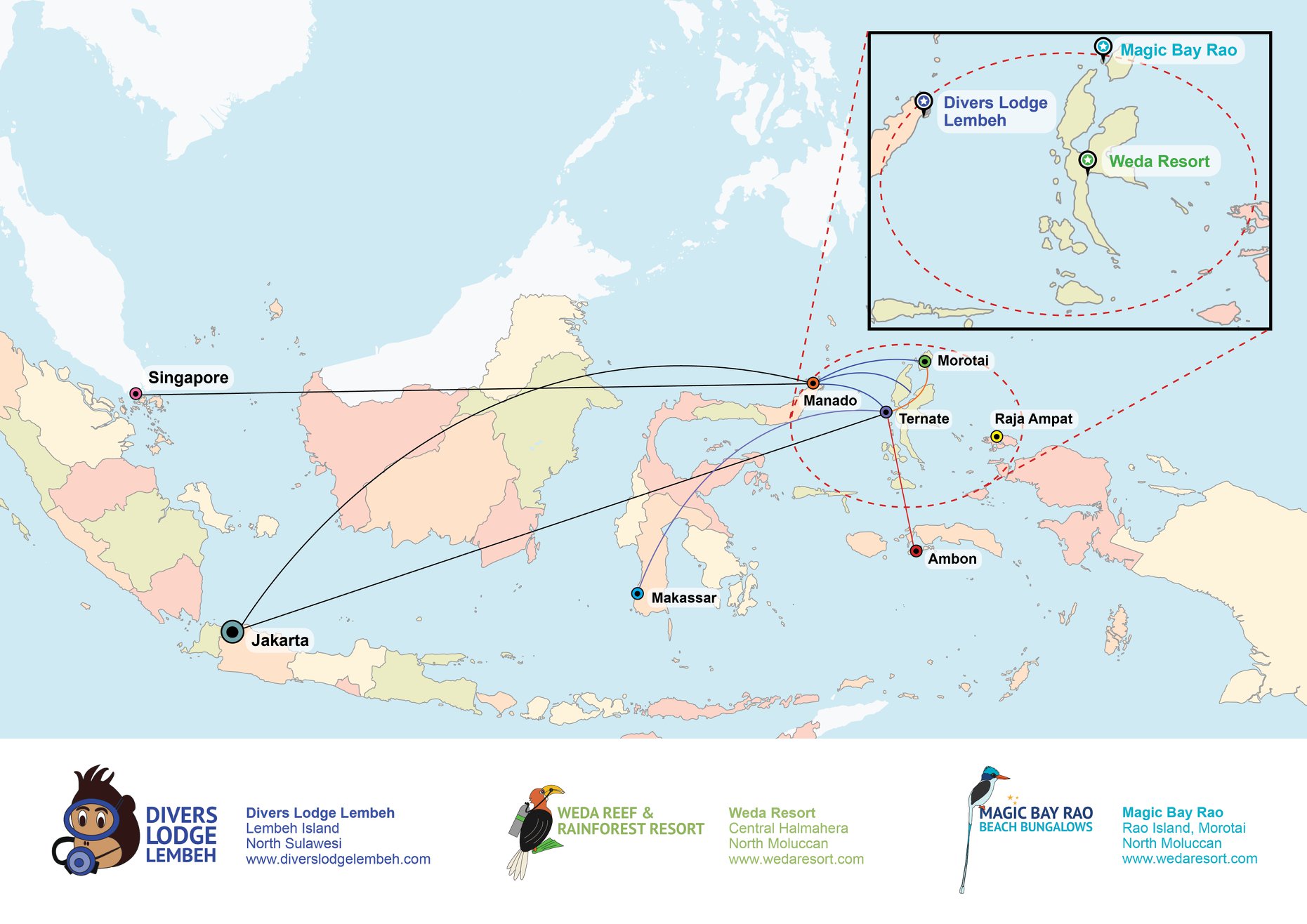 There are a few flights arriving daily to Ternate island. The main cities you fly through are Makassar, Jakarta, and Manado. Fly with Batik and Lion air.
I used the Traveloka app to book these flight as Lion and Batik airlines will not appear on some other search engines. But to be honest I am now very happy with how easy it was to use Traveloka. During this trip I even needed to rebook a flight and could do that directly hassle-free in the app! Not an ad, but a solid tip if you are planning your own trip to Ternate.
Geography and Natural History
Geographically, the island of Halmahera startles the equator. In Weda bay it is possible to dive in both the Northern and Southern Hemisphere. The Weda Reef and Rainforest Resort is located just north of the equator at 0°25'23″N!
It took me almost a full day to arrive on the shores of Weda Bay and getting to Halmahera is half the adventure, but nothing compares to the epic journey of naturalist Alfred Russel Wallace who visited Halmahera, as described in his 1869 book The Malay Archipelago.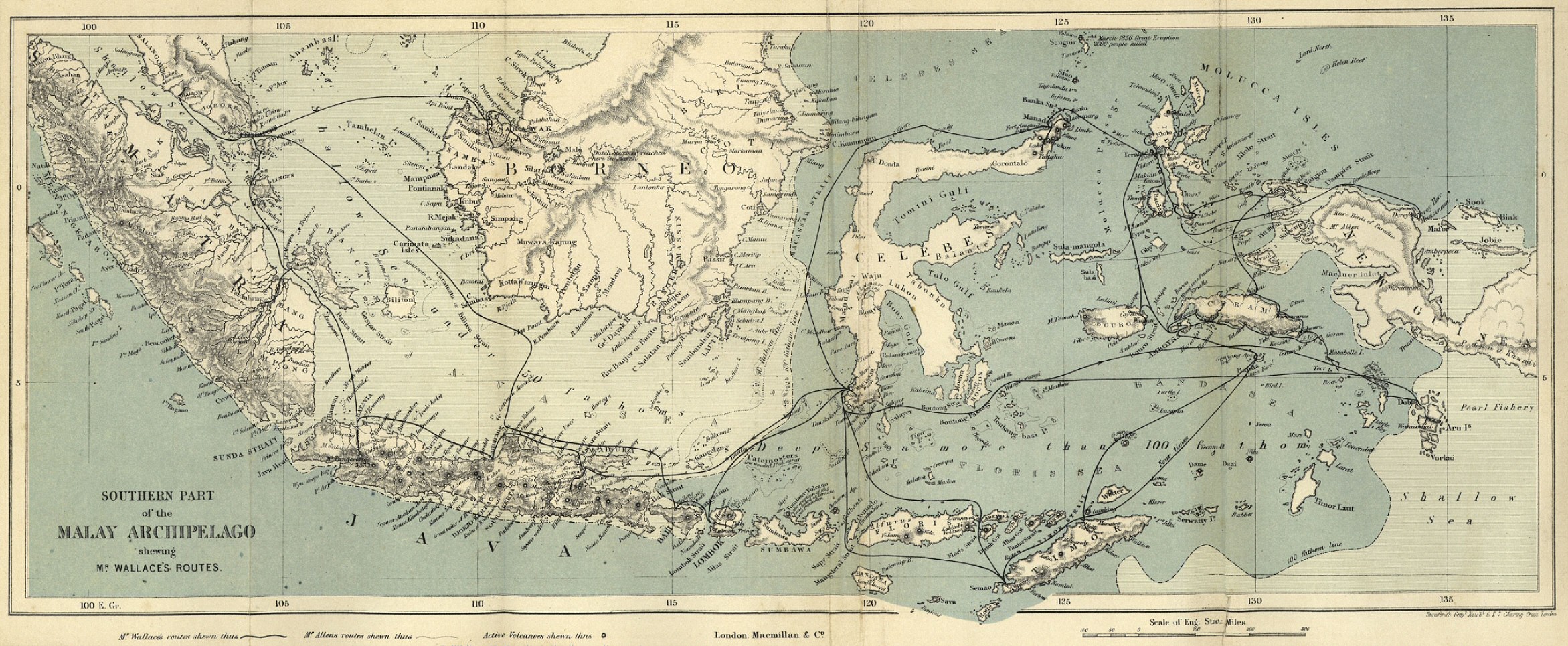 It was here, in February between the bouts of fever, that suffering Wallace came to the idea of the natural selection via the survival of the fittest. Wallace wrote his ideas during the next couple of days, and sent the historical letter to Darwin.
Wallace considered the standardwing bird of paradise, Semioptera wallacei, to be his greatest prize, and Halmahera including the Weda Resort is well known to bird watches just as much as divers. You can organize tours from Weda to see birds of Paradise and there were just as many bird watchers staying at the resort as there were divers.
Scuba Diving
As I mentioned Halmahera has an exceptionally high diversity of coral species which had me bouncing off waterfalls in preparation for this expedition.
With very little information available about this remote location (especially about corals) we really didn't know what to expect. During the Halmahera survey expeditions, the highest diversity of corals was noted on the Northern tip of Halmahera, but we hoped to find some interesting dives in Weda.
Coral Jackpot!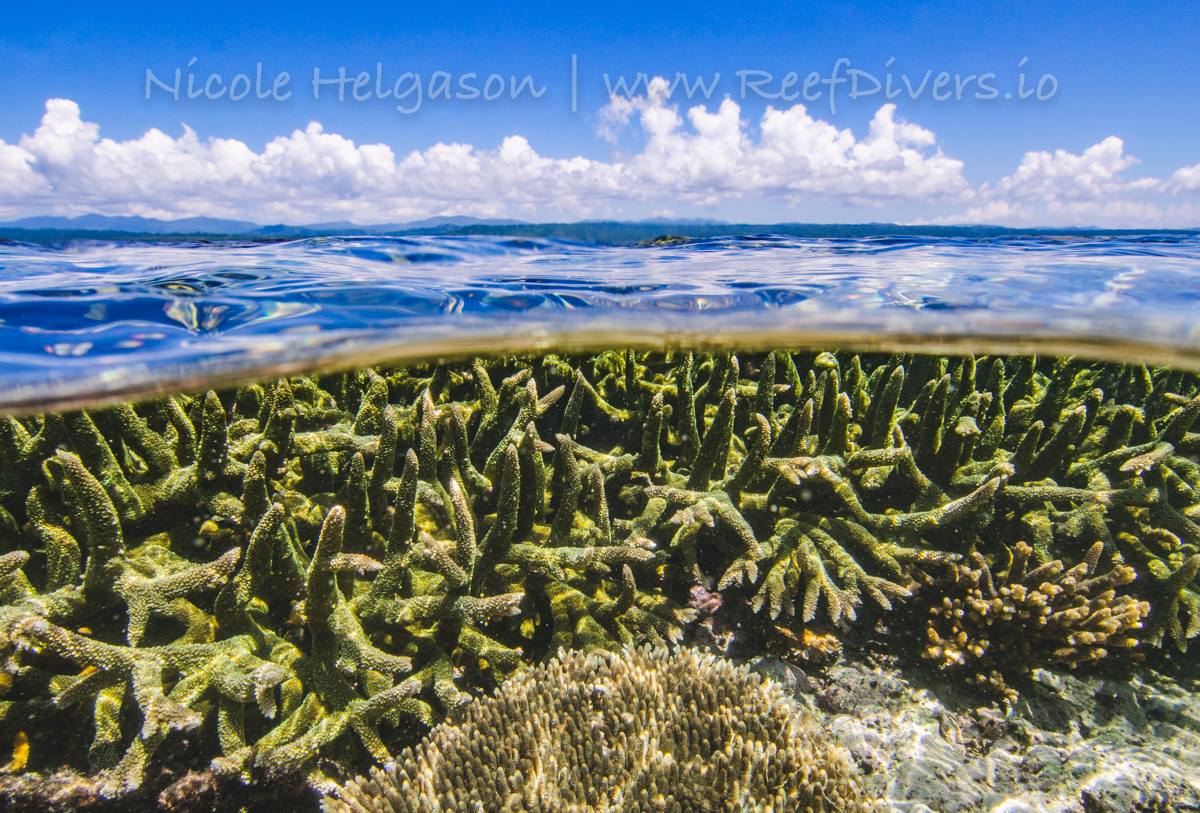 The bathymetry of Weda Bay is complex with ridges, pinnacles, and ancient volcanos creating a diversity of diving (and coral) habitats. Certain times during the year big waves come into Weda bay (July-August) but the region does not experience any tropical storms, so corals are able to grow without natural disturbances.
We found colossal coral colonies, thousand-year-old colonies, intact fields of delicate bottlebrush corals, thriving Acropora reefs that break the surface of the water, and not a single other dive boat in sight.
I was invited on this trip by photographer Markus Roth to document corals and the diving operation in the region. We spent half of the trip in Weda and the second half further north in Rau Island. The diving was beyond incredible and four days at each resort wasn't nearly enough time!
Markus was able to snap a few lucky shots of me capturing the beauty and the shallow Acropora gardens and cruising above ginormous Turbinaria corals.
Coral reefs in Halmahera are thriving and with very little dive tourism, delicate coral reef ecosytems are in near pristine condition. The Weda Reef & Rainforest Resort has been batteling with Crown of Thorns outbreaks on certain reefs, trying to keeping the voracious coral eating echinoderms in check.
This article is for general info about scuba diving in Weda Halmahera. For specific information about dive sites, and coral species, stay tuned to ReefDivers, and I will update this article with new dive site description as they come. We already wrote one report about Gorango Reef, and the Acropora plumosa corals at Kobe Reef, and you can expect more site-specific coral spotting articles coming soon!


Thanks to the Weda Reef and Rainforest Resort for showing us around Halmahera.