Keeping a reef aquarium going to a successful point six months or even one year down the road is a real achievement which comes with plenty of unexpected challenges. So imagine the long winding road that fellow reef builder Marc Levenson has experienced on his journey to the fifth year anniversary of his main show reef tank.
No matter how experienced you are, when you set out to build the perfect reef tank with all the best intentions, there's absolutely no telling what small problems, simple solutions and everyday hacks you'll come up with to make the whole ship sail smoothly. This is what I love about Marc's reef tank, because after five years this five year triumph of reef building is chock full of improvements he's made all along the way.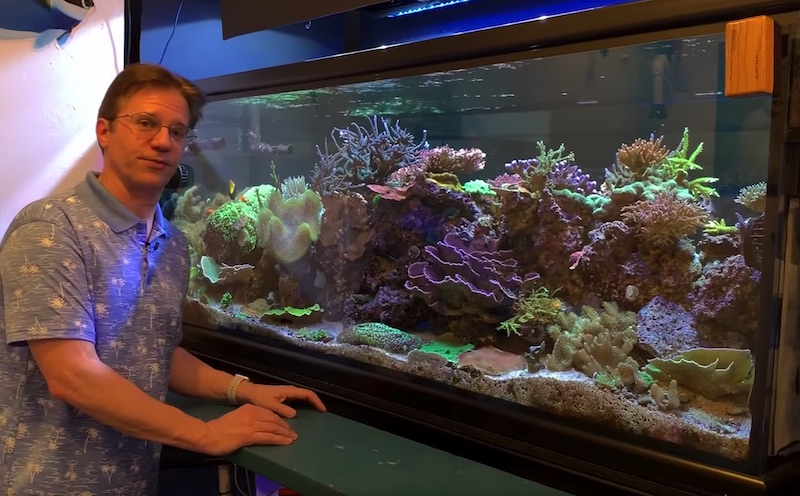 You gotta love his very original 'framed in' external overflow, his food 'chimney' to make sure the auto feeder dispenses below the surface, the boardwalk behind the tank for easy access and especially the sliding rails for his light fixture to move it as needed. And Poseidon bless his soul for not only using a classic, tried and tested metal halide system with efficient ballasts & huge reflectors but also using the latest dual envelope Twin-arc lamps for maximum longevity.
Marc's reef itself is a beautiful showcase of reef aquarium corals of many kinds – mixing and matching various corals like Acros together with Lithophyllon, Pavona and Chalice corals is just about the hardest thing to do in a reef tank. Of course our jaw is still on the floor at the sight of that gigantic long tentacle anemone. There's so many more details about Marc's tank we could heap praise on but thankfully he's made a very candid mini tour of his reef tank highlighting his reef tank at the five year anniversary. Congratulations to Mr. Levenson on a very creative and original reef aquarium display and be sure to visit his channel for more informative videos including a follow up Q&A about his reef tank.