Learn to Spot Coral Growth Forms
Corals are the foundation of the marine environment, but the diversity of coral species often gets overlooked. Looking for corals can be overwhelming. There are so many different shapes, sizes and colors to look for that it's hard to know where to start.
In this series, Learn to Spot Coral Diversity, we will give you a few simple steps to follow to get you looking at corals with new eyes and how to become a coral spotter. Once you're done reading these articles the reef will never be the same way again and you will find it easier to spot corals while diving.
Facts about corals
Corals are found in all the tropical seas of the world, and mostly in areas closest to shore, and closest to the surface between 1 and 40m. This is because corals need light to survive. There are two general types of corals soft corals and hard corals. To learn how to tell the difference between the two click here.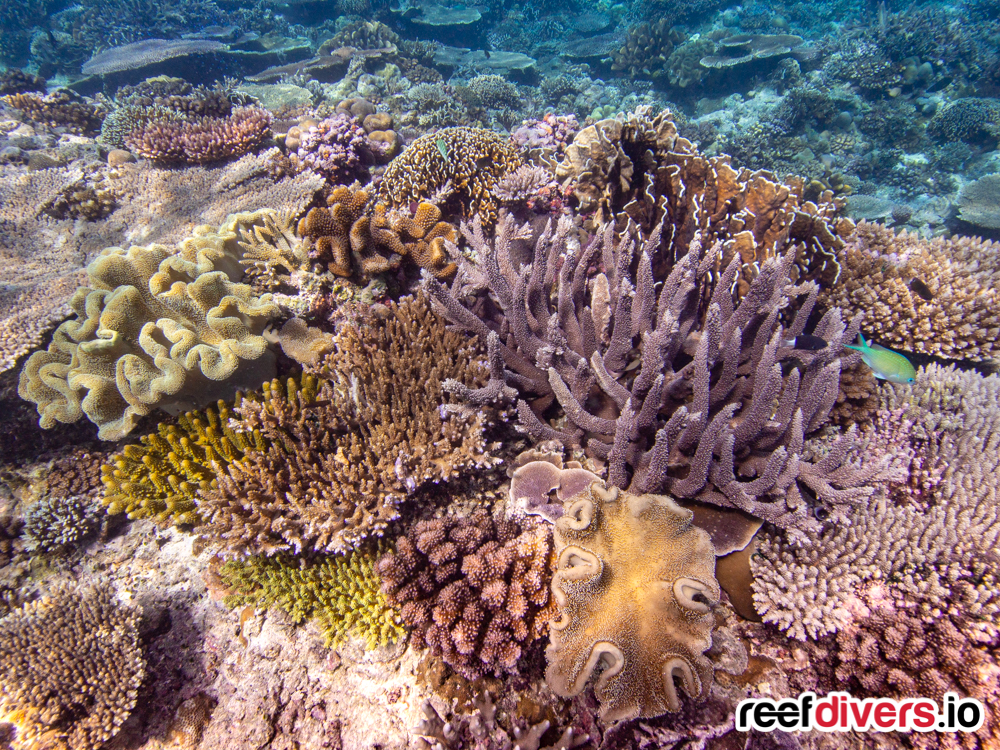 On reef divers, and in this series we will focus mostly on hard, photosynthetic corals. These coral build hard calcium carbonate skeletons that become the coral reef and are important for building complex habitats for fish. In fact you find over 25% of all marine species make there home in coral reefs! This is an impressive number considering they cover less than 1% of the ocean.
First Step to Becoming a Coral Spotter
In this series, we want to give you simple tools to spot corals, and help you become a Coral Spotter! Coral spotters are divers and snorkelers that go out into the ocean with the intention of spotting coral diversity.
Now this can sound quite overwhelming considering there are hundreds of species of corals. But there is a simple trick you can use to start training your eye to spot corals. To learn more about the psychology of coral spotting check out this article from Dr. Laura Walton.
Anyways back to our simple trick. If you are serious about becoming a coral spotter
your first mission is to learn to spot six unique growth forms of coral.
This can seem overly simple at first but we promise, spend a dive learning to spot coral growth forms and your brain will start recognizing corals like never before.
BRANCHING
One of the first steps to becoming a coral spotter is learning to recognize coral growth forms. An perhaps the most recognizable of them all is branching corals. But even within this recognizable group, there are many varieties of coral branches
Branches can be long and skinny, thick and wide. They can have long tubular corallites or small rough bumpy corallites. Some of the branches are very delicate breaking with the slightest disturbance while others are thick and robust helping to buffer the coastline from waves and storms. Some even have puffy flowing tentacles, which can easily be mistaken for a soft coral. Click the link to learn more:
LINK: Learn to Spot 6 Types of Branching Coral 

PLATING
Spotting coral can be overwhelming when everything looks the same. However, learning to recognize corals based on growth forms in the easiest way to master the art of coral spotting.
Plating corals are found in all reef habitats from wall to reef tops. The plates can be wide and smooth or leafy and crinkled on the edges like a lettuce leaf.
Plating corals have adapted to living further down reef slopes by spreading out their skeleton. This allows them to capture more light which feeds the photosynthetic algae living inside their tissue.
LINK: Learn to Spot 6 Types of Plating Coral 

ENCRUSTING
Corals grow in different growth forms to survive in different habitats, and the coral growth form which a most easily overlooked are the encrusting species. These corals creep along the rocks like a crust holding everything together, almost like a layer of cement fusing together the substrate.
The growing edges of encrusting corals are often a lighter color than the older coral skeleton. This edge can be a thick rounded layer that looks like melting candy, or a thin delicate later hardly distinguishable from the rock.
Encrusting corals can tolerate high flow environments much more than any other growth form of coral. You can find encrusting corals in nearly every underwater habitat, however, you will find the hardier varieties dominate reef walls which are prone to swift currents.
LINK: Learn to Spot Encrusting Coral 

MEANDERING
Meandering is just another word for brain corals as the long meandering walls and valleys look like a brain!
There are many different species of meandering corals and for the most part meandering corals grow into round dome shape colonies. When living in high flow environments or at the edge of reef walls they can also form plates. 
When you are looking at meandering corals you can learn two new terms about coral biology, ridges, and valleys. These terms describe the features of the meandering pattern and can help with more advanced coral identification. For example, when trying to identify between two similar species you might have to measure the distance between ridges or the depths of the valley.
The polyps of meandering corals are located inside the valleys, and depending on the species sometimes these polyps are a different color than the rest of the coral. Polyps of meandering corals are usually hidden during the day and come out at night to feed.
LINK: Learn to Spot Meandering Coral

Also, remember that some corals are like chameleons and can take on a few different growth forms, so don't get caught up in the idea of putting each coral in a specific growth box. Instead, just try diving with the intention of recognizing these six growth forms of coral. Branching, encrusting, meandering, massive, plating, and solitary.
Let us know in the comments if you have tried coral spotting! What is your favorite growth form of coral, and which do you find challenging to spot?