Coral pests are never fun, especially the type that are hard to remove with a simple dip. But undesirable parasites are even scarier and coral life-threatening when we don't even know what we're dealing with, as is the case with these images of a very unusual acropora-eating flatworm.
Hopefully you've never had to deal with the dreaded AEFW which might only infect Acros, but they can do a number on an established reef system. But if you have dealt with AEFW, and you've seen what they look like before, immediately you'll see in this image something both familiar and also very bizarre.
The bane of Acropora 'stick heads' is the Amakusaplana flatworm but whatever is visible in this image is not exactly like what we're used to. The flatworms infesting the Acro in this image are smaller, darker, more numerous, and slightly different shape from the typical Amakusaplana acroporae which is a common aquarium pest.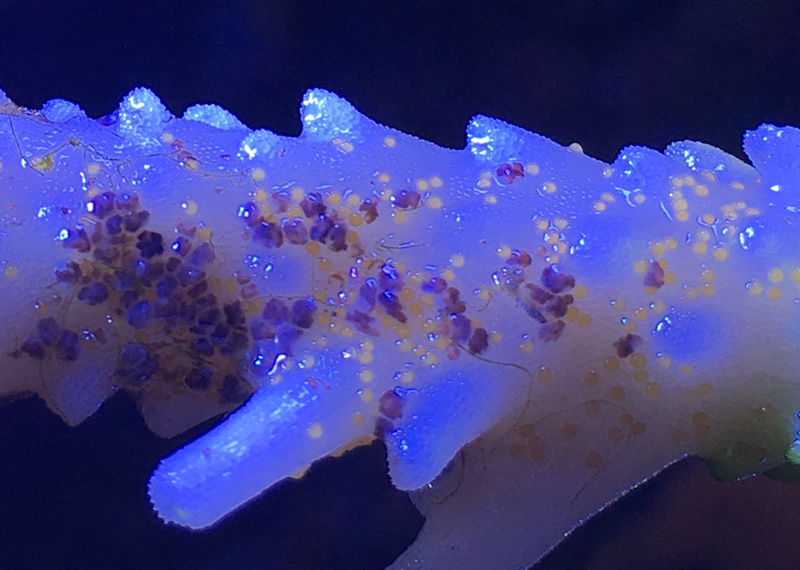 Not only is the appearance of the worms themselves quite unlike the 'search image' we've developed to keep an eye out for the uninvited coral pests, but the egg masses are just as puzzling. In common AEFW the eggs are clustered in masses of small dark dots, always on exposed tissues, usually at the base of Acropora frags and colonies. In this sample the eggs are somewhat larger, they are a light yellow color instead of brown, and more importantly they are randomly spread out, unclustered and seem to be laid directly on the coral tissue.
So far all we've really got to go on is this image and the testimonial of the unfortunate reefer. Thankfully, this infestation of a bizarre acro eating flatworm has been successfully treated using the same protocols as common AEFW, dipping colonies to remove the flatworms and removing any egg masses or better yet, discarding infected branches. It's scary to think there's more than one type or species of acro eating flatworms but if we all take better care to dip all potentially cootie-carrying coral specimens, we should be able to prevent these types of coral pest infestations and their spread.