The Kamoer X1 is a wirelessly controlled single channel dosing pump and the natural evolution of what these standalone dosers should be. With nary a button, screen or any kind of physical way to interface with the a Kamoer X1 pump, all interactions are performed through the Kamoer bluetooth app.
The pump itself is hardly more than a small box with a tiny peristaltic pump head, an input for power, a power output for daisy chaining multiple pumps, and just one single indicator LED to display connection status. The Kamoer X1 is similar in overall size as our previous favorite standalone single channel doser, the Micom Liquid Feeder from Johnlen which has a basic programming LCD built-in. The quick-disconnect peristaltic pump head is a must for keeping dosing pumps like these in working order so it will be a great convenience for user of the Kamoer X1.
The world of reef aquarium products has reached a level of level of refinement across many different devices but usually the software and wireless connection is the part that suffers. Thankfully, we are happy to report that the Kamoer X1 connected to the app near instantaneously and the app is streamlined, easy to use, even if a little bit basic.
There's really three important things that you need to do with a dosing pump and those are 1. prime the pump, 2. calibrate the pump & 3. program it to dose a desired volume at a specific time or times. The Kamoer X1 app places these three functions front and center and calibrating the dosing pump was so quick and easy we did it three times just for fun.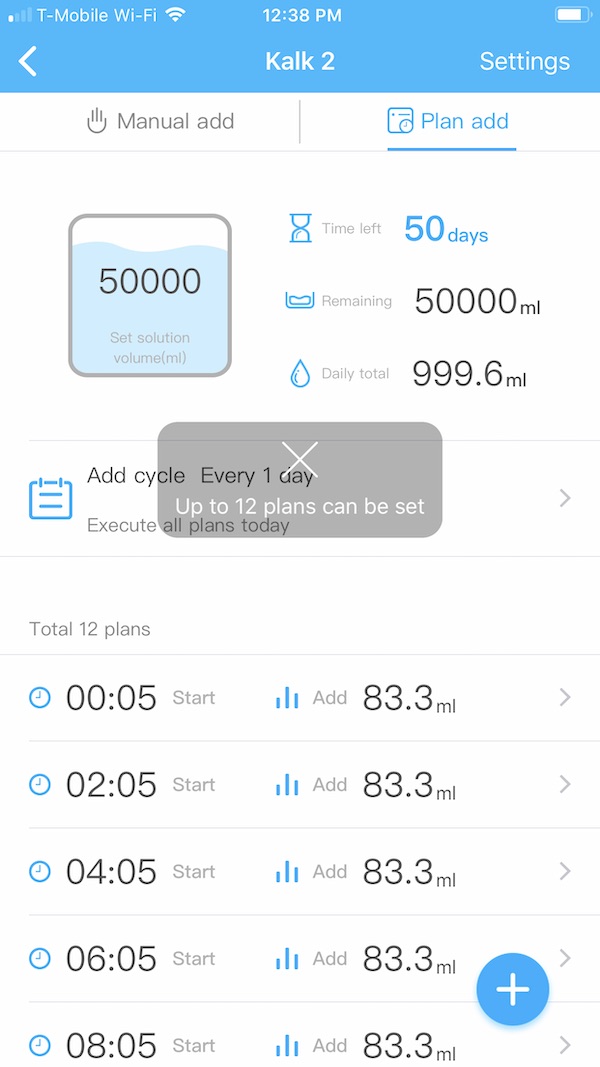 For general dosing the Kamoer X1 smartphone app is fully equipped to dispense fluid at various times and the quick plan and manual programming options allows users to really do anything they want. Since we will be pairing up the Kamoer X1 with the IceCap Kalkreactor, we want to prescribe an hourly dosing volume but the app is limited to only 12 dosing times for some reason.
This limitation is not ideal since we want to program for 24 dosing times to spread out the pH spikes incurred from the addition of kalkwasser to the reef aquarium water. Perhaps this could be solved by upping the number of programming points or better yet, add a kalkreactor mode which either performs continuous dosing of a set volume, or somehow distribute the dosing a little more evenly than every two hours.
We're pretty sure CoralVue is keen to pair up the Kamoer X1 with their new magnetic stirring kalkreactor so we hope they work with Kamoer to add a mode specially designed for dosing kalkwasser. To be honest though, the Kamoer X1 is such a delight to use and it's so affordable that criticizing the lack of optimization for kalkwasser dosing is somewhat of a reach.
We still remember a time that if you wanted a programmable peristaltic dosing pump, a $350 refurbished medical device from eBay was about the best you could hope for. At just $60 with full wireless control the Kamoer X1 is redefining what dosing pumps can do for our reef tanks and if this is the state of the art in aquarium dosing technology today, we cannot wait to see what the future holds.