Blennies are one of the most beloved and fun groups of small saltwater and reef fish yet we don't see nearly enough new ones from year to year. The newly described Meiacanthus solomon breaks the drought from a genus of fangblennies which is recognizable for sporting a pattern of white, black and yellow stripes.
One thing which we have always found peculiar about the Meiacanthus genus is that we tend to think of this group as being from shallow water, which is where most of the small and adorable aquarium fangblenny species come from. However many new and undescribed species of Meiacanthus are actually found in deep water beyond the reach of conventional SCUBA like the new M. solomon.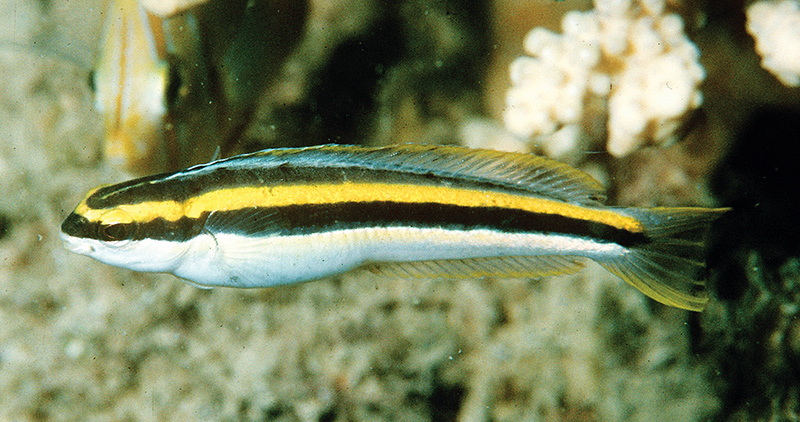 As you might expect, the Solomon Fangblenny was collected in the Florida Islands group of the Solomon Islands at a depth of 65 meters or more than 210 feet deep. The single type specimen is a lone small male measuring barely more than one inch long at ~28mm although from what we know about this genus, it very probably grows to double that total length.
Meiacanthus solomon is mostly white with two pronounced dark longitudinal stripes on the upper half of the body from the tip of the snout to the base of the tail. The base of the dorsal fin is a full length black stripe and has a distinctive yellow edge to the dorsal fin which helps to distinguish the species. New species descriptions can be pretty exciting because they often include information and images of closely related species which is precisely the case with Meiacanthus solomon. [JOSF]