The recently described Anastromvos 'Astro Leather' coral is a very curious genus that is just beginning to receive a modest degree of appreciation. We were very fortunate to receive some live colonies from Oceans Reefs Marine Aquariums in West Australia barely a week after the original description and have learned a lot about this peculiar leather coral over time.
The delineation between Lobophytum devil's hand and Sarcophyton toadstool leather corals is pretty well defined, and easy to see both in frags and even more so in large colonies. These two broad genera of corals do great in a wide range of reef tanks, growing fast and living harmoniously side by side. But very recently we noticed that the same cannot be said for the unique Astro leather corals we are keeping in our soft coral only reef tank.
Get to know the leather corals: Sarcophyton, Lobophytum and Sinularia
While the bulbous Anastromvos leather corals may look very similar to Sarcophyton toadstools, the sting that Astro leathers receive from common toadstools points to a much greater division than we ever imagined; these are not just a little different but very different to exhibit such a sensitivity to the sting of common toadstools.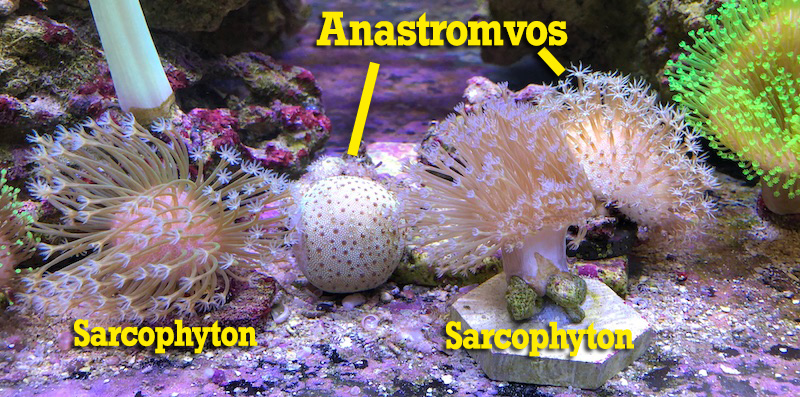 As the polyps from our OG Weeping Willow leather and common long polyp leathers have grown and increased their reach, it's been rather surprising to see the polyps from Astro leathers withdraw to avoid them. With increased contact the Astro leathers will then exhibit a burn to their tissue so it's fair to say they are really not liking the cuddles from their Sarcophyton neighbors.
In the video below you can see a nice lineup of common leather coral frags including first Lobophytum, Long Polyps toadstool, Astro leather, OG Weeping Willow, then Astro leather again. We will continue to grow and observe all these various leather corals and look forward to seeing the newly discovered Anastromvos grow larger, and what they will look like when they reach a mature size.