The blackstripe basslet is a very uninspired name for a little fish we just spotted in the Diver's Den that deserves a moniker a whole lot more inspired. Better known as Liopropoma latifasciatum to the initiated rare fish fanciers, the pale colored basslet in LiveAquaria's care is an ugly duckling compared to the beautiful swan it will soon grow into.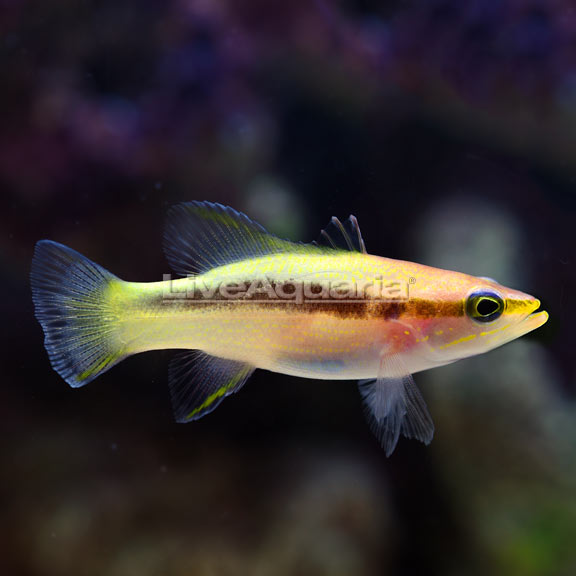 L. latifasciatum is part of the group of basslets that includes better known rainbow, candy, african and plenty of other gorgeous basslet species, but the blackstripe is so rare that it's more often spotted in specialized fish tanks of Asia than in the West. One thing that makes L. latifasciatum and its sister species L. lunulatum so rare in the aquarium hobby is that developing swim bladder problems is the norm for them, not the exception.
Were it not for this swim bladder complication and the resulting buoyancy issues we bet these medium sized Liopropoma species would be a lot more popular in the aquarium hobby, and targeted more often by collectors. Interestingly enough, the last time a healthy blackstripe basslet was offered for sale online it was Ten Years Ago and also from LiveAquaria!
The rare fish market certainly has matured quite a lot since 2009 when the L. latifasciatum first sold for $299 and today in 2019 it's a thousand dollars more at $1,299. However if you compare that price to the blackstripe's relatives like the Aberrans and Aurora basslet that can sell for many times more, the juvenile blackstripe is a steal compared to how big and showy it will one day become.