Snorkeling Solomon Islands
The Solomon Islands is a South Pacific destination surrounded by crystal blue water teeming with life. Combined with charming islands bungalows, and a uniquely different culture, the Solomon Islands is a tropical holiday destination waiting to be explored.

Snorkeling is a fantastic way to explore the vibrant coral reefs surrounding the many islands. You can be surrounded by tropical fish and spend hours in the water weaving in and out of coral bommies, seagrass, and white powdery sand.
While we spend most of our time scuba diving, on this trip in the Solomon Islands we found ourselves spending more time at the surface snorkeling around shallow coral reefs. This was such a pleasant change and we truly enjoyed our extended sessions in the water, not limited to the amount of air in our tank.
We put together this list of our top 5 snorkeling experiences you won't want to miss while visiting the Solomon Islands.
Mbigo Mbigo – Dive Munda
From the moment our head slipped beneath the waves, we knew we made the right choice to snorkel Mbigo Mbigo. Skip the scuba tank and instead experience Mbigo Mbigo from the surface! The scale of this reef is something you can only experience from above.
Mbigo Mbigo is a 45-minute boat ride from Dive Munda, one of the further sites to visit while staying in Munda Solomon Islands. Mbigo Mbigo reef is off the coast of Parara Island and is characterized by canyons and ridges.

Snorkeling with Manta Rays – Uepi Island Resort
Snorkeling with Manta Rays is on the top of many ocean enthusiasts wishlist. An encounter with this charismatic megafauna inspires ocean dreams and can even be the foundation of planning a tropical getaway.
Manta encounters can be far removed from the Instagram reality, and instead, turn into the all too familiar reality of over-tourism. Thankfully the snorkeling experience with manta rays around Uepi island is as close to the dream reality as they come.

Sand Island – Tavanipupu Island Resort
Picture this, an uninhabited island made entirely of sand. Only a few sparse bushes growing in the center, surrounded by azure, turquoise, well pretty much every shade of blue you can imagine. Welcome to Sand Island, only a short boat ride away from the Tavanipupu Island Resort, Solomon Islands.
Sand Island will leave you feeling as if you've just landed on the edge of the known universe. Set up a beach umbrella and relax for the afternoon. Enjoy a picnic lunch between incredible coral snorkeling. Sand Island is an unforgettable experience for the whole family.

Simon's Nature Reserve – Raiders Hotel & Dive
A hidden gem for snorkeling the Solomon Islands you won't want to miss! Simon's Nature Reserve is located in the sandfly passage Solomon Islands, north of Nggela Island and a one hour boat ride from the Raiders Hotel & Dive Tulagi Island.
Simon's Nature Reserve is a coral paradise, a labor of love fifteen years in the making. This beautiful coral garden is a true testament to the power of long term coral conservation.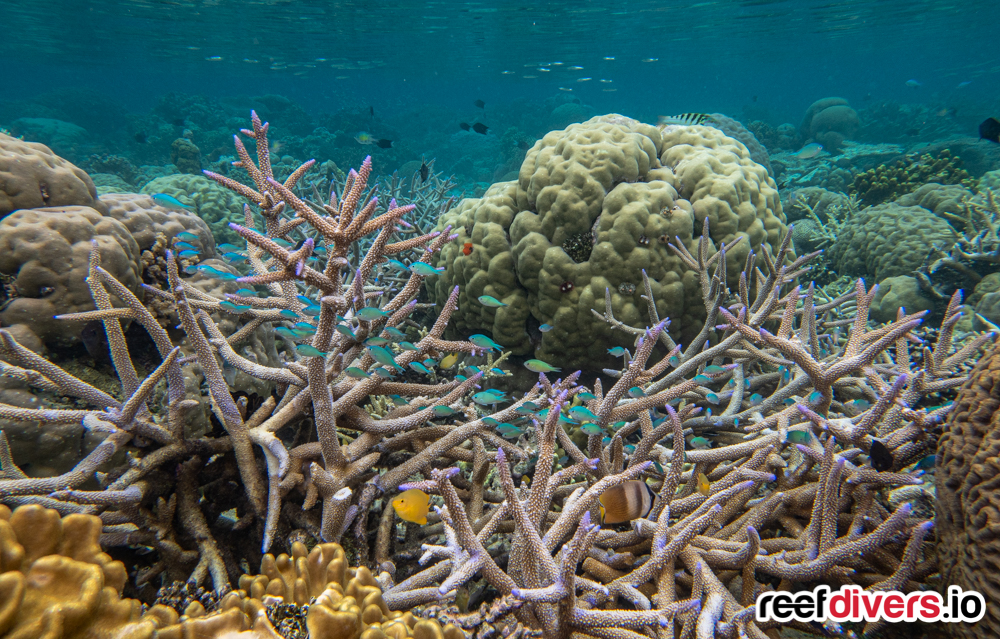 Secret Spot – Uepi  Island Resort
Psst, let me let you in on a little secret. Skip the scuba gear and simply grab a mask and snorkel. The shallow coral reefs around Uepi island are best seen from the surface.
The shallow reefs around Uepi and neighboring Morovo lagoon islands are accessible to snorkelers of all skill levels. The dramatic deep blue drop-offs are exhilarating for more advanced freedivers, and the lush shallow corals and complex undulating reef scape offer a maze of snorkeling adventures which will keep everyone entertained for days.