The Red Sea Reefer XL 200, 300, 750 & 900 are four more new models that were recently announced as additions to this premium line of all-in-one saltwater and reef aquariums. These new Reefers XL options include the two smaller Reefer 200 & 300 as well as two new jumbo options in the new Reefer XL 750 & 900.
Somewhat puzzling is that the Reefer XL 200 & 300 are nearly identical in size to the Reefer XL 170 & 250, being just an inch taller and three inches wider, front to back. Red Sea has some history of past Reefer models that have seemed to encroach on each other's dimensions, but certain sizes do well in certain countries so Red Sea is committed to having these four Reefer models available side by.
However the real differentiation of the Reefers XL 200 & 300 will be in the features of the stand, with the material being upgraded to plywood instead of particle board, and they also include leveling feet, just a nicer cabinet stand overall.
Red Sea has also announced new details on two larger sizes of Reefer XL with the 750 and the 900. The Red Sea Reefer XL750 is going into a third version that is improved with thicker glass, dual return nozzles and a surface skimmer with a larger surface area for improved skimming and gas exchange. But if there's an obvious head turner in the new Reefer XL line it's got to be the newly revealed Reefer XL 900.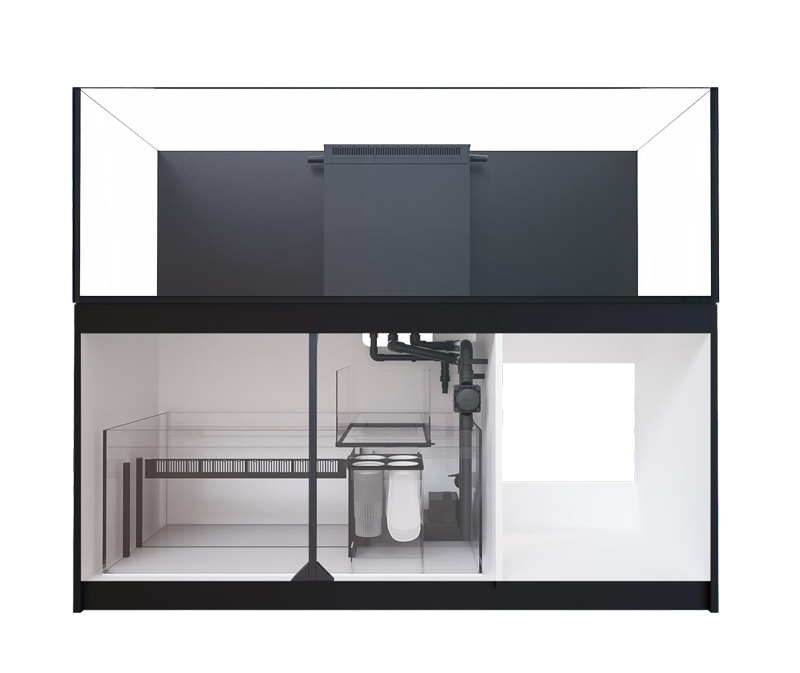 Like the name in the model name implies, the Red Sea Reefer XL900 is a 237 gallon beast of a tank as far as the mass-produced aquarium market is concerned. This two meter behemoth has a total system volume of 900 liters including the sump, which itself is curiously divided into two parts.
This isn't the very first split sump design we've seen before, but it certainly is from a such a large aquarium tank builder like Red Sea, and the secondary sump can either be used as an extension, as a refugium, or capped off and turned into a reservoir for auto top off water. Red Sea continues to assert its position as a world leader in the high end, Reef Ready aquarium market and these three new Reefer XL models will do nothing but increase choice for current and future reef builders.
(October 24, 2019) Red Sea announced today the upcoming launch of 4 new REEFER™ models, dramatically expanding the range of its premium reef-ready aquariums to include the XL 200, XL 300, XXL 750 V3, & 3XL 900. All of the new models will be available at the beginning of 2020.
Furthermore, as part of the continued commitment and support of its aquarium systems, Red Sea is enabling all first buyers to register online to extend the standard 2-year warranty on all aquariums for an additional 1 year at no cost.
Shown for the first time last week at the UK Aqua show, the REEFER XL 200 and XL 300 models give hobbyists the extra room needed for enhanced aquascaping in the 60-90 cm / 24"-36" size range. The XL 200 & XL 300 are not just higher and wider than the popular 170 & 250 models, but they also feature a laminated, plywood cabinet with adjustable feet.  
Maintaining the familiar rimless format and clean lines of the REEFER series, the impressive, 900 liter / 240 gal. REEFER 3XL 900 model offers hobbyists the freedom to create a truly spectacular reef. 200 cm / 79" long, and 65 cm / 25.6" high and wide, the 3XL 900 introduces an enlarged overflow box with dual side-facing return pump outlets and increased surface skimming that provides ideal water circulation in the tanks with flows of up to 10,000 lph / 2600 gph. These new features have also been implemented on the latest version of the XXL 750 V3 giving it a new look and significantly improved flow dynamics. Both of these systems come complete with fittings to attach either a single or dual return pumps.
A unique feature of the 3XL 900 is a split sump system that provides unsurpassed flexibility. The main sump is set for the usual filtration functions with an optional refugium chamber and a dedicated adjustable height skimmer chamber. The sump extension (60 liters/ 16 gal.) can be connected to the main sump and used for additional filtration, as a larger refugium or even as a dedicated frag tank. Alternatively, it can be set up as an independent unit and used as a full-size (83 liters / 22 gal.) RO reservoir or saltwater reservoir for automated water changes. The 3XL 900 will be shown for the first time next month at the CIPS 2019 exhibition in Shanghai, China.
Neil Marks, Red Sea CTO, commented on Red Sea's upcoming launch: "The four new models are yet another step forward in providing a more comprehensive range of off-the-shelf systems. With the 3XL 900, hobbyists can now create even larger-scale reef systems without needing expensive custom-built solutions."
Main features
REEFER
XL 200
REEFER
XL 300
REEFER
XXL 750 v3
REEFER
3XL 900
Total system water volume
200L / 53gal.
300L / 80gal.
750L / 200gal.
900L / 240gal.
Display tank length
60cm / 24″
90cm / 36″
180cm / 71″
200cm / 79″
Display tank height
53cm / 21″
55cm / 22″
60cm / 23.6″
65cm / 25.6″
Display tank width
57.5cm / 22.6″
57.5cm / 22.6″
65cm / 25.6″
65cm / 25.6″
Plywood cabinet with adjustable feet
v
v
v
v
Adjustable Height skimmer chamber
v
v
v
v
Optional Refugium
–
v
v
v
Dual side-facing return pump outlets
–
–
v
v
Split sump system
–
–
–
v