The Kodama Acro is a very intriguing colony of Acropora that we collected alongside Ultra Corals Australia on the Southern Great Barrier Reef in Australia. What makes this coral special to us is that it was the first coral colony we focused on during our first dive on the GBR, and the collection team didn't really see another one like it since.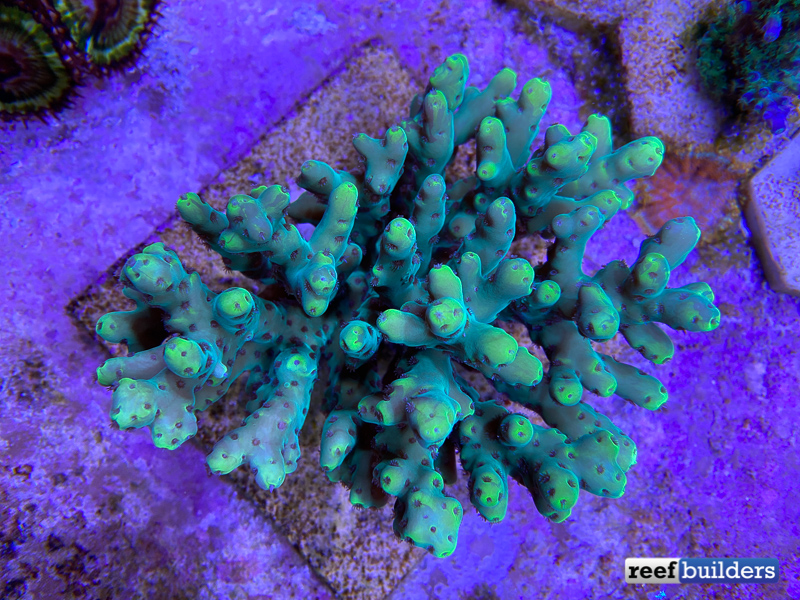 We're not alone in being attracted to so-called deepwater or 'naked' Acropora species that are predominantly known from Indonesia and haven't been commonly available since the technical ban of coral exports. This general category of naked Acros are mostly absent from Australia and the GBR which is why the Kodama Acro is so interesting and unusual.
Circling back to the name we have to explain that a 'Kodama' is Japanese for a Tree Spirit and the name is inspired by the illustrated Kodama in the classic Princess Mononoke anime. Both ourselves and two other Japanese reef aquarists noted how the cluster of smooth corallites in the branch tips of this species resemble the Kodama from the popular anime.
Speaking of the branch tips, after several month the new growth of the branches have developed a swirly green pattern like those we expect to see in corals with a green fluorescent protein infection like the Straight Jacket from Garret's Acropolis. In typical reef aquarium lighting the polyps towards the tips appear blue, but in warmer light such as those photographed in-situ appear more purple, so there's some variability in the color of the Kodama Acro.
The appearance and rarity of the Kodama Acro is very appealing but of additional interest is that this coral doesn't seem to fit the species pattern for any known Australian Acros, which is perplexing considering how well-studied and catalogued this reef region is. The closest match we can make with currently desribed species of staghorn corals is Acropora maryae which is nearly a dead-ringer for our Australian Acro colony, but doesn't jive with the exclusive Red Sea distribution of Acropora maryae.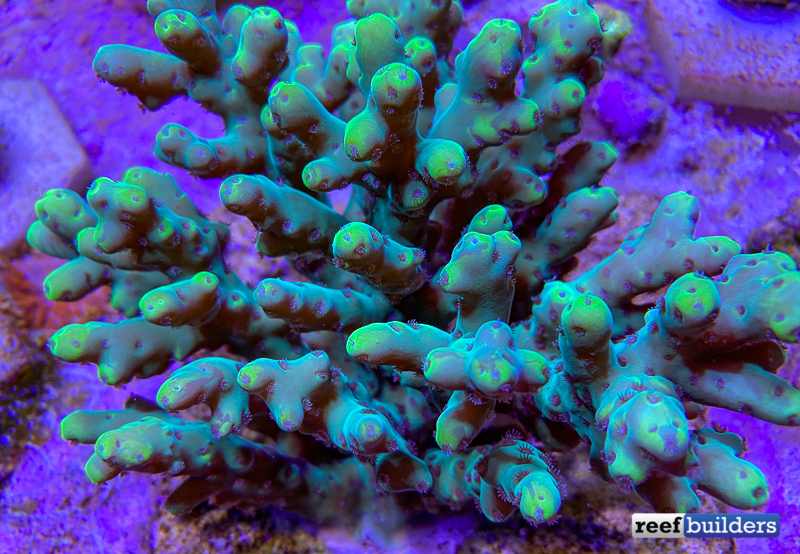 Whatever the 'true' nature of the Kodama Acro is, we can tell you that our colony is doing great in intermediate light and water flow, similar to the 45 foot depth at the inshore reef where it was collected. We'll continue to grow and develop this coral colony and future frags which may reveal more about how this coral grows and changes in captive aquarium conditions.