The Worldwide Corals Joe Dirt Acro is an elegant, delicately branching thin staghorn that has a hidden beauty that betrays its name. If someone gave you a frag of a kinda purplish tip staghorn with a basic nutty brown base you'd say thanks, but secretly wonder why this coral is 'a thing'.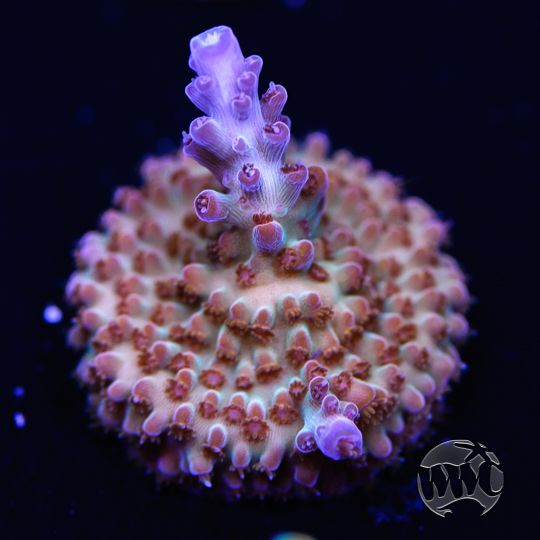 This is precisely what happened to us at a Reefapalooza several years back, when we asked Chris Turnier to pick us out a 'sleeper' sps coral from the WWC catalog.There's too many nice, interesting corals for all of them to stand out and shine, with gaudy strains like the budgie smuggler, green tip austera, walt disney and others sucking all the air out of the room (or is that sucking all the water out of the tank?).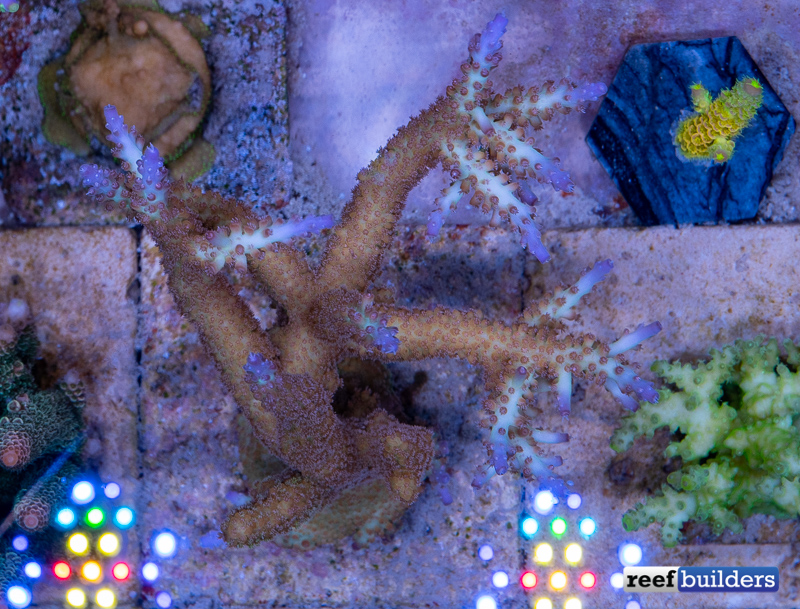 For a couple years we faithfully held onto this lackluster purple tipped staghorn frag simply on the basis that it was a gift, and we have some degree of faith in Mr. Turnier's aquarium coral experience. Since we started a new SPS dedicated shallow lagoon tank at the Reef Builders Studio the WWC Joe Dirt Acro has turned into a completely different animal with delicate, complicated coloration that changes from the base to the very axial tip.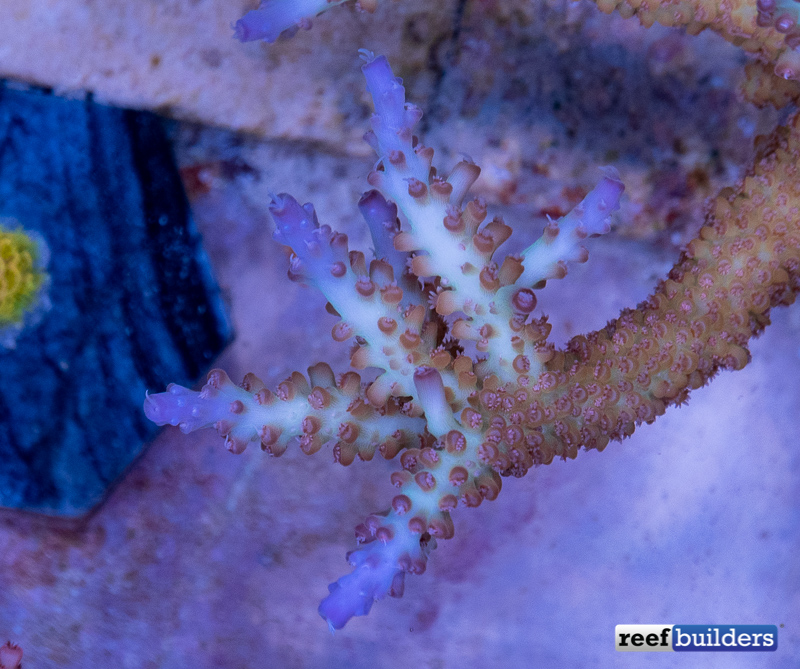 In moderate lighting the base of the WWC Joe Dirt Acro is a light brown but with just a little more PAR, or under blues or flattering light the branches are actually pistachio green, with light brown corallites and light rosey red polyps! Towards the tips the creamy fluo green color is more noticeable fading towards a nice rich shade of lavender purple.
The growth rate of the WWC Joe Dirt is no slouch either and instead of growing straight up like a typical staghorn Acro, the Joe Dirt send major branches upwards but then the axial tips tend to radiate out somewhat horizontally. The reddish coloration of the branches can wax and wane, it can be subtle but it's a very nice complimentary color to the gradient of coloration on the long, tapering axial corallites.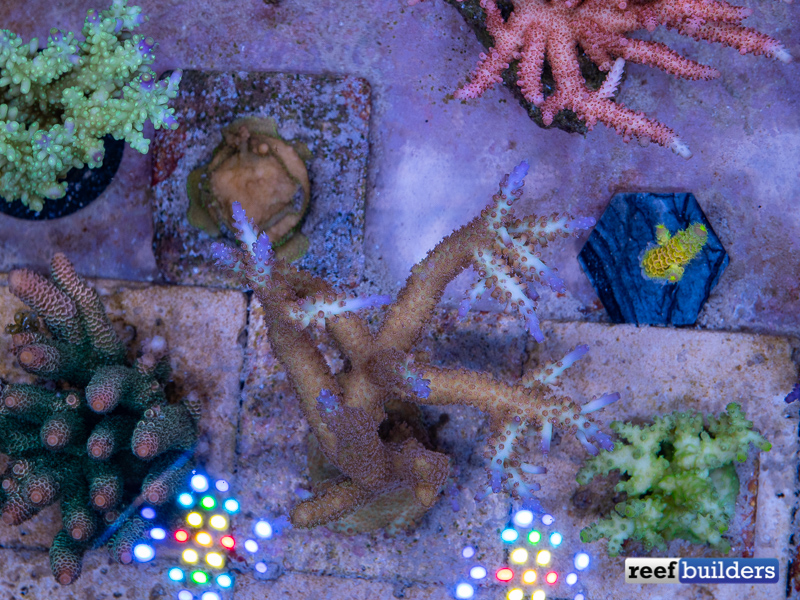 We already have a handful of thin-branching Acropora species and strains but there's just something about the WWC Joe Dirt, especially after keeping it for so long, that has really grown on us. All of the images above, as you can see by the reflection of the Radion G4 Pro clusters, are taken under white light so you can imagine how much this coral can really pop under even the slightest of blue colors. Again it will never outshine any of the uber hype Acro strains, but it can be a more affordable option and a nice supporting actor to any aquarium collection of diverse SPS coral.