Avast has well-deserved reputation for thinking outside the glass box and the new version of their Seabones calcium reactor is a very prime example of this originality. It's been almost eight years since the original Avast Marine Seabones was introduced with basic features to be an affordable, entry-level calcium reactor but the SeaBones V2 is unlike anything else on the market today.
It's no secret that we're quite smitten with the advent of automatic calcium reactors such as the Deltec Twin Tech and DaStaCo2 Compact for locking in a stable calcium and alkalinity level. Calcium reactors aren't exactly cheap but the sticker price of the Deltec and DaStaCo can induce some anxiety compared to a 'normal' calcium reactor design, especially when you consider the secondary market.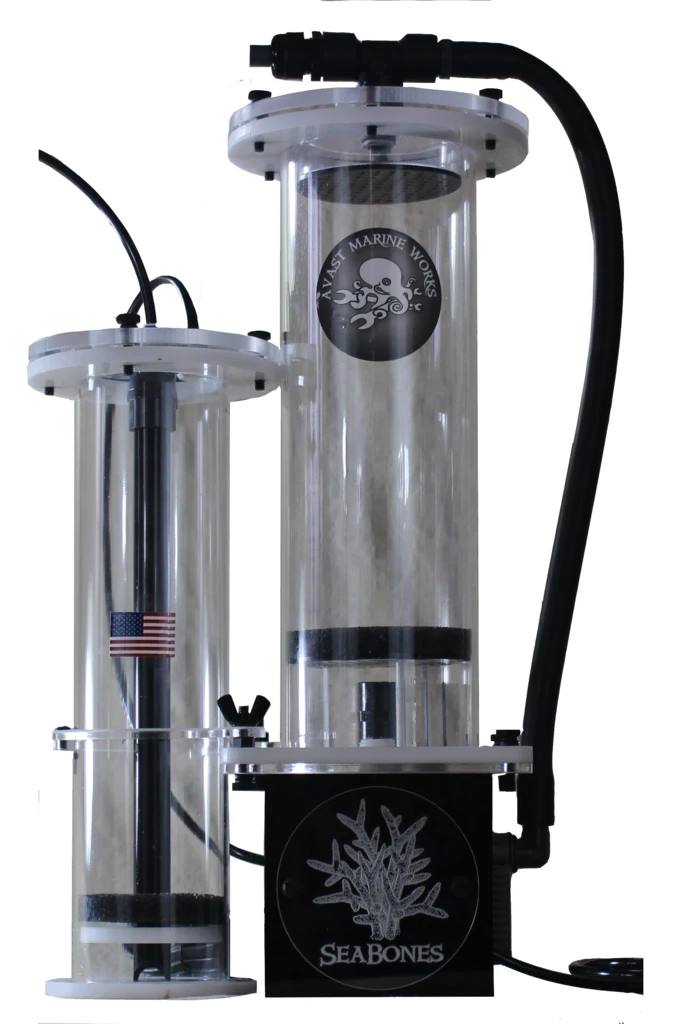 With this in mind, the Seabones V2 is what Avast Marine came up with when they set out to design a calcium reactor that bridges the gap between a typical pH-controlled calcium reactor, and an automatic model. Where an automatic calcium reactor uses a float switch to saturate the water in the reaction chamber with carbon dioxide to lower the pH, the SeaBones V2 is designed to create a CO2-saturated gaseous reaction chamber.
Before you set one up the SeaBones V2 recirculating design and optional secondary buffering chamber look like any other calcium reactor but things get very different once you set one up and get it running. The resulting operation of the SeaBones V2 Calcium Reactor resembles a wet-dry filter where the CO2 saturated water within the gas chamber rains down on the aragonite, calcium carbonate media.
The one improvement that Avast Marine is hoping to make is to reduce the tinkering required by having a constant effluent rate from the feed pump, and instead tweaking the CO2 bubble rate into the reactor (for which an Electronic regulator is probably clutch). We have literally no idea whether this is a better design, but we imagine that the physical raining of the water actually dislodges the small particles separating from the dissolving media, exposing new media for dissolution.
The Avast Marine SeaBones V2 has a sticker price of a very reasonable $469 but it currently on sale for 30% off until the first 100 units make their way out into the reefing wild. [Avast Marine]