The Sentia Dose is a surprising new dosing pump from Seachem which falls under their higher end Aquavitro banner. At first glance the fun shaped white body of the Sentia Dose appears quite toy-like with its myriad of colored ring options but a deeper dive into Seachem's first Aquavitro dosing pumps reveals a very thoughtfully considered dosing pump system and strategy.
The Seachem Aquavitro Sentia Dose is an app-controlled dosing pump system which is wireless capable through the use of a master-slave relationship that Seachem calls primary and secondary units. The primary unit includes the wireless WiFi radio chip and secondary units are connected to those; all of the Sentia Dose units are more or less identical in shape making them modular in a number of dimensions, in a row, in a stack, and probably some other fun configurations we haven't seen or considered yet.
There are only two buttons on the Sentia Dose pumps, one for power and another one for manual dosing, although it's possible that holding down one or both of these, plus double presses could trigger other functions. Therefore in order to really connect to, program, and interface with the new Aquavitro Sentia Dose pumps Seachem is stepping up their game with a new-school smartphone interface.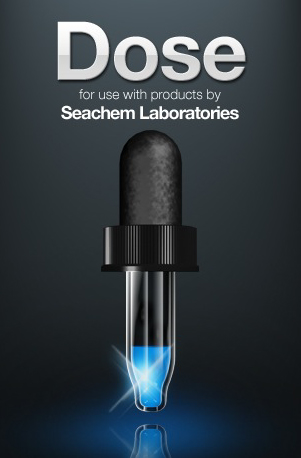 The Seachem Dose smartphone application is over ten years old, already in its second version called Dose2, and we presume some version of this existing app, or an overhauled one will be the primary interface for Seachem's Sentia Dose pumps. With the power of a smartphone these internet connected Sentia Dose pumps will be able to do all kinds of fun tricks.
Dosing, programming and scheduling is one thing – but how about the ability to scan the barcode of a (presumably Seachem) additive to seamlessly tell the program which product you are using, and how much there is? Don't even get us started on stoichiometry and other super ambitious functions we could only dream of.
Yesterday we wrote about the Seachem Impulse centrifugal or return pumps which are a good stone's throw from what Seachem is known for, and what the products they tend to work with. And although the Sentia Dose is a completely different kind of new hardware product from the Georgia-based aquarium company, designing, developing and launching their own dosing pump platform with the Sentia makes a lot of sense.
Once relegated to the diehard hobbyists with only refurbished medical peristaltic pumps to work with, dosing pumps have completely exploded in popularity in recent years. We're not just talking about the reef aquarium hobby either because dosing pumps big and small are used to perform all kinds of aquariums tasks like automatic evaporation of water (ATO), auto water changes, but most importantly and closer to home for Seachem, the dosing of aquarium additives.
Furthermore, the newest wave of dosing pumps are wirelessly controlled and packed with smart technology being able to dispense desired chemical fluids to the aquarium, monitor reservoir levels, and notify users when they are running low and need to resupply. Together these functions result in aquarists who consume more additives – a cash crop for all aquarium 'chemical' companies and it can also reinforce customer loyalty by making it easier to dose additives with 'known' concentrations to achieve proper levels in the aquarium.
Interestingly, this strategy is not even a new one but only one American company, Microbe Lift, really tried to push their own dosing pump platform to encourage loyalty and consumption of their own products. The ARKA dosing pump was specifically designed with magnetically stirred dosing reservoirs to keep their bacterial solutions nice and homogenized, but the one key ingredient they were missing from the ARKA is the built in connectivity and all the power and reach that comes with that.
After sitting on the sidelines all this time Seachem has been able to really observe the field, take in what works, and wait for the right intersection of technology and technical experience to produce their vision of a dosing pump system in the Sentia Dose. We have so many questions, so many hopes, and just a general excitement to see a dosing pump system that seems to have a completely new pedigree. Now we just have to wait for sometime this year to find out how the Aquavitro Sentia Dose really stacks up, how much it costs, and how it performs in day to day operation.