While we may not have been able to foresee the advent of Alkalinity Machines and Roll Filters, the need for dosing in our aquariums has been around for a very long time, and dosing pumps have been around in some form for a generation of reefers.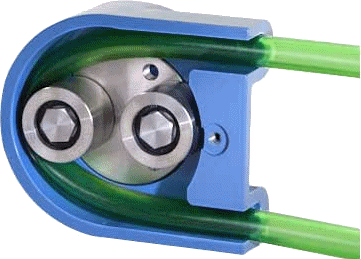 Fifteen years ago if you wanted a peristaltic dosing pump for your aquarium you could either use the then-exotic GHL Profilux with all the bells and whistles or you could use the plasticky Aqua Medic single doser with no control whatsoever. Ten years later the landscape looked pretty much the same but then all of a sudden we started to see an explosion of new dosing pumps from a wide range of aquarium companies.
Among the first wave of new easier to use and more affordable dosers were entry level offerings from Bubble Magus and the more refined Libra doser from Vertex Aquaristik. Many other companies quickly followed suit and now a good number of the aquarium hobby's better have some kind of a dosing pump system (or at least have their name on one).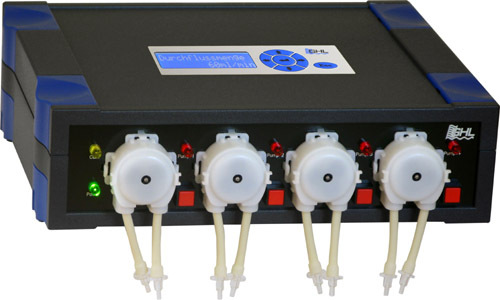 The growing popularity of the Balling method, an extension of 2-part dosing which called for dosing many different additives separately, especially in Europe, spurred the need for better dosing systems. The demand together with the availability of better and cheaper electronic and peristaltic components created a perfect storm for an explosion of new dosing solutions for reef tanks.
Pacific Sun Kore 5th Starter Edition for those looking for a doser upgrade
At first it seemed like we might be getting just a simple dosing system but the new wave of dosers are better, smarter, and are starting to take over functions once reserved for full blown aquarium controller. This is especially noticeable in advanced dosers from PacificSun which have water change and auto top off functions but many others are capable as well.
Libra dosing pump from Vertex Aquaristik is versatile and touchscreen controlled
For me the doser which really kicked of the renaissance in this product category was the Vertex Libra. With a touchscreen, ultra precise stepper motor and even stoichiometric ability to calculate the chemistry of the reef aquarium, the Libra was first to show what could be possible in an aquarium doser when enough grey matter was leveraged in its build and design.
One company, Kamoer, with roots in the medical dosing industry really took the aquarium world by storm with a wide range of products. The ranged from the most basic single dosing pump, to highly sophisticated computers with wireless control and programming, and one model even blurs the line between dosing system and full blown controller.
Eshopps IV Dosers in 2-channel master & 3-channel slave dosing pumps
Of course you don't need to get super fancy to have good and affordable dosing of additives. We've seen very great and useful dosing pump setups from E-Shopps with linkable master and slave units so that up to five channels of intelligent dosing for around $500.
Right there with them is the Reefdoser Evo 4 from Aqua Medic, a much more useful programmable dosing system. Despite having the build of low-cost machines from China, the Reefdoser Evo is a popular choice and the remote control makes programming the machine much more practical than comparable units with built in buttons.
ARKA Vida Dosing Computer is ready for reef aquarium deployment
More and more reefers are seeing the importance of homogenizing (stirring) our supersaturated additive solutions and the Arka Vida 'Dosing Computer' actually has magnetic stirrers built right in! This is the doser I currently use, I really love the advanced dosing features and especially the magnetic stirrers, but the manual programming of the onboard controller is sometimes tedious.
The new GHL Doser 2 prototype and their new software plus web interface
This is where the Doser 2 by GHL steps in, with advanced wireless functions, programming through your smartphone, and can work standalone or in conjunction with the Profilux controller. Since GHL has been making advanced dosing pumps for some time it's no surprise that their Doser 2 is (probably) what the future of aquarium dosing systems look like.
These are just some of the dosing systems that I am most familiar with, but I know that there are dozens of companies out there making solutions for the aquarium with varying degrees of cost and performance. The new seven channel Kore 7th doser is pushing the envelope of what is possible in a dosing system, and no doubt we will see many more dosing products for the aquarium hobby in the foreseeable future.