The Radion Gen 5 LED lights are some of the most technologically advanced LED lighting fixtures ever offered to the reef aquarium hobby. If these Ecotech Marine lights had just come out of nowhere, we would be gobsmacked at their power, color, spread, and controllability. But the current generation of Radions didn't come from a vacuum, they are the culmination of four generations of trial and error, engineering tests, experimentation, and especially a lot of feedback from their thousands of users around the world.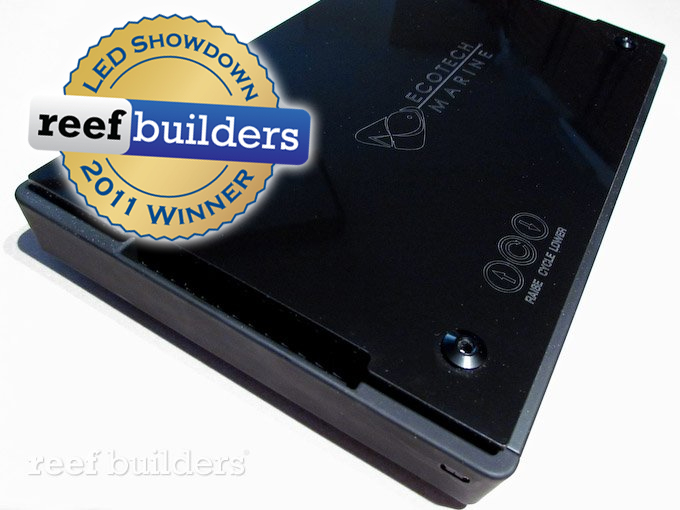 It's easy to look take a superficial glance at the technical specifications of the fifth generation Radions and slap together some first impression within a couple days, but a more sincere review takes considerably more time. After observing and working with the fifth generation Radion in the XR15 and XR30 sizes, and both the Blue and Pro versions, we've got a solid understanding of how these lights perform, and especially how corals look underneath them.
There's a lot of nuance to how any new light looks and performs over a reef tank, because we all get attached and accustomed to the appearance of our beloved corals. This has never been more true of any update to an existing LED lighting platform for reef aquariums – even if the spectrum is nearly identical, small changes to spread and how the LEDs are clustered can affect how the corals look, and how we feel about the light, regardless of the specs or what it promises on paper.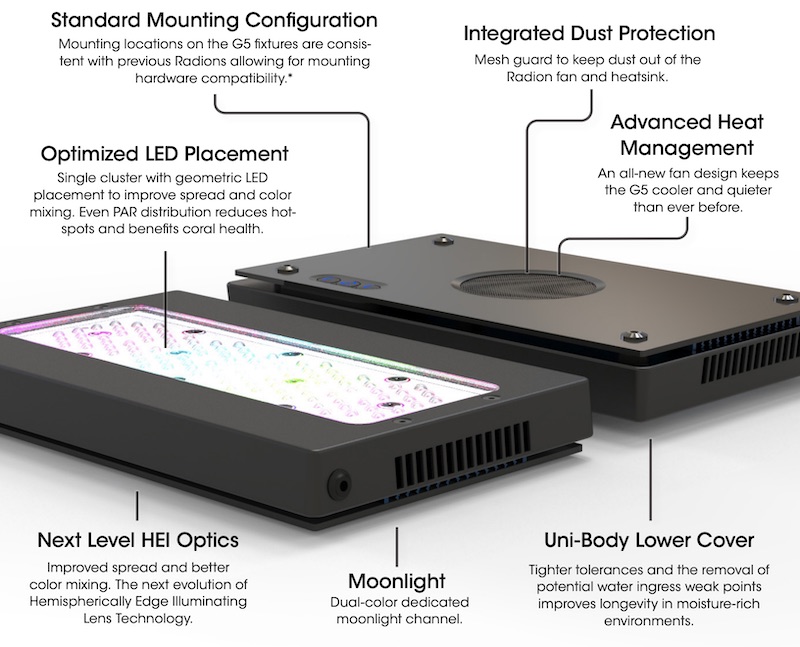 There's a lot to consider about any LED lighting review, and the primary criteria include the power of the light, the spectrum, the spread of light is especially important as is the color mixing. Also important but perhaps less paramount is how the light is controlled and programmed, the noise produced by the cooling system, and perhaps the easiest and most subjective is how the light fixture itself looks, so we'll start with that one first.
When we heard that the cooling fan intake had been moved to the top and a new bracket would be required to use the Radion Gen 5 with the existing Radion Mounting Systems, we initially thought very little of it. It wasn't until we actually installed the smaller Radion XR15 with the RMS that we became aware of how attractive the new design had become.
The new curves of the mounting bracket and how it swoops over the mounting arm, instead of under it, ends up hiding much of the detail of the RMS and where they meet, for a more minimal, stylish look. If you're the type of Radion user that has one or two Radions with the RMS and have them in plain sight, there's no way you won't prefer how the Radion Gen 5 and RMS look together in their new configuration.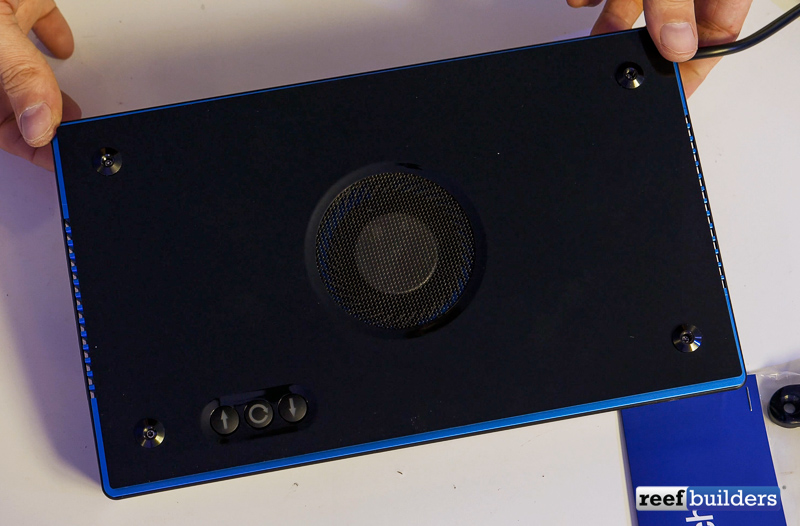 As for the fixture itself, the Radion always had a unique place in the aquarium lighting world with its fan mounted on the underside, leaving a clean, uninterrupted surface on the top. With the fan moving to a more typical 'dorsal' positioning in the fifth generation Radion, the clean smooth top is now punctuated by an all too familiar centrally mounted fan – in this regard the Radion Gen 5 takes a small step back in styling, but it's a very small price to pay to have more room for all those LEDs aimed at our corals.
Speaking of the fan, the positioning of the cooling component doesn't just affect the appearance of the light itself. Ecotech Marine designed their own fan with an enclosed blade design to cut down on peaks of sound waves, and therefore how noisy they seem. Unfortunately by moving the fan to the top of the fixture Ecotech Marine also had to comply with regulations across many countries dictating what kind of 'finger guards' had to be in place which wasn't required when the fan was mounted facing the water.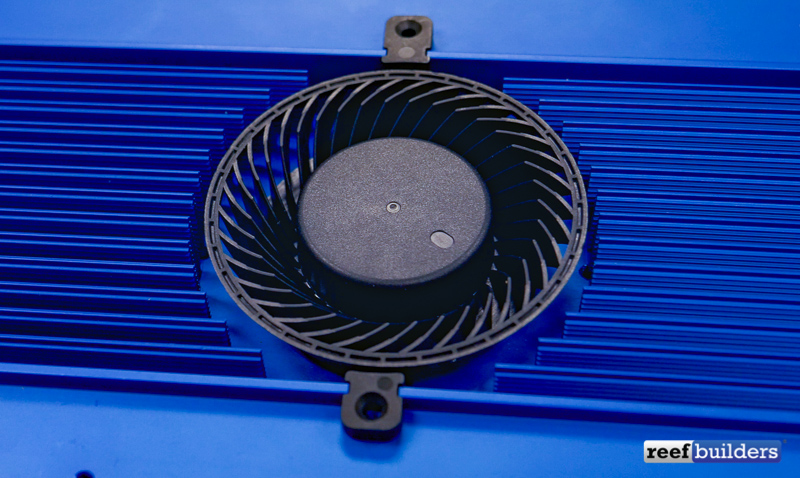 The new fine meshed metal screen covering the fan introduces some unwanted noise which we didn't notice before, but this isn't the sound of the fan itself, but of air passing through the mesh. The previous generations of Radions don't have this audible artifact but the biggest factor affecting the sound of the fans was the location our ears relative to the fixture – when they are level with both the 4th and 5th generation Radions the sound is about the same. That being said, the Radions are not noisy by any means and you are unlikely to notice any sound unless you run them at full power in a nearly silent room.
[An important disclaimer to mention is that we use lights and skimmers at an elevation of 5,280 where the air is 10% less dense than at sea level, so fans have to work a little harder to cool lighting heatsinks. This air density difference perhaps skews our experience a little bit, not to mention the very dry air which also carries much less heat than dense, humid air.]
All of these things we could have told you after a couple days of use but what we really took our time for was to confidently solidify our observations on how these lights look over corals, particularly the spectrum, power, and spread. First off, the distribution of LEDs and the colors in the 'regular' Radion Gen 5 Pro is nearly identical to its predecessor, so the apparent color of the light is indistinguishable from what we're used to.
But what is quite different is how much light the new fifth gen Radion puts out, and how much larger of a spread it delivers. In our interview with lead designer Justin Lawyer he claimed that the new smaller HEI2 lenses have nearly identical 'geometry' to the first HEI lenses, but we're not sure how the Radion Gen 5 seems to spread out the light much further than you might imagine.
Whereas before the Radion XR30 Gen 4 was probably suitable for uniform lighting up to 36 inches (~1 meter) end to end, the new Radion Gen 5 comfortably throws light on a 20 inch by 48 inch area. When we mounted the Radion G5 at the same 18 inch height as our G4 that it replaced, it cast a lot more light at the edges of our four foot wide tank, and we even felt the need to drop it a couple more inches because of how widely it spreads the light output.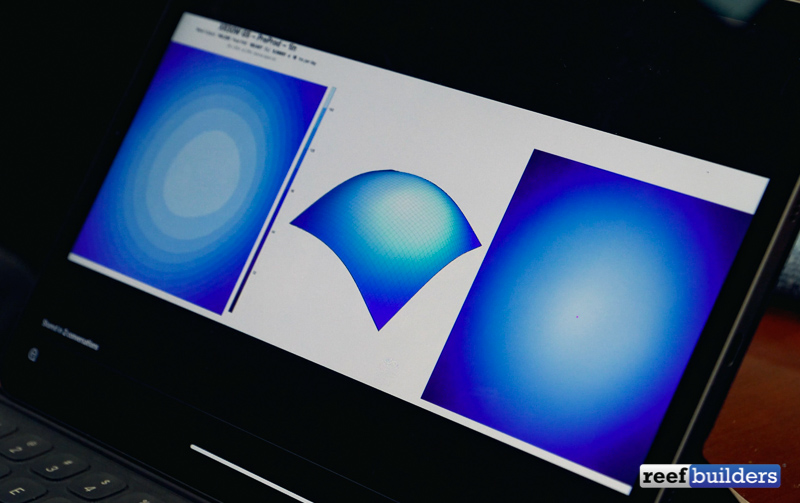 With this super wide light output we decided to try out using just one fifth gen Radion XR15 on a three foot wide tank and we've got corals in it from end to end. In this basic holding tank we're keeping medium light SPS such as Montipora and a clam in the center, with very adaptable zoanthids all the way to the side walls. Of course the zoanthids are doing fine and we wouldn't recommend a single Radion XR15 Gen5 for a three foot wide tank, unless you know you intend to keep mostly low to medium light corals that are also mostly smooth in surface, like chalices, LPS and the like.
We're puzzled as to how the Radions have such a wide spread but the reason that Ecotech Marine was able to pack so much power into these lights is more straightforward to answer. It's common knowledge that two, one watt LEDs will always put out considerably more light than a single LED running at two watts.
Every previous generation of Radions operated at the maximum possible drive current for a given LED, minus 10% for safety so they packed in a ton of power, but not necessarily at the most efficient drive current. For the Radion Gen 5 Ecotech Marine basically went all in on finding the most economical point in the drive current, doubling the number of LEDs and running them at nearly half the power as before.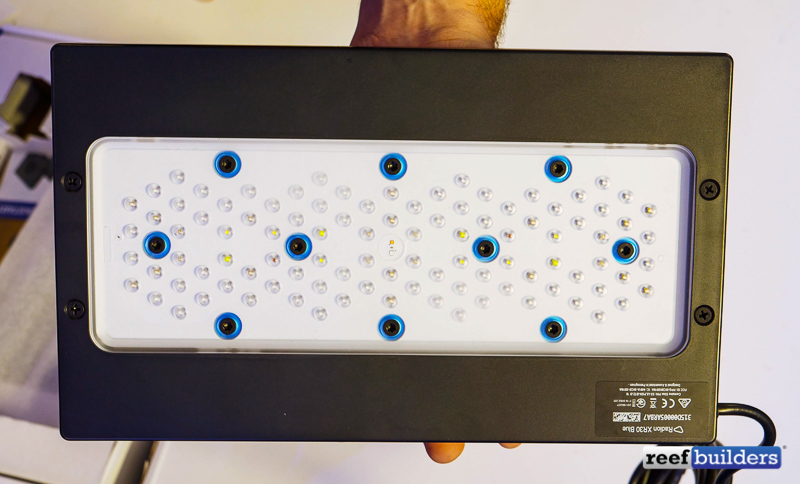 We can visibly see this difference between the Radion Gen 4 and Gen 5 when we look at their reflection off the water surface. Side by side and at full power, the reflection of the Radion Gen 5 is approximately half as bright to our eyes as the Radion Gen 4 Pro – also at full power – this is also what you'd expect when comparing say a two 50 watt light bulbs to a single 100 watt light bulb. Comparing the Radion Gen 4 next to a Radion Gen 5 is really the tale of the tape because doing some simple, intuitive observations you can easily see just how much overall light is produced by this new configuration compared to the previous generation.
We cannot overstate how much more light the Radion Gen 5 produce and how their spread is so much broader than before, so it will take some time for the reef aquarium world to fully grasp the value and economics of using these light. If you think the new Radions are expensive at the same price as previous versions, you have to consider that there's now twice as many LEDs as before and this is the most expensive way to give users more light.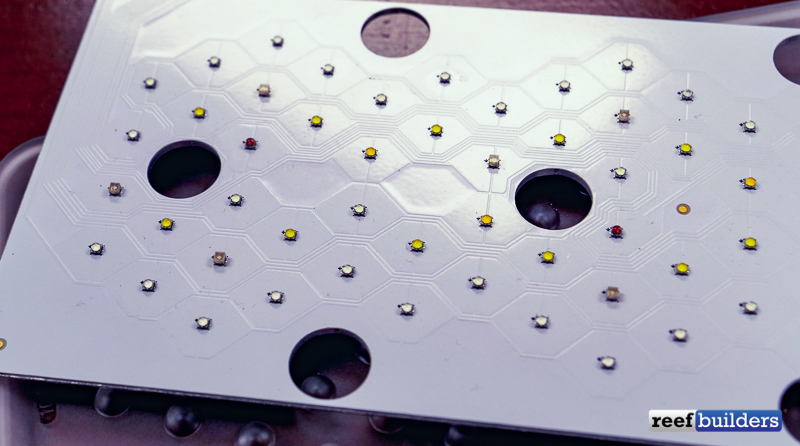 Twice as many LEDs, twice as many lenses, two more channels, not to mention the moonlight options make the Radion Gen 5 one helluva deal! The value of the Radion Gen 5 becomes even more apparent when you consider really how much light each of them puts out, and how much power savings, and initial cost savings you have compared to before. Most shoppers are probably comparing the cost of a single Radion XR30 from generation to generation, and other lights claiming similar power output, but the real comparison should be between using fewer fifth generation Radions.
If we take the example of a basic two by four foot tank, typical recommendations would suggest using two Radion XR30 Gen 4 which would have set you back around $1700 and topped out at 540 watts. The huge spread and massive bump in light in the fifth gen Radions would make it more economical to purchase three Radion XR15 Gen 5 at $1260 and topping out at 300 watts of power, that is no small difference either in cost or power use. We estimate that a single Radion Gen 5 XR15 can comfortably cover an area of 20 by 30 inches, while the Radion Gen 5 XR30 can do the same for a 20 by 40 inch surface area, mileage will vary depending on brightness settings and height mounted above the aquarium.
To be perfectly honest, we have less certainty about how the fifth generation Radions perform on tanks taller than around 24 inches deep. That being said, when we traded a Radion Gen 4 Pro for the Radion Gen 5 Blue, the PAR actually went up at full power, gaining around 20 umols at a distance of 30 inches – 20 inches through air and ten inches through water. Speaking of which, the real wild card of the new Radion Gen 5 lineup is the new Radion Gen 5 Blue which has puts a lot more emphasis on blue and colored LEDs than any other light we can think of.
Of the 100 LEDs in the Radion Gen 5 Blue, only ten of them are actually white if you count the lime LEDs so that leaves 90% of the power, around 180 watts devoted to the deep end of the color spectrum. You can see our previous write-ups on the precise ratios of the LEDs but needless to say, at full power this light is as blue as you'd expect. What surprised us the most was what kind of blue we ended up with – of course you can fine tune it however you like, but we can't help but compare the overall color rendition as being very similar to the blue of T5 fluorescent tubes.
For those of your who remember the days of changing light bulbs over our reef tanks, VHO or very high output fluorescent was more of a purple-blue with the dominant Actinic 03 spectrum, meanwhile the newer T5 fluorescent 'super blue' was definitely more of a sky blue in appearance. How reefers will end up liking the overall color rendition is very subjective, and we'll reiterate that we all become accustomed to how our tanks look with a given light.
What is less subjective about the Radion Gen 5 Blue and what its spectrum means for aquarium corals is how some of them look, especially with a very generous helping of the novel Cyan LED color which is almost like a greenish blue. We expected that the Cyan spectrum would bring out more of the orange fluorescence of some LPS, but we were pleasantly surprised to discover its interaction with fluorescent yellow and pink colors.
Our yellow torch corals have never looked brighter, and the fluorescent pinks and yellows of our SPS is better than anything we've ever seen before. It's important to emphasize we're referring to the fluorescent yellow and pink, which are quite different from chromatic pink pigment like those found in birdnest, catspaw, and some montipora.
In our experience the only thing that brings out chromatic pink color is warm white lights, either LEDs or fluorescents, but the Cyan LEDs bring a special pop to the fluorescent pink of Acropora, especially the colors found on the corallite tips and edges of A. tenuis, A. vermiculata, and several others. It's always a fun surprise to be initially apprehensive about the look of the Radion G5 Blue – because we're so used to how our corals looked – and now the color is so much richer that we wouldn't go back for anything!
The Radions have become such an influential lighting platform that it has been imitated by many companies, other manufacturers, sometimes to an infringing degree. Less informed and relative newcomers to the reef aquarium hobby would be forgiven for believing that the new Radion Gen 5 resembles other lights that took a liberal dose of inspiration from the 4th generation of Ecotech Marine's Radion lights. Having seen, and tested, and experienced the results of more-leds-at-lower-power there's no way that we won't see more manufacturers also try this approach.
All of us Reef Gear Techies kind of always known that more LEDs, running at lower current, is the most effective way to get more light, and to spread it out more. It's something that we technically understand on paper but seeing Ecotech Marine embrace this position so fully, and the results it produces in the fifth generation Radions is just shy of mind-blowing.
We've been a fan of the Ecotech Marine approach to LED aquarium lighting since the first generation Radions launched nearly a decade ago. Having spent no trivial amount of time with both new sizes and colors of the Radion Gen 5 we feel very comfortable about the reasonable amount of praise, and a little gushing, we have over this new generation of reef light.