MaxSpect Coral Tweezers are perhaps one of the most interesting aquarium accessories we've ever seen made using the unique properties of carbon fiber. Tweezers or tongs are an important tool for reef aquarium professionals and frequent coral fraggers, coral farmers, and maintenance technicians who regularly need to get a grip on something small, out of reach or a little bit of both.
We did a quick count of the number of tweezers and tongs around the Reef Builders Studio and there's around 9 different pairs of tweezers in at least four different sizes; these are all made out of steel and a few of our oldest ones have long since been retired due to corrosion or breaking.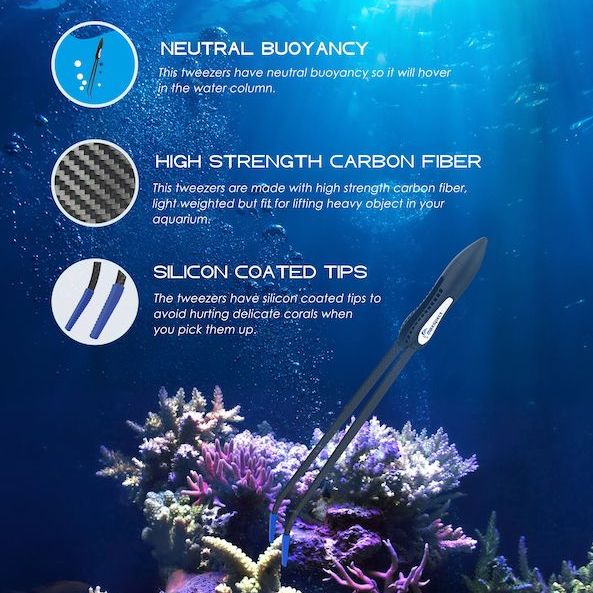 The first big design tweak of the Maxspect Coral Tweezers is their construction and details specifically included for reef aquarium applications. The main body of the Maxspect Coral Tweezers are made of 3mm thick carbon fiber making them light but also very strong. The handle is made of a plastic covering for better ergonomics and buoyancy so the Maxspect Coral Tweezers won't sink but gently float and won't fall on any corals, or to the bottom of your reef tank.
The final but important design detail of the Maxspect Coral Tweezers is the silicone coated tips which help give some traction to anything you are hoping to grasp with the tweezers. The strength of the carbon fiber tweezers together with the silicone tips is ideally suited both for grabbing corals that are just out of reach, but also strong enough for minor aquascaping and placement of smaller colonies and rocks.
The use of carbon fiber in the Maxspect Coral Tweezers is a perfect application for use around a saltwater aquarium environment and will be very welcome by any aquarist who regularly gets their hands in their tanks.