The Radion Gen 5 diffuser is a new accessory to help soften the light output of these very powerful LED aquarium light fixtures. Although the fifth generation Radions from Ecotech Marine already have an LED engine consisting of more numerous, lower powered and widely spaced LEDs to create a more even light field out of the box, this new add-on is going to give some users even more.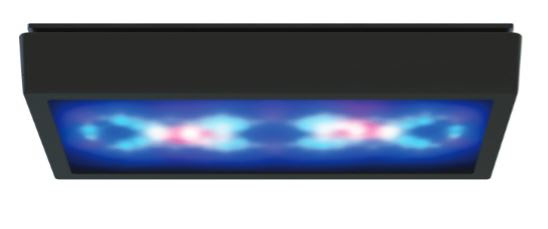 Diffusers for Radion lights first were made for the 4th generation Radions to really diffuse the light coming from the two light clusters, creating more even color blending, softer shadows and a wider light spread. This accessory was originally developed specifically to appeal to fans of the look of completely uniform light created by full length fluorescent tubes, especially T5 lighting.
Whereas the original Radion Gen 4 required a complete swap of the faceplate to accomodate the diffuser, the fifth generation Radion was designed with this accessory in mind. The new diffuser (which works only with the Radion Gen 5) attaches directly to the magnets built into the underside of the Radion Gen 5 so there are no tools required, and it should be a very simple add-on for people looking to get even more even light distribution.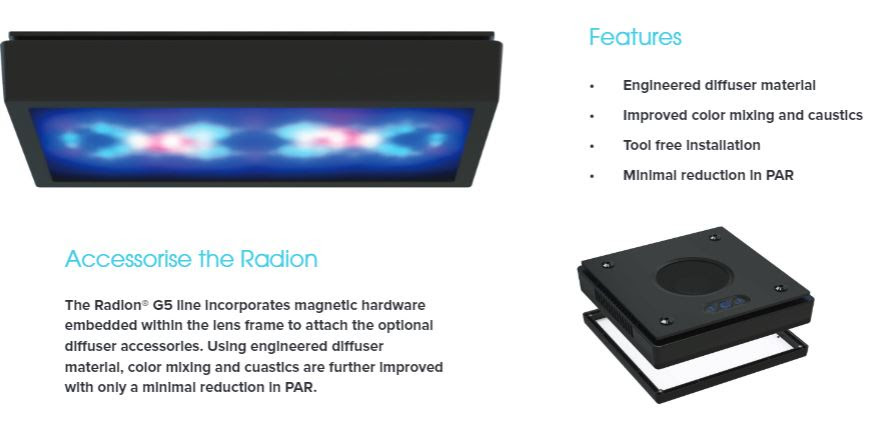 Ecotech Marine has started shipping the Radion Gen 5 diffusers for both the XR15 and XR30 models and since there's no faceplate anymore the cost has been slashed to half of the original. The diffuser for the fifth gen Radion XR15 is $23 and the larger one for the XR30 will cost $33 and will be available from Ecotech Marine dealers starting this week.