Flowerpot corals are some of the most beautiful, unique, and desirable corals for reef aquaria but their captive care is not as straightforward as typical SPS or LPS corals. Once thought to be broadly 'impossible' to keep, the success rate with Gonies has been hit or miss with no reliable understanding as to what either promotes their health and vitality, or the factors that keeps them from growing and thriving.
The common 'flowerpot' coral known as Goniopora stokesi is ball shaped with very long tentacles and very cheap and common in aquarium stores but it's still very challenging to keep. But for all other types of broad flowerpot corals it seems that our current common reef aquarium husbandry practices are more than sufficient to keep flowerpots provided you can at least recognize which of the three broad groups they are made of.
The classic flowerpot coral and the most commonly available usually falls under any number of Goniopora species, also known simply as 'Gonies' and are closely related to Porites. The second group which we once thought was closely related is the Alveopora corals with much larger, more flowery looking polyps consisting of 12 tentacles instead of Goniopora's 18 to 24, and we now know are in the Acroporidae family.
The last group includes a coral that we've always known to be easier to keep but has only very recently become recognized as taxonomically distinct. The smaller polyped, sometimes encrusting 'Gonies' are actually classified as Bernardpora stutchburyi and we've only recently discovered that these will sting classic flowerpot corals and will need to be separated once they grow into large, active colonies.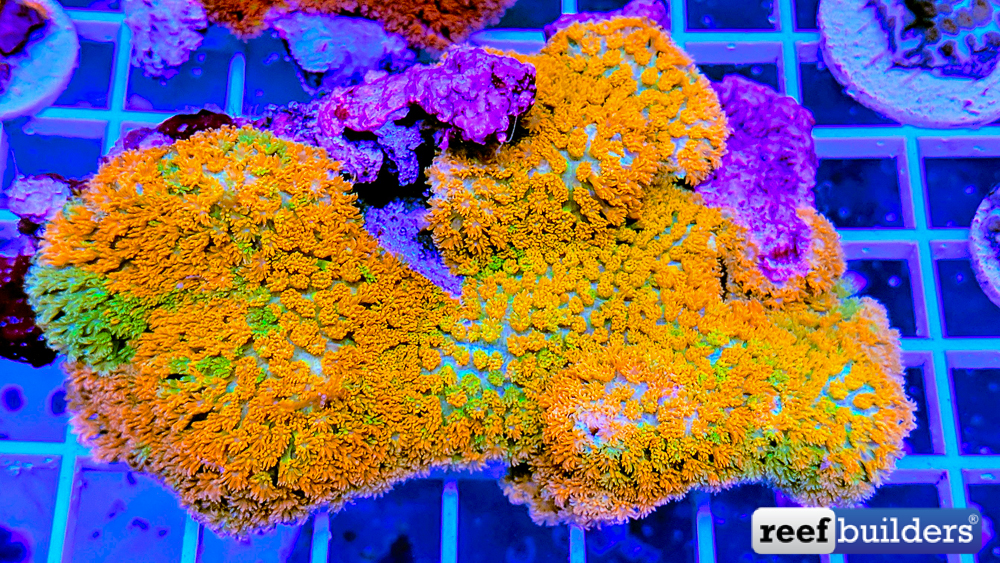 So how did we get from generally agreeing that flowerpot corals are impossible extremely challenging to keep to now having so much broad success with all the genera of flower pot corals? We've been considering this very question for around 15 years and have concluded that it's our overwhelming culture of fragging corals that has fueled out success – in nature Alveopora, Goniopora, and Bernardpora are most common in turbid, high nutrient environments, the kind of water that fuels lots of biofouling, boring and encrusting reef life.
The process of fragging flowerpot corals separates the living tissues from all kinds of broad reef critters that take advantage of their porous skeletons and which we believe have been the reason why wild flowerpots have done so poorly in aquariums in the past. Virtually all of our personal success with flowerpot corals is the result of starting with fragged corals from all three genera which for the first time in our aquarium career have grown to sizes that now require trimming to keep them manageable and uncrowded.
In this video we summarize all that we currently understand about the three groups of flowerpot corals including their flow and light preferences, how to feed them and give them optimal conditions, and discussing the three genera and what makes them different and unique. With more and more reefers not only trying flowerpot corals and having success with these beautiful, colorful, and very flowy corals. the time to really enjoy these corals has truly arrived.