Continuing their tradition of making reef aquarium foods based on specific particle size, Brightwell Aquatics has just announced four new Reef Blizzard formulas targeting specific reef animal mouths. The four new Reef Blizzard recipes are ZC – freeze dried copepods, ZR – freeze dried rotifers, XC for 'extreme' color and one which is sure to be very popular is the LP pellets for large polyp stony corals.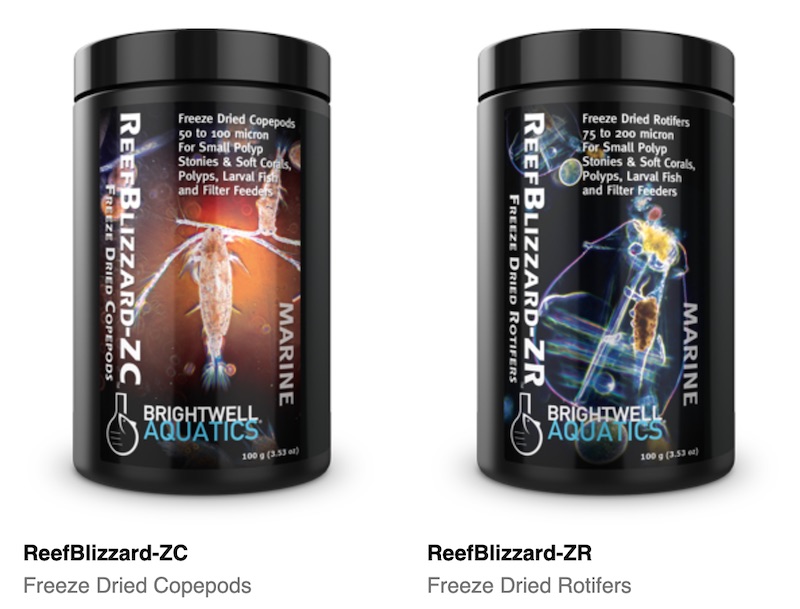 Copepods and rotifers are well known and widely used foods for all manner of filter feeding organisms and form the bottom of the zooplankton food chain in ocean, marine and reef environments, and a great way to fuel pod growth in a reef aquarium. Meanwhile Reef Blizzard is a finely powdered food for all filter feeding reef life but it contains a high concentration of marine pigments, proteins and oils to boost astaxanthin and the colors of aquarium fish and corals.
Reef Blizzard LP is bound to be one of the most popular of Brightwell Foods as these soft slow sinking pellets are ideal for target feeding 'pet' large polyp corals and anemones. The large mouths of LPS corals are specifically adapted to capture and ingest large particle sizes, so the larger pellets of Reef Blizzard LP are ideal for keeping Micromussa, Homophyllia, Euphyllia and Acanthophyllia that are perennially popular in so many reef tanks around the world.