The CoreXP is a brand new reef aquarium light from HM Electronics with a very elegant, slim profile design. The dual clusters of the CoreXP contain 24 LEDs each and have a total power output of 172 watts with plenty of blue spectrum to make aquarium corals fluoresce and pop in coloration.
The LED colors included with the CoreXP consist of 2 photo red, four cyans, 6 cool white, 4 warm white for the nutritious spectrum and are supported by 10 sky blue, 10 royal blue, 6 violet, and 6 near UV to generate the fluorescent wavelengths of this light. This wide diversity of colors are distribute across six channels of color control enabling users to finely tune the spectrum from bright shallow water conditions for SPS corals and clams all the way to rich blue lighting for deeper water corals such as LPS and chalices.

Interestingly, HM Electronics describes the lenses of the CoreXP as aspherical in shape, consisting of both concave and convex elements. We are curious to learn more about this particular style of lens as it is claimed to both concentrate where it's normally dim, and distribute the light where it's normally bright so it will be interesting to see how this looks in real life.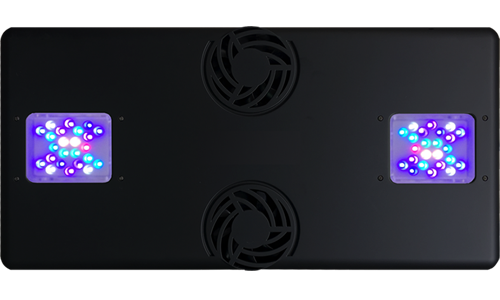 The super thin CoreXP has dual fans for cooling the LEDs which take in cool air from the bottom of the light, routing it towards the ends for a fixture that is strikingly smooth and uninterrupted on the top face.Thankfully HM Electronics decided to use a waterproof rated fan since it will be exposed to the humidity of the aquarium, so hopefully this design decision will result in a durable, long lasting aquarium light.
Of course a modern reef aquarium fixture like CoreXP has wireless connectivity which allows for quick and easy control and programming of HM Electronics' new flagship light fixture. The CoreXP is certainly a great value at $499, not including a mounting arm if necessary, but if you need a little less light the CoreXC is a pared down version with 26 LEDs and a total power of around 100 watts for just $299. Both lights as well as some other HM Electronics products are already available from Aquatic Life and should be a nice mid-range addition to the reef aquarium lighting market. [HM Electronics]