The Gyre Pro is a new commercial size turbine-style water pump from Maxspect that has just been revealed at the CIPS conference in China. We've seen Maxspect put out some jumbo and extra large Gyre pumps in the past but now they're really committing to a commercial series with three new models of Maxspect Pro water movers.
These extra high capacity Maxspect Gyre Pro have been in development in some form or another for many years. The largest model went through more than 18 months of testing at the Chimelong Ocean Kingdom where it actually provided water flow in their whale shark exhibit, one of the largest single aquariums by volume in the world.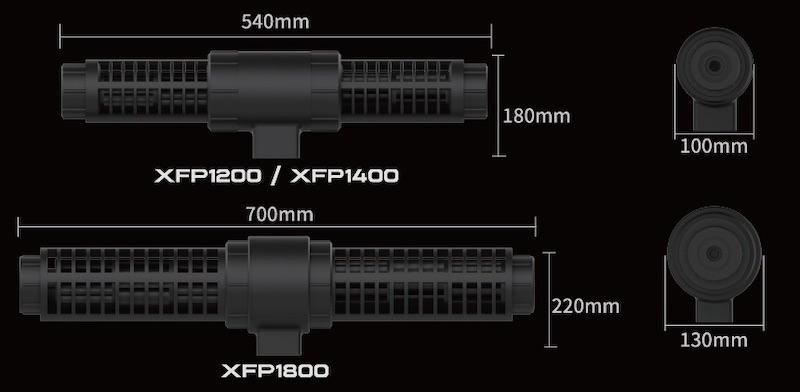 The three sizes of the new Maxspect Gyre Pro are way bigger than anything you would use in any kind of home aquarium with a power level that starts out at 200 watts and goes up from there. The Maxspect Gyre Pro XFP1200 and XFP1400 are both just under 22 inches long and generate up to 70,000 liters and 100,000 liters per hour respectively – that's a maximum of 18,500 and 26,500 gallons per hour!
The Gyre Pro XFP1800 is the largest model which is physically larger at 27.5 inches long is rated at 800 watts of power and generates upwards of 42,000 gallons per hour! Naturally this kind of power and force cannot reasonably be secured using a magnet mount, so PVC clamping mounts are used to keep the powerful Maxspect Gyre Pro pumps in place.
What is surprising about these commercial size Gyre Pro pumps is that they are not only very efficient, but also feature the same degree of programming and controllability as the cute home aquarium models — that means randomized flow, pulsed flow modes to create natural waves, and of course actual gyre flow patterns for effective mass water movement throughout the entire aquarium. There's no word on pricing or availability date yet but since Maxspect has actually been working on the Gyre Pro pumps for more than two years, their release and eventual sale is probably getting pretty close.