Large hybrid angelfish species are some of the most exciting and interesting surprises that the ocean can gift to the aquarium hobby and angelfish fanciers. These hybrid crosses, especially of Pomacanthus species get our hearts racing precisely because they are very rare and can develop into very unique specimens that are both familiar in their patterns but also completely novel in how they blend their parents' genetics.
Thankfully RVS Fishworld has an extensive network of collectors and substations and their teams know to look out for highly unusual large Pomacanthids precisely like the new blueface angelfish hybrid they just fished up from the east coast of the Philippines. The large, adult Pomacanthus xanthometopon hybrid is not even full grown but it clearly shows the blend of color and features that are consistent with the blueface angelfish, but its other partner is not as clear to pin down.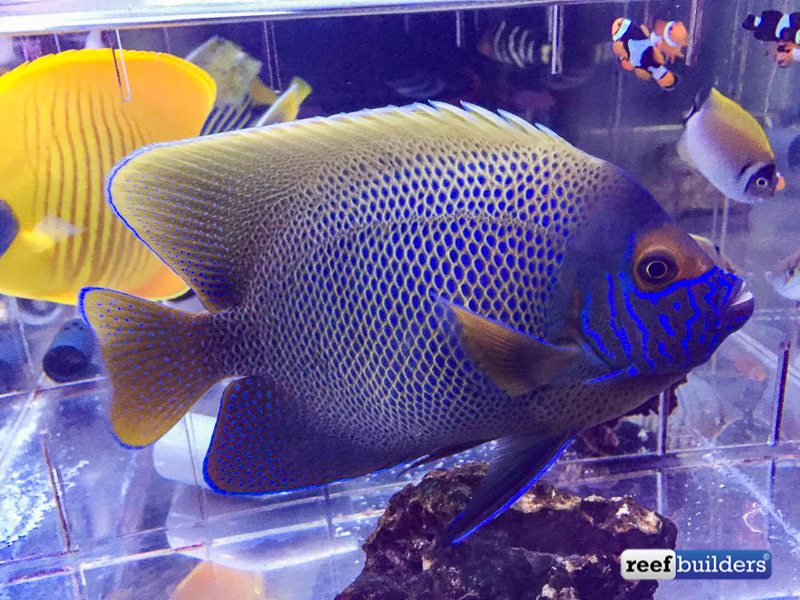 However we have see this cross before and believe it to be descendant of the closely related sixbar angelfish, Pomacanthus sexstriatus which is a very common angelfish species but has a much darker, more muted coloration by comparison. Interestingly, the only other blueface x sixbar angelfish cross was a lot smaller compared to this new one from RVS and at that size had not yet begun to develop the more subtle coloration of the sixbar angelfish.
Interestingly the blueface angelfish gets brighter with size and age while the sixbar gets darker, so although this hybrid blueface angelfish is approaching 20cm/8 inches in length this is barely half the maximum size for a fully grown specimen of either species. Thankfully this group of Pomacanthus are very hard, adapt very well to aquarium life and should have no problem continuing to thrive in its new aquarium home where it has the potential to live much longer in the absence of predators and even fishermen.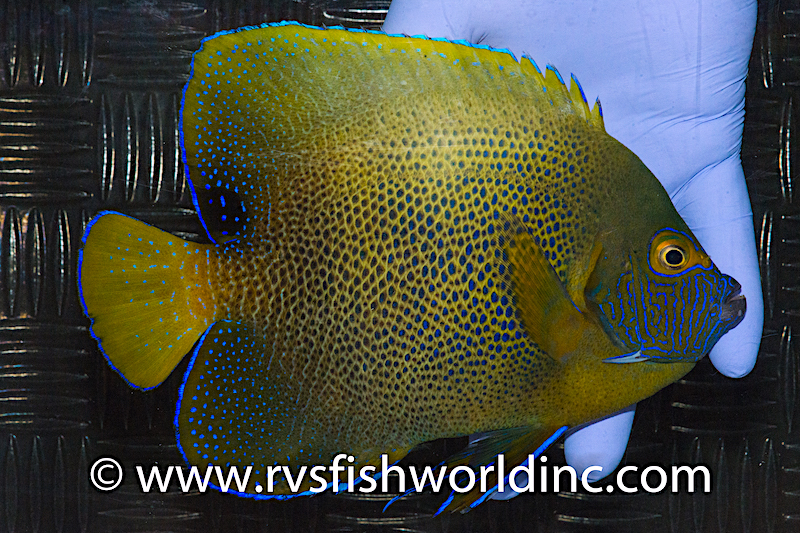 As clear and accurate as these photographs from RVS Fishworld are we know that the sixbar angelfish has very shiny reflective blue spots which have to be seen in person in order to appreciate their luster, same as the modified blue girdle straddling the majority of this fish's face and we have no doubt that this fish is an absolute stunning specimen in real life under ideal aquarium lighting. Thankfully we don't just have sharp pictures of the new Pomacanthus hybrid as this specimen has been clearly captured on video where the dark ends and lighter midbody coloration has a certain Holacanthus africanus vibe, making this fish somewhat familiar in appearance but also jarringly unique.