For the past forty or so years all 'new' coral strains introduced to the reef aquarium hobby have only come from the wild, mostly due to the fact that successful sexual reproduction is quite rare in aquarium corals. This assessment is not counting certain grafted corals which became transformed under aquarium conditions but still carry the same genetics as before but finally we have one of the first ever reports of an exciting 'hybrid' cross between different aquarium corals.
The Blue Zing Birdnest is an aquarium produced Seriatopora that was accidentally created by Lazy's Coral House when two different birdnest corals decide to spawn in their aquariums. The parent corals responsible for the Blue Zing Birdnest include the popular fast growing green polyp birdnest, and the ORA Bird of Paradise, both of which are very well known, distinctive, and widely grown strains of Seriatopora.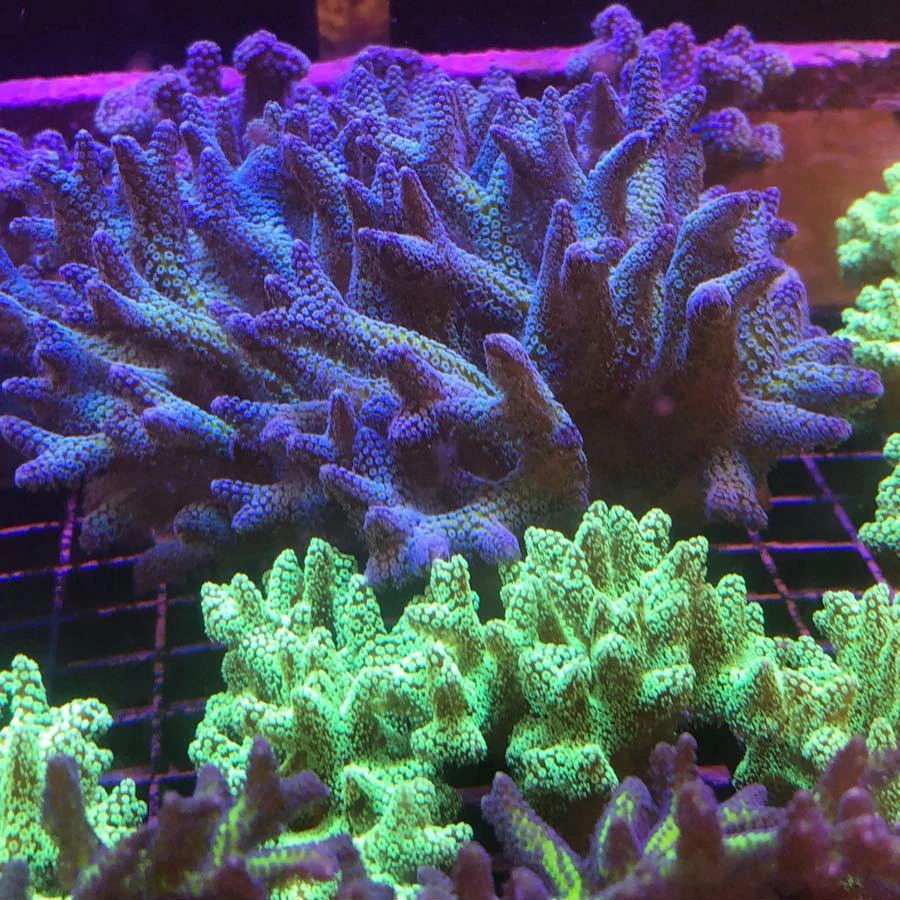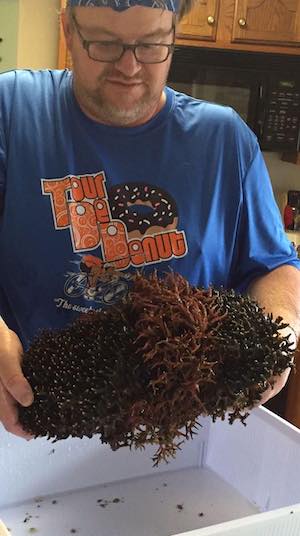 The two parent colonies of birdnest were grown in close proximity as a cluster which is very fortuitous since Seriatopora and other corals in the Pocilloporidae family are well known to be brooding corals so they don't broadcast their eggs and sperm like most SPS corals such as Acropora. Instead these corals release sperm which is taken into the polyps of receptive colonies where the fertilized eggs are brooded internally and after a few days fully formed larvae are released to settle out onto the reef where they can. This is precisely what happened at Lazy's Coral House but since the parents were of birdnest corals with very different traits, it resulted in a completely brand new coral strain with characteristics and details that are an intermediate blend of the classic birdnest strains. The green birdnest has slightly blunted tips to its thin branches and bright green polyps, while the Bird of Paradise has more of a forrest green tissue and polyps that trend towards being purple under certain lighting conditions.
We don't know if the green and BOP birdnest are actually different species, but either way the hybrid offspring developed into a coral with more robust branches than both of its parents, as well as blueish polyps that blend the green and purple polyps in its pedigree. There were no apparent signs of this spawning event until little patches of small polyps started appearing all throughout the aquarium and these were manually eradicated for fear that they were the beginnings of a Pocillopora outbreak, a related coral that is known for spreading dangerously fast throughout reef tanks.
The two parents strains of the Lazy Blue Zing, a green polyp birdnest on the left, and the Bird of Paradise on the right.
Invariably, not all of the tiny coral spots were discovered – thankfully – and when they were allowed to grow larger the bluish birdnest corals turned out to be something completely unique, giving us the Blue Zing Birdnest coral that we are telling you about today. We've seen practically every coral under the sun described as 'one-of-a-kind' by many different coral dealers, and wild corals getting ridiculous names after being 'discovered' thousands of miles from where they were collected.
However the creation of a brand new coral strain at Lazy's Coral House absolutely deserves to be called one of a kind, and given a proper strain name like any reptile breeder or horticulturist might do with their sexually bred snakes and plants. Despite all of these accolades, a rich origin story, and a unique & beautiful appearance, Lazy's Coral House is not gouging their customers for this truly awesome coral, you can get your own frags of the Lazy Blue Zing for less than $50.
Big thanks to Lazy for not eradicating all of their coral spawn, allowing some of them to grow out, sharing their coral with the community and perhaps just as important, documenting this fascinating phenomenon as an inspiration to Seriatopora-loving aquarists who now know it is possible to breed these corals in a reef aquarium.