Hydnophora or more commonly called 'Horn Coral' are a distinctive group with some of the fleshiest tissue of all so-called SPS corals. Most reefers will be most familiar with the thinner branched, neon green species called H. rigida that is hardy and grows very fast under the right conditions, making them a great beginner stony coral but not so lucrative for the coral farmers or the coral marketing hype machine.
Regardless of their current popularity status we'll always love this coral even if they mostly come in various shades of green so it was with great pleasure that added a very different strain to our catalog of live corals at the Reef Builders Studio. The Aerospace Hydnophora is a very uniquely colored colony of Hydnophora exesa that we picked up this past weekend at local reef aquarium superstore Aquatic Art and had been on offer for a number of weeks without anyone even asking about it.
This coral got the well-desrved nickname of the Aerospace Hydno because it came from a very large reef aquarium display that Aquatic Art installed at local aerospace company Lockheed Martin. This very fun looking Hydno is a deep dark brown inner color but with an abundance of forrest green tentacles that are so expanded that it gives the appearance of a shag carpet.
Wouldn't you know it but we came across the Aerospace Hydnophora less than a week after receiving an assortment of funky coral frags from Jason Fox which included two very interesting strains of Hydnophora, one which closely resembles the Aerospace Hydno, and another which is a teal green overall but with nice golden tentacle tips. We initially presumed that both of these horn coral strains were likely the encrusting Hydnophora microconos, like Fox's Limelight Hydno, but now that we have the colony, we can probably look forward to some large stubby shaggy branch growth in the future once the colonies get large enough.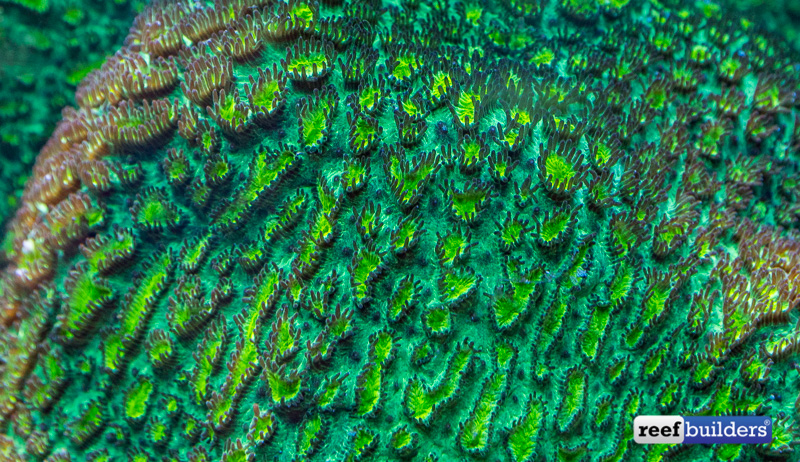 Due to their primarily green coloration there's not much investigation into the different varieties of horn corals but that makes it all the more of a nice surprise when do come across something new. Sometimes it's a very subtle difference such as the blue tipped 'scribbled Hydno' variety that caught our eye at Worldwide Corals last year, and other times it's something much more different like the Aerospace Hydno we scored last weekend.
We know that there is still a lot more diversity left to be discovered among the various species of Hydnophora horn corals and seeing these and keeping them is like a breath fo fresh air in an otherwise very homogenized coral market. We are quite thrilled to have scored such a unique colony of the very hardy and impressively fleshy Aerospace Hydnophora from Lockheed Martin's own large reef aquarium display where we imagine many rocket scientists might have gazed at this exact coral in between their work to increase the human presence in outer space.