When you handle as many fish as RVS Fishworld does, especially within the Filipino region of the Coral triangle, you're bound to come up with some real rare oddballs and hybrids. Today we learned that their network of fisherman have collected a very unusual Acanthurus hybrid surgeonfish that has a combination of indeterminate features leaving us more puzzled of its pedigree than usual.
Unlike the marine angelfish whose hybrids are either well documented, or more obvious blends of its parent's very distinct colors and patterns, the surgeonfish are a lot less distinct in appearance. It can be a challenge for very experienced aquarists to tell purebred Acanthurus juveniles apart, so it's even that much more challenging when we're trying to discern a small surgeonfish hybrid.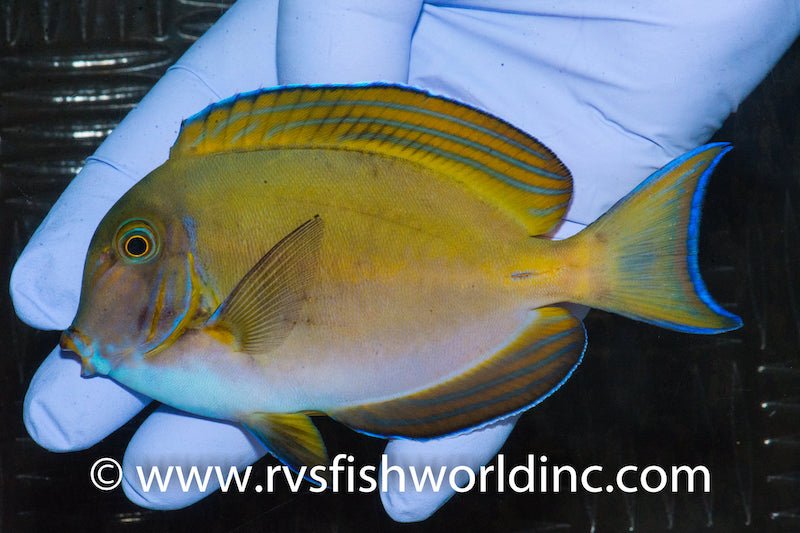 RVS Fishworld shared a couple images of their interesting new hybrid with a tentative identification of a powder brown x yellowfin surgeonfish, Acanthurus japonicus x A. xanthopterus. We can see how they came up with the yellowfin but this fish is giving us much more of clown tang x goldrim vibes with its elongated body shape, blue & yellow accents, especially with the stripes through the unpaired fins and that fairly bright blue chest.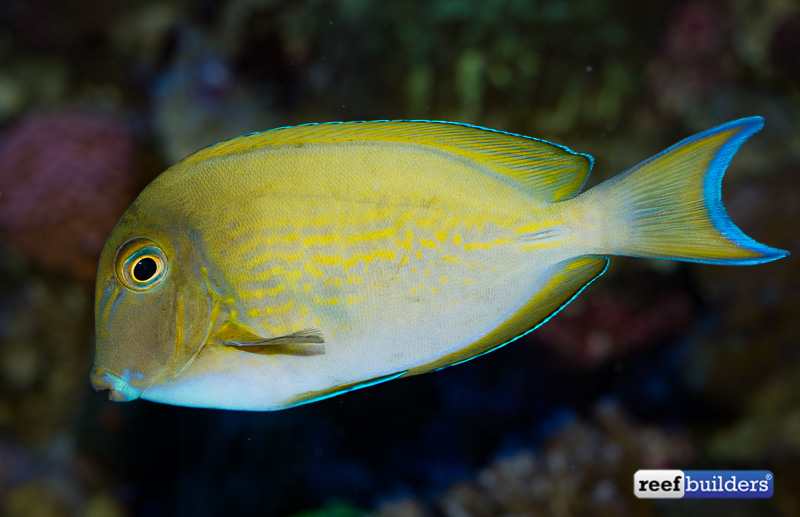 The closest comparable specimen to the new fish from RVS Fishworld is a small individual we spotted in the InterZoo reef display of Dejong Marinelife way back in 2016 but we had no information of its provenance. While the markings on the body might differ they do share the same body shape which is yellow overall, a colorful blue chest and a strongly lunate tail edged in blue.
Like we always say with every new & unusual hybrid we'll have to wait and see what this fish grows into as it gets larger because if more of the Acanthurus lineatus characteristics do start becoming more pronounced with maturity, it could make for one hell of an interesting show fish. Best of luck to whoever becomes the lucky new owner of this very unique Acanthurus surgeonfish hybrid and this is one we sincerely hope will get more documentation over time.