The Red Sea Reefer S is a pair of new large all-in-one, reef-ready aquarium setups that show that Red Sea still has what it takes to make some of the most desirable tanks in the reef aquarium hobby. Coming in two sizes, the Reefer S are large showy glass aquariums that include the six-foot Reefer S 850 and seven-foot Reefer S 1000, but there's a whole lot of improvements and upgrades to excite even the most discerning reef aquarists.
The new Red Sea Reefer S aquariums have all the modern fixings you'd expect from newer premium all in one aquariums including a thoughtful sump, high clarity glass, all the required plumbing pre-cut to fit, a silent overflow drain, and two separate returns to get a lot more flow in and out of these big showy tanks. However the two big-ticket changes to the new S line of Red Sea Reefer tanks are certain to be the new 'euro-braced' glass design to accommodate the larger size, and the metal-framed aluminum stands.
Although Red Sea refers to this design element as 'fortified' glass, 'eurobrace' is a common practice on the construction of larger tanks that refers to pieces of glass 'trim' that are glued on the top edge of the viewing panes. Last week on our new Reef Therapy talk show we were just discussing how all higher-end glass aquariums have become rimless with little to no celebration but here we are with a brand new Red Sea Reefer S tank with euro-bracing. This feature is used to strengthen and add structural integrity especially in longer tanks which reduces even the slightest of bowing, but also can reduce the splashing from very strong pumps and wavemakers.
In the new Reefer S Red Sea has curiously colored the eurobrace in black which might serve to reduce some algae growth on the aquarium glass, but that will ultimately depend on what lights you use, and how they are mounted. It'll also be very interesting to see how this new eurobrace works with third-party mesh screen tops as there's certainly more room for experimentation with the horizontal glass panels of the braces.
Perhaps a more substantial change to the overall setup of the Red Sea Reefer S is the use of a metal-framed aquarium stand built from marine-grade aluminum. The metal stand provides all of the support for the Reefer S with what Red Sea is calling a 'replaceable' exterior of wooden side panels which opens up a whole new world of customization.
Sure we're thrilled to see metal stands gain in popularity, a trend that will only be helped by its inclusion with the Reefer S tanks but we're really curious to see how these side and door panels attach. As long as there are no proprietary attachment shenanigans – which we don't expect – having replaceable panels could enable some of the more 'particular' interior designers to experiment with creating their own panels to match a particular decor. However, most reefers will get plenty of mileage from the standard white or black panels options.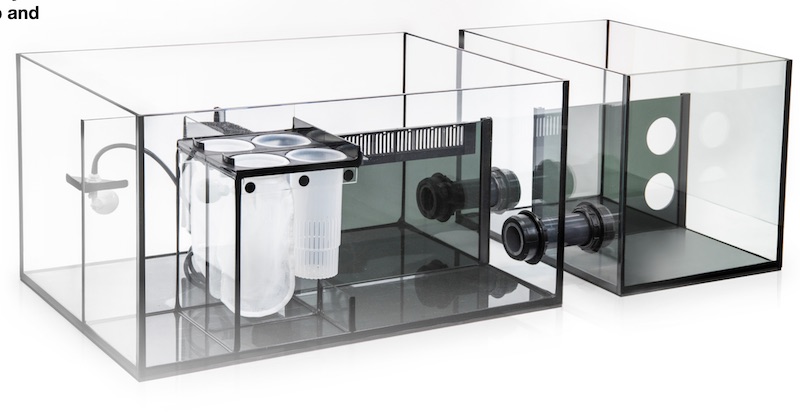 Within the metal-framed stand is an all-new dual-chambered designed split sump that offers a lot of flexibility for different applications. The primary sump chamber is more or less the same glass filter box that we've seen on Red Sea's larger tank setups but the second glass box can be run inline as a frag tank, algae scrubber, or a proper refugium, but it can also be disconnected to function as a reservoir of freshwater for top off or for automatic water changes. Like the replaceable panels, this 'extension sump' – as Red Sea calls it – affords users a great number of options in terms of how they want to run the new Reefer S tanks and will also obviate the need to buy separate tanks for these purposes.
The last new feature that many gear heads will certainly appreciate is an all-new slide-out control panel on one end of the Reefer S stand. Outside the realm of having a dedicated controller board, we've all collectively been mounting various pump controllers and dosing pumps either to the interior walls of the stand, or the doors of the stand for easier access. But the new sliding panel is a very simple yet really useful feature that will go to great lengths to make a neat setup of the Reefer S both inside and under the main display.
As mentioned above the Reefer S will initially be available in just two sizes, the 71″ long Reefer S 850 which is around 180 gallons of display and 225 gallons of total system volume while the Reefer S 1000 is 83 inches long with a 210-gallon display and 265-gallon total system volume. The new Reefer S tanks are undoubtedly some of Red Sea's most premium tanks ever which will carry a correspondingly premium price tag of $5299 for the Reefer S 850 and $5999 for the Reefer S 1000 which is quite reasonable considering the industry-leading innovations highlighted above.
With their all-in-one tanks, ReefLED lights, Reefer Skimmers, ReefWave pumps, and a full line of sea salt, test kits, filter media, and additives, Red Sea currently offers one of the most complete reef aquarium ecosystems in the world. The only things missing are a return pump, heater, and a mythical dosing pump that we spied three years ago which is teased in a scant few of the product shots for the Reefer S aquariums.
For the last decade, Red Sea's Max and Reefer line of all in one aquarium has been the aquarium setup to beat, the standard by which all others are measured and they've influenced and shaped setups by other glass box manufacturers. This evaluation is not hyperbole but a market position that Red Sea worked very hard to earn, and with the Reefer S tanks, we can see that the company is committed to keeping that top slot. There's a whole left to discuss Red Sea's newest and largest aquariums but you can find out more for yourself on the official product web page.