The Kessil A500X is the latest reef aquarium light from the company that has come to define high performance in multichip spotlight form factors. The power density of the 185 watt A500X is a new level of lighting concentration for light emitting diodes creating an intense point source which is the most comparable to metal halide lights.
185 watts of power takes a lot of cooling but Kessil has a lot of experience in managing the temperature of their still unrivaled Dense Matrix Array. From their earliest A150 spotlight to the newest A360X Kessil has tightly integrated all of the control, optics, and cooling into the smallest form factor that physics and technology can allow.
One key aspect that veteran Kessil users will really appreciate is how similar the A500X is to previous lights, using the same dials for manually adjusting intensity and the Tuna Blue spectrum, as well as the two USB type C connections for control using the wifi dongle, spectral controller, and daisy chaining additional lights. The attachment for the A500X is is also identical to previous models which can either be suspended from the central mounting screw or can be affixed using the classic bracket.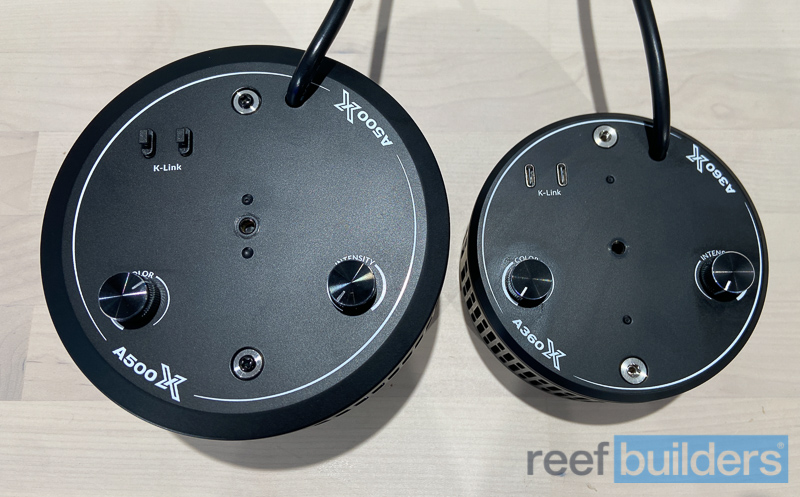 The brand new A500X might be approximately twice the size of the A360X but since that light is so small to begin with, the Kessil A500X ends up being a very reasonable size for how much power it puts out. The housing of the Kessil is only a little over five inches in diameter and under four inches thick, or 13.3cm across and 9.4cm in depth and it weighs in at less than a kilogram or 1.72 pounds.
We normally wouldn't give much consideration to the weight of a light fixture but since the Kessil A500X is so small and powerful its mass has a great bearing on how it can be flexibly mounted over the aquarium with the preferred articulating gooseneck arm. Kessil's existing gooseneck mounting arm can hold the A500X in place just fine but once you add the ball joint, wifi module and your choice of reflector the weight starts approaching the limit of what the gooseneck can handle. Although the solid mounting arm can handle the extra weight just fine, since this light is so bright most users will want to use it on larger tanks which would necessitate a taller mounting option, and/or a longer mounting arm extension to really make the most of where the light is directed.
What makes the Kessil A500X so incredibly bright and efficient is that it packs in one hundred LEDs in a lighting package that is the same size as the A360X but are driven at only 1.8 watts each. The luminous efficiency of driving more LEDs at less power creates a balance of power & light output that is becoming the hallmark of the most sophisticated and efficient aquarium lights that very few manufacturers have achieved.
The most practical way to get this balance of power and efficiency without overheating is to use many LEDs spread over a large area and accompanying heat sink to wick away as much heat as possible. In Kessil's case the engineering is made even more challenging because they are generating a lot of heat in a tiny area and thus need to use a heatsink designed specifically for this 'axial cooling' application.
The A360X already includes a pretty creative heatsink and fan design but Kessil had to take this idea even further in the stronger A500X, going so far as designing a fan with curved and twisted fan blades for the airflow. This custom designed fan moves a lot of air but is remarkably quiet when the light is programmed to run at full power, but it's nearly silent the rest of the time.
One key aspect which has enabled the housing of the Kessil A500X to be dominated by its cooling components is the ever shrinking size of electronic components and especially drivers. In the case of the A500X all the electronics contained within the top cover of the light fixture and they are potted within a kind of epoxy resin to protect them from moisture, salt spray and dust.
With all of this power Kessil saw fit to add a new more focused reflector with a beam angle of 35 degrees to effectively concentrate the light between three and four deep for the largest and tallest of aquariums. This new narrow angle reflector uses the same magnetic mounts as the previous 55 degree reflector so it can also be used with the A360X, giving all of these lights three different options for illuminating a wide range of tanks.
One hardware aspect that you won't find on the A500X is that there is no built-in programming or scheduling, which some reefers feel should be required on a light of this caliber. We can understand that it is very reasonable for some reefers to feel that a $739 light fixture should have this control feature built in but this is a fair trade-off to keep the down the price of individual fixtures.
At $99 the wifi dongle is not exactly a cheap add-on since it is required to access the red, green, and purple color channels, but we do wish they were closer to fifty bucks. A cheaper wifi dongle would make it more feasible to add one to every A500X or A360X over an aquarium in order to avoid having to string the K-Link cable to every fixture in the lighting array and the subsequent cable management to keep everything nice and neat.
There are a lot of options for multichip LED lights but it isn't a coincidence that reef aquarists have gravitated towards the Kessil catalog for its unique combination of small size, efficiency, and especially that purple/violet heavy spectrum that some aquarists prefer. With the release of the 185 watt A500X Kessil has created a whole new category of power and concentration that is especially suited for light demanding corals such as Acropora and similar SPS, as well as giant clams.
This article is really meant to showcase the hardware of the impressive Kessil A500X btu stay tuned as we'll have a similarly in depth review on the performance of this new light that we've been using for several months on an unconventional reef aquarium setup but the results couldn't be any closer to what we used to expect from good old metal halide lighting.