The reef aquarium hobby is overwhelmingly dominated by photosynthetic coral species but azooxanthellate corals are incredibly abundant and diverse, just not so much in the shallow waters where ornamental corals are collected. One of the exceptions is the very interesting and unusual Truncatoflabellum veroni, a solitary non-photosynthetic coral with a flattened calyce resulting in a fascinating elongated corallite.
We've only ever seen a smattering of examples of the triangular Truncatoflabellum coral but our friends over at Gallery Aquatica got their hands on a whole group of these unique, jewel-like azoox corals. When you see just one specimen of Truncatoflabellum it's hard to appreciate their diversity but the dozen specimens now sitting together at the Brisbane Australia reef shop demonstrates the slight variations within this group of corals.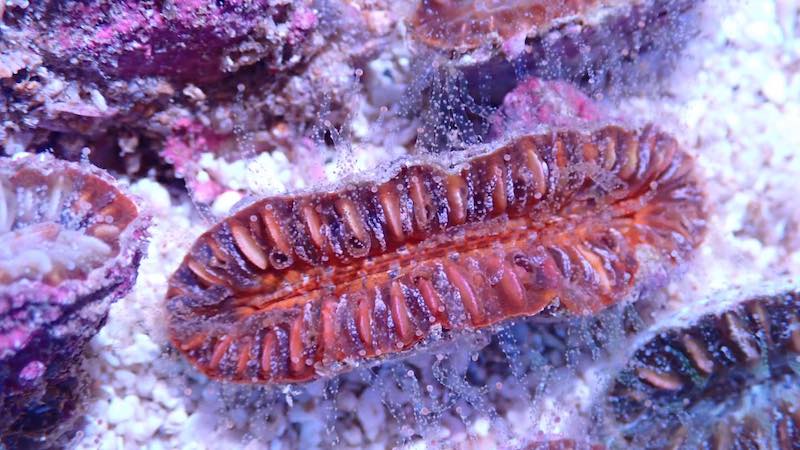 The first time we ever saw Trunacatoflabellum veroni in the US it was only a pair of single corallites that made their way to Unique Corals and this specimen was mostly blueish grey, but most specimens of this coral are actually a light salmon-red in color. You can see in Gallery Aquatica's bouquet of Azoox corals that most of the specimens demonstrate this coloration, some with a subtle white banding across the mantle, and only one is actually a 'duller' brown with the slightest hints of light green pigments.
Without a doubt these Trunacatoflabellum veroni require target feeding or to be in an aquarium with a more generous nutrient condition but we don't know enough about them to say whether they can be trained to extend their polyps during the day. If placed within a shaded cave they would probably sustain polyp extension so that reefers enjoy their clear, crystal-like tentacles that may not get the love on social media, but is fascinating to diehard odd and rare coral lovers.