It's been a little while since we've heard any news from Current USA but they're back with a promising new reef light. The Orbit R24 LED Reef Light from Current USA looks like a small multichip aquarium light fixture due to its small size but its lighting engine is actually made up of semi-discrete LEDs.
Instead of using standard single light emitting diodes the Orbit R24 LED Reef Light uses 25 pairs of twin-LED packages each nestled under a common light shaping lens. The five inch square light fixture is actively cooled and the closely spaced LEDs should generate excellent color blending which it will need to bring together the 8 blues, 8 royal blues, 2 UVs, 4 cool whites and one each of the true red and lime spectra for a total of 52 watts of power.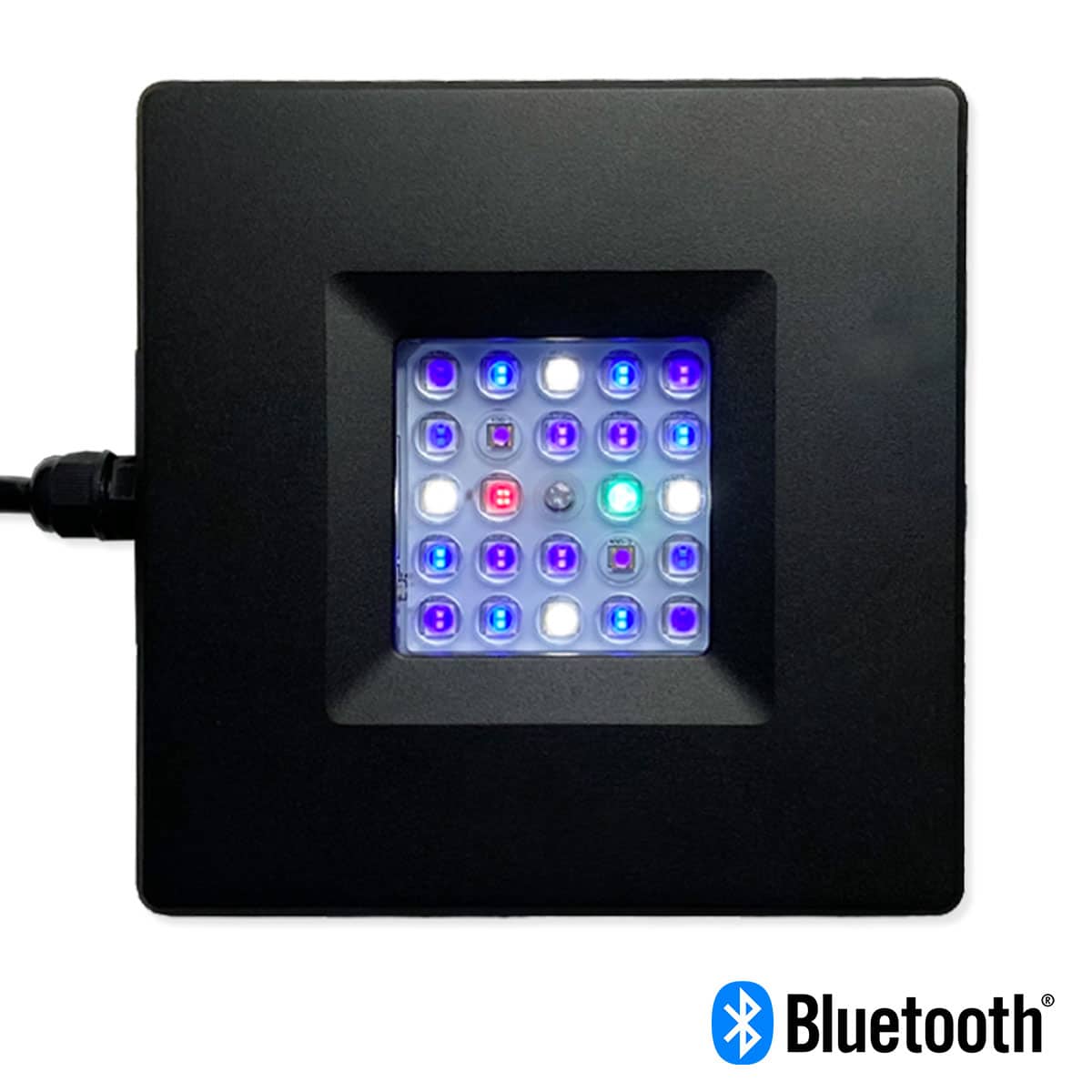 There might be six different colors but all the blues and UV LEDs are grouped into a blue channel for a red, green, blue and white (RGBW) color channel control layout. Some diehard reef aquarists may have shied away from Current USA offerings for only having control and programmability through the included infrared remote controls but the Orbit R24 can optionally be controlled using bluetooth through a dedicated smartphone app.
The Orbit R24 LED Reef Light from Current USA comes in at a very reasonable cost of $199 which for a limited time will include the flexible tank-mounted arm, or for $239 you can opt for a fancier stand mounting arm. The 50 watts of heavily blue biased spectrum of the Orbit R24 should absolutely rock most smaller reef tanks up to 24 inches cubed wherein it will achieve a PAR of 100 umols all the way down to the bottom of a 24 inch deep aquarium.
Current USA was a major driving force of the early adoption of LED lighting over a wide range of aquariums but in recent years their pragmatic approach to aquarium light design and engineering has been mostly been enjoyed by our freshwater aquarium counterparts. At just $200 the Orbit R24 LED Reef Light from Current USA could really make waves in the reef aquarium lighting market so we look forward to testing it out at the Reef Builders Studio very soon. [Current]