The Reef Flare LED is a new supplemental strip light from Reef Factory promising to add a lot of extra color to reef aquariums. Coming in three sizes ranging from two, three and four feet long, these LED light bars are populated with a rainbow of all the blue colors that really bring out coral fluorescence.
Some LED striplights might be content with two or three blue emission peaks but the Reef Flare LED has no fewer than six covering wavelengths from 410 to 480 nanometers, with the colorific 430nm violet color being the most numerous. Reef Factory made their Reef Flare LED no slouch in the power department about 18 watts per foot with the two footer packing 34 watts, the three footer sporting 45 watts, and the four footer endowed with 65 watts of power, with each LED's output shaped by individual lenses.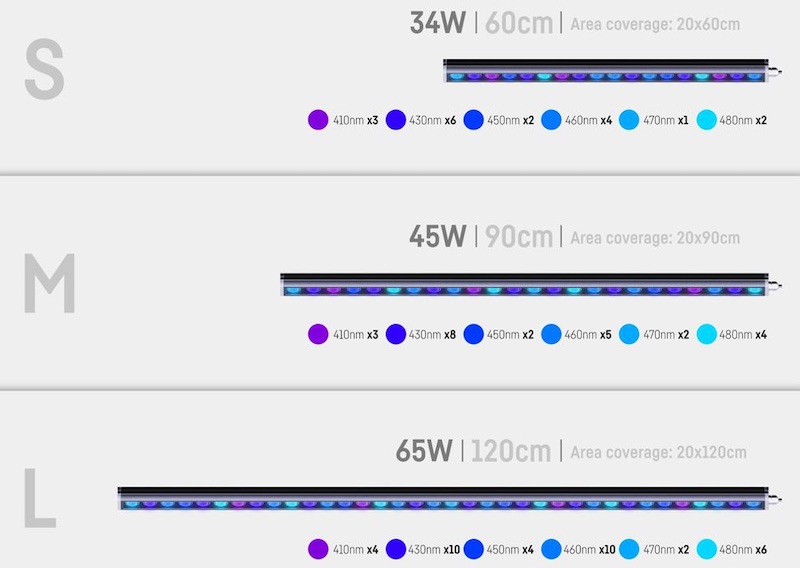 The Reef Flare LED bares an uncanny resemblance to the fairly new Nicobar LED striplights that have been percolating in the American reef aquarium scene over the last year and they are similarly controllable. While the Reef Factory version will probably be marketed mostly to the European aquarium market, one advantage they will have is being part of the ecosystem of Reef Factory of connected devices, so won't require a separate app for connectivity and will work with the Reef Flare LED fixtures.
For nearly a decade we've lamented the absolute lack of selection when it comes to newer and better supplemental blue LED strip lights to fill in any gaps in the light field over our aquariums. The broad spectrum blue light, wireless control and programmability of the Reef Factory Flare LED Bar strip lights fit the bill perfectly and can be purchased starting at around £199 or around $276 for the two foot model with prices varying depending on your particular country.