The Lani LED panel light is back for the third time since 2012, this time with more diodes and with Wi-Fi functionality. But is it enough to compete in the 2020s? And at what cost to the consumer?
It's good…
Few LED lights had such a prestigious debut as Lani. These machined aluminum panel lights first found fame in 2012 as the sole light source on Triton founder Eshan Dashti's epic display tank at Triton headquarters in Germany.
Single-handedly those early LEDs lit and grew Acropora and even a giant clam as a key part of the holistic Triton Method, and in a then LED skeptic Germany that was still very much in the multiple, linear T5 camp.
Lani has since parted ways with Triton, but then as now, it is a slick-looking, passively cooled panel light offering a wide, even light spread. It has changed form slightly since Gen 1, growing rows of fins on its back to further aid cooling.
Model selection
Three Lani models are available, all made up from one or multiples of the same roughly 8" square, 45 watt PCB. Nano is the smallest at 8×8", then Half at 16×8", then Square at 16×16". All units are just 1.5" thick.
The models then further subdivide into three diode configurations Lani calls Editions – Normal, a three-channel white, blue, and UV that's reminiscent of the first Lani. Then Pro, a six-channel unit including white, blue, UV, royal blue, cyan, and one they call "mix." And then the freshwater community has been catered for too with Sun, comprising Bright Sun, Par Blue, UV, Par Red, Glow, and Bright Green LEDs.
Lani didn't want to tell us whose LEDs their circuit boards are populated with, or their spectra, apart from revealing that one blue diode emits 405nm with the ultraviolet emitting 365nm.
Depending on edition, Nano is populated with up to 43 diodes for a maximum draw of 45 watts, Half has up to 86 diodes for up to 90 watts and Square has up to 173 diodes, drawing a maximum of 180 watts. They are powered by a Mean Well HLG-240H 24-A driver and offer an up to 10 warranty on the light unit, and a two year on the driver.
Lani told us the units run at 1 watt each, and at 30% of their maximum load, making them 3 watt LEDs. No lenses, reflectors, or diffusers are used other than a quartz cover on the ultraviolet LEDs and a clear acrylic cover on the underside of the unit which allows UV through. The light beam emitted is 120 degrees wide and the unit has a dustproof IP50 rating.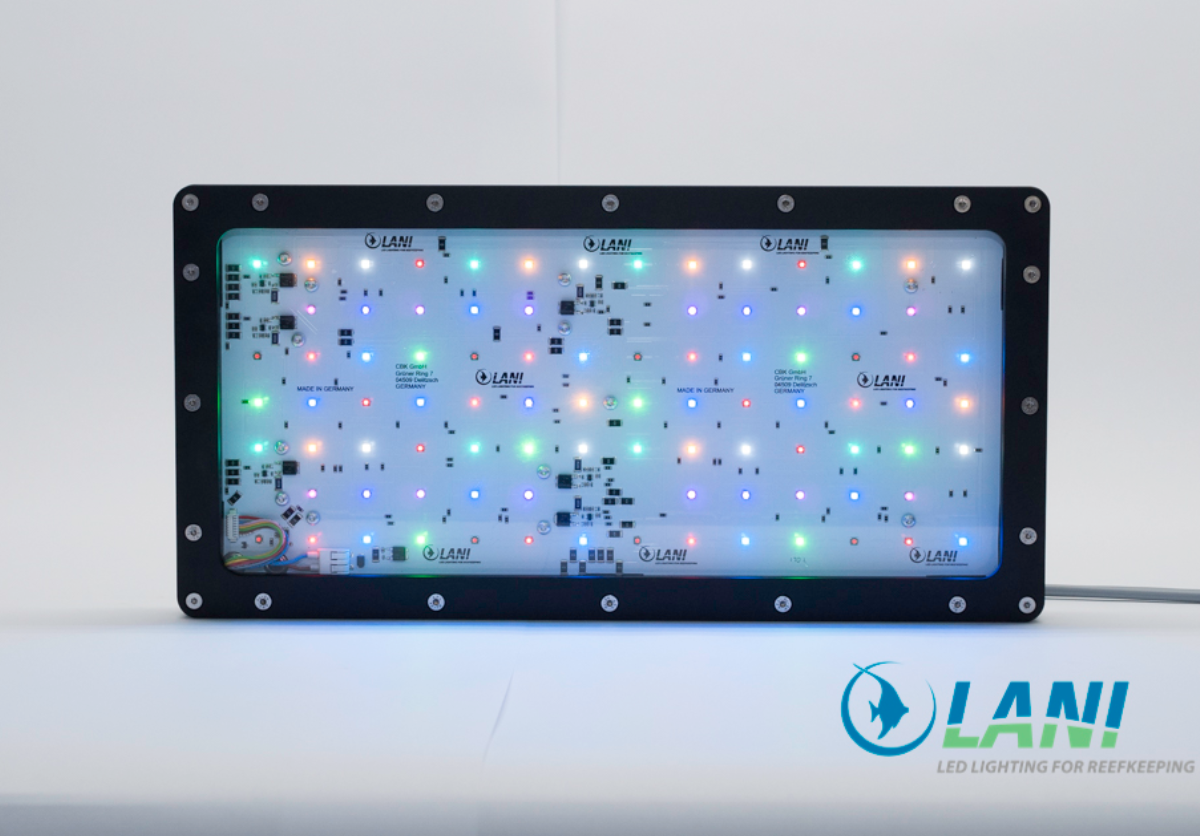 Control
Control now comes by way of a controller with a digital display and via a Wi-Fi link to a web browser on a PC. Hook up the controller and a preset program is preloaded along with intensity control, sunrise, sunset, and 0-100% analog dimming which Lani says prevents flicker. The (essential,) controller isn't included when you buy the light, but you do only need to buy one controller regardless of the number of light units you subsequently run.
Run more than two units though and there's another extra you'll need called the switch, (for daisy-chaining?) but also not included. There is no app control available for mobile or tablets, although control via an Apex and other third-party controllers is in preparation.
Spread and customization
Offering three different panel sizes should mean a tailored fit to many tank sizes and those with the budget could really cram them in above their tanks, panel to panel, edge to edge. Play Tetris with the three panel sizes and you could end up with as many square feet of illumination as the tank footprint itself. Choose just one 16" Square though and Lani say it will be adequate to light a 24x24x24" volume, populated with light-hungry SPS corals.
The units are available in black, white, or silver, or pretty much any additional body color you could want, with a black and copper-colored unit illustrated to match the equally high-end and highly-priced Abyzz pumps.
So if you or one of your clients demand statement reef lighting with the broadest canopy of LED light, have an endless budget, or want to be seen to break away from the existing pack, Lani's exclusive aquarium lighting line is definitely worth investigating.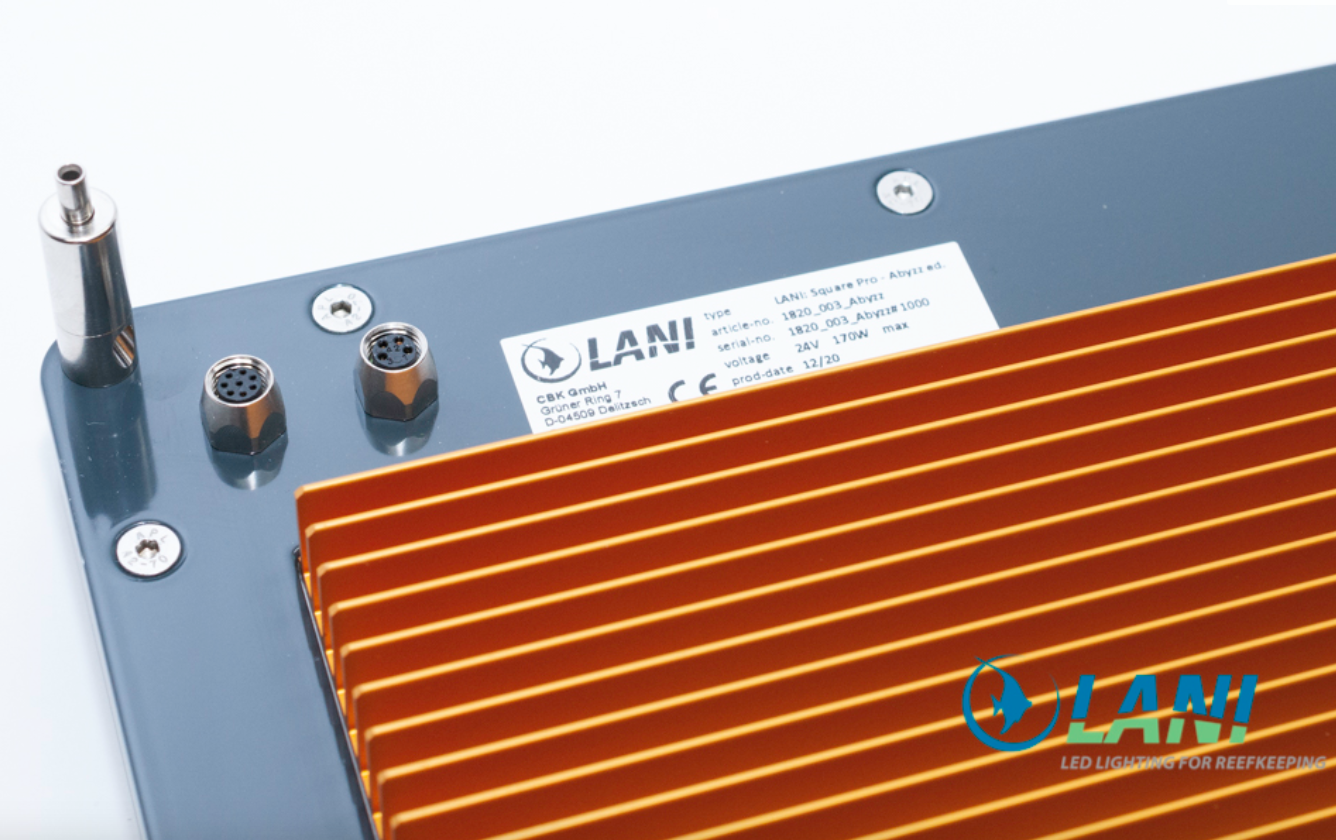 But…
The controller isn't included with the unit and the Wi-Fi control is via browser on desktop or laptop computer, not an app on your mobile or tablet. Granted the controller can control several units but if you have three or more panels you need their "switch" too. Building a Maybach is one thing but charging extra for the keys just to run the thing is quite another.
And so far Lani only suspends via wires and doesn't have any kind of tank mount, preventing the most popular way to fit LED lamps these days. And although it's passively cooled it's not IP rated against water yet, just dust ingress instead. Lani told Reefbuilders they were working on a mounting solution and an IP65 rated unit.
Unfortunately, we're not convinced that in mid-2021 its upgrades are enough versus the competition, and worse still for Lani, it's now not the only European-made panel light. Philips Coral Care Gen 2 and the ATI Straton are both already available in the marketplace and checking the boxes for reefers who crave end-to-end wide, even illumination, and silent, fanless operation.
Straton has a similarly large panel, more power, and an extra (seventh,) color control channel versus Lani's Square Pro, albeit for slightly fewer LEDs at 153 vs 173 respectively.
We've kindly been supplied recommended retail prices by Aquatic Now, Lani's new UK distributor Aquatic Now, but do admit to being unavoidably stuck on them ever since.
Prices start at £999.99 ($1418.99) for the Nano, £1499.99 ($2128.49) for the Half, and £1999.99 ( $2837.99!!!) for the Square, not including the controller. Brexit has made European goods expensive in the UK. We're guessing these are for the six-channel Pro and Sun Editions, and global pricing may vary. But all we can say is OMG…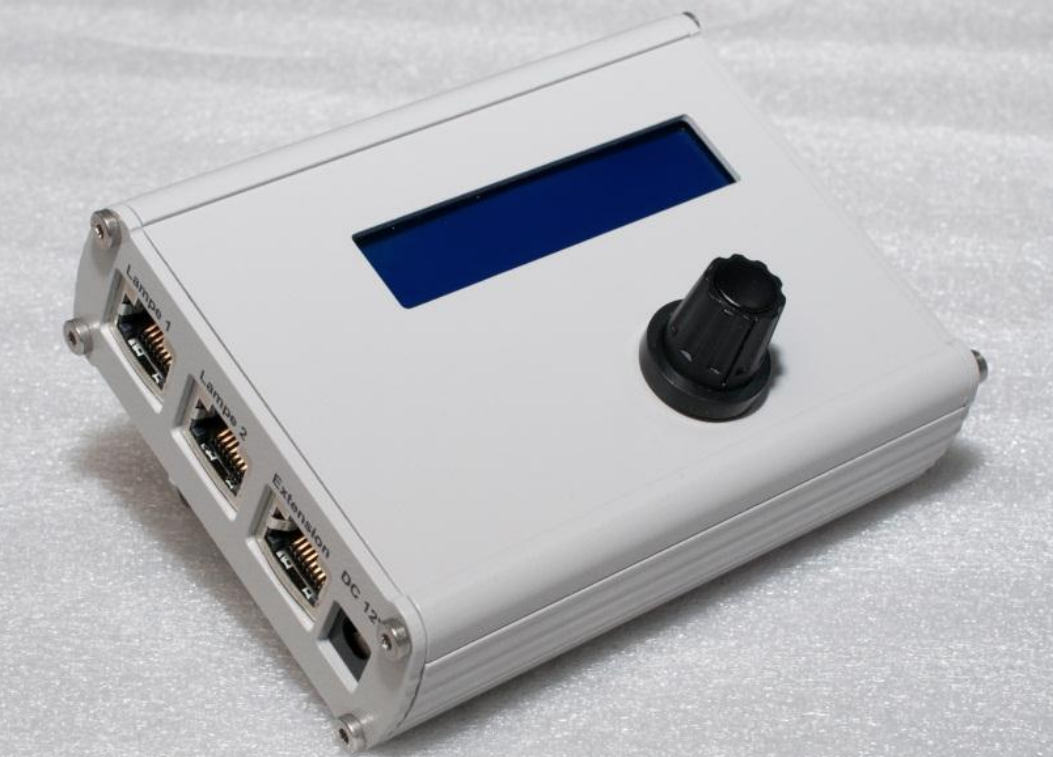 Verdict
If we rewound to 2012, money was no object and no alternatives were available we would be raving about Lani right now, but 10 years is a long time in reef aquarium tech and back in 2012 the Radion Gen 1 was already getting an upgrade with TIR lenses. Now it's on Gen 5…
The Lani website quotes: "With the LANI it is possible for the first time to illuminate hard coral tanks at the highest level and exclusively with LEDs." We hope that statement is a legacy from the 2012 launch, as the rest of the world has been lighting and growing hard corals with LED for over a decade.
And despite a "six-year development phase and two-year test phase," by Lani we do wonder if they should have spent a little more time researching the current LED lighting market, its proven coral growing capabilities, but most of all what price other top-end LED lights are actually selling for. They're not entertaining publishing any PAR readings either, due to "high differences in measurement devices on the market."
We know from our own industry experience that as price goes up, (especially to +$1000 a unit,) the number of units actually sold drops significantly. So we predict a very slow take-up for the 16", $2800 Square (outside Germany at least,) both by the aquatic trade and reefing community, despite many of us dreaming of owning and running them.
Lani looks on paper like a precision-made, high-end piece of quality German engineering but its prohibitive price tag makes it a niche of a niche, and that sadly it won't be our niche.